Are you an adrenaline junkie looking for thrilling activities in stunning locations? You don't need to search any further! With its varied landscape and rich cultural legacy, India has a myriad of adventure-filled sites. There is something for every adventurer, from the tremendous Himalayas to breathtaking coastal locations and lush forests. In this article, we will look at the top adventure destinations in India that will take your breath away. Prepare to embark on an adrenaline-pumping adventure!
Outline of the Article
Introduction
With its wide and varied geography, India is a treasure trove for adventurers. This amazing area provides a wide range of fascinating activities, from snow-capped mountains to roaring rivers and lush woods to stunning beaches. Let's take a look at the top adventure travel options in India that you should put on your bucket list.
Top adventure destinations
1. Himalayas
The majestic Himalayas, home to the world's highest peaks, provide a haven for mountaineers and trekkers. Climb the Himalayan mountains and reach the summits of Everest and Kanchenjunga. The spectacular vistas, tough terrain, and tranquil setting make it a great destination for adventure seekers.
2. Rishikesh
Rishikesh, located in the Himalayan foothills, is known as the "Yoga Capital of the World" and a hub for adventure sports. Prepare yourself for an amazing experience as you try river rafting, bungee jumping, camping, trekking, and more on the Ganges. Feel the surge of adrenaline as you navigate the rapids and take in the scenery around you.
3. Leh-Ladakh
Leh-Ladakh, located in northern India, is a dream destination for adventure seekers. Its rocky terrain, steep mountain passes, and beautiful lakes provide an ideal setting for sports such as trekking, mountain biking, and jeep safaris. Explore the stunning scenery and relax in the tranquility of this enchanting location. Read More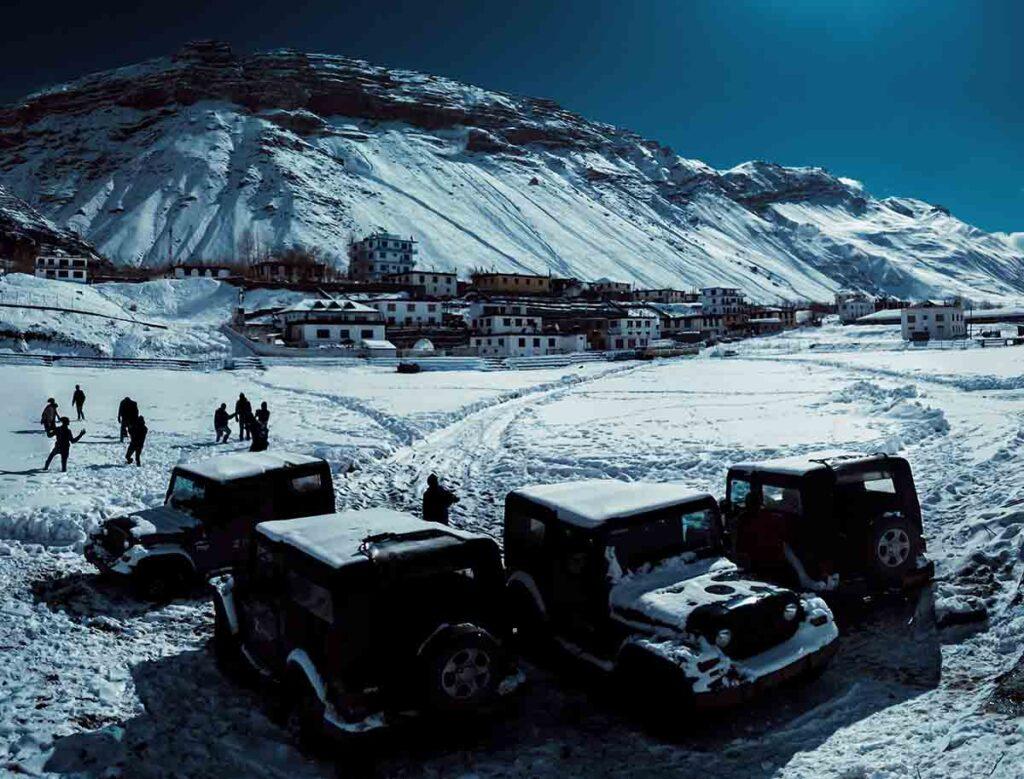 4. Spiti Valley
Spiti Valley, tucked away in the Trans-Himalayan region, is an adventurer's dream. Its desolate but breathtaking landscapes draw trekkers and motorcyclists from all over the world. Set out on a memorable adventure through high-altitude communities, old monasteries, and the valley's natural splendor. Read More
5. Manali
Manali, surrounded by snow-capped mountains and beautiful green valleys, is a popular destination for thrill seekers. In the middle of stunning landscapes, partake in exhilarating sports such as paragliding, skiing, and river rafting. Feel the surge of exhilaration as you soar through the bright blue skies or navigate the Beas River's furious rapids.
6. Andaman and Nicobar
The Andaman and Nicobar Islands offer a world of excitement for anyone looking for ocean adventure. Dive into the clear waters to discover brilliant coral reefs, swim with unusual marine creatures, and marvel at the undisturbed beauty of undersea ecosystems. Snorkeling and scuba diving in these gorgeous seas will captivate you. Don't pass up the chance to try thrilling water sports like jet skiing, banana boat rides, and kayaking.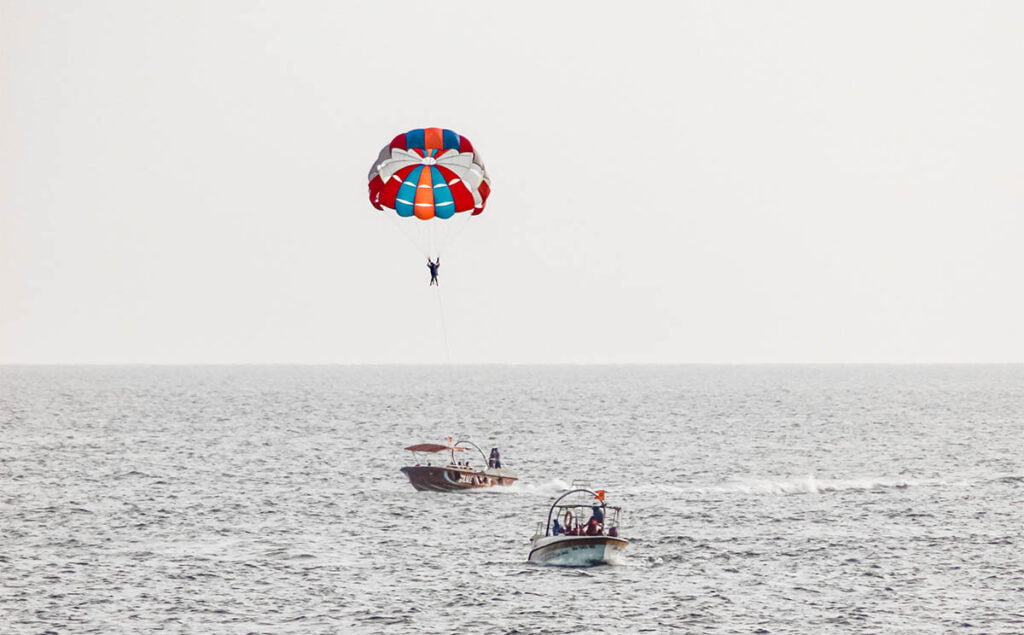 7. Goa
Goa, known for its stunning beaches and exciting nightlife, also has a plethora of Extreme sports. On the sun-kissed beaches, try your hand at water sports like parasailing, windsurfing, and jet skiing. Begin your adventure with a thrilling hike through the lush forests of the Western Ghats, or choose a thrilling bike trip along gorgeous coastal paths. Goa offers the ideal combination of adventure, leisure, and lively culture. Read More
8. Dandeli
Dandeli, located in Karnataka's Western Ghats, is a hidden gem for adventure seekers. On an adrenaline-pumping wildlife safari, explore the deep jungles and catch views of secretive creatures like tigers and elephants. Take part in white-water rafting on the Kali River, which is known for its difficult rapids. Enjoy the thrill of ziplining through the lush green canopy or kayaking and canoeing in the calm waters.
9. Jim Corbett
The Jim Corbett National Park in Uttarakhand is a wildlife and adventure lover's paradise. Set out on an exciting jungle adventure in search of the beautiful Bengal tiger and other fascinating animal species. Immerse yourself in the beauty of this national park by engaging in animal photography, nature walks, and bird watching. To genuinely connect with nature, spend a night in one of the forest lodges for a one-of-a-kind experience.
10. Meghalaya
activities. As you stroll through the lush rainforests, look for living root bridges produced by intertwining tree roots. Caving trips can be taken to uncover secret underground wonders where stalactites and stalagmites create a mysterious environment. Meghalaya is an adventurer's dream, with stunning waterfalls and panoramic vistas.
11. Rajasthan
Rajasthan is well-known for its rich history and heritage of culture, but it also provides thrilling experiences in its regal landscapes. Feel the rush of adrenaline as you ride a camel or an all-terrain vehicle on a desert safari among Jaisalmer's golden dunes. Experience hot air ballooning and marvel at the breathtaking views of bustling cities and towering forts from above. A wildlife safari in Ranthambore National Park, home of the famous Royal Bengal tiger, is an unusual adventure.
12. Western Ghats
The Western Ghats, a UNESCO World Heritage Site, offers a wealth of adventure and exploration options. Trek through the lush green hills of Munnar, Kerala, and marvel at the stunning splendor of tea plantations and tumbling waterfalls. Explore the lovely forests of Karnataka's Coorg, which are famed for their rich flora and fauna. The Western Ghats are a nature lover's dream, with unparalleled trekking, wildlife viewing, and camping opportunities.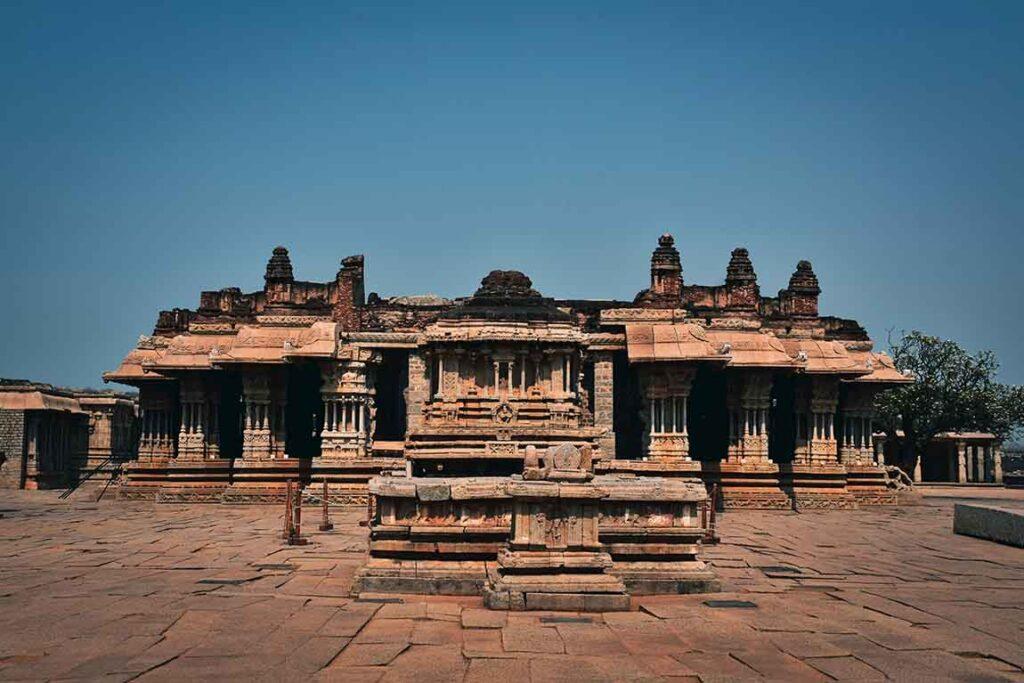 13. Hampi
Hampi, a UNESCO World Heritage Site in Karnataka, is famous not just for its ancient ruins but also for its challenging rock climbing opportunities. Rock climbers of all abilities will enjoy the unusual terrain strewn with boulders. Scale the spectacular boulders to get a bird's-eye view of the surrounding ruins. Hampi's historical allure paired with adrenaline-pumping activities makes it a unique exciting destination. Read More
Note: Before planning to visit Hampi, Karnataka. Please check any policy updates on the Karnataka tourism official website Welcome to Karnataka Tourism – Government of Karnataka.
Conclusion
India is a nation of limitless adventure opportunities, with something new and exciting around every corner. India caters to the adrenaline junkie in all of us, from ascending the massive Himalayas to diving into the blue waters of Andaman and Nicobar. Explore these Best adventure trips in India in the spirit of adventure for an unforgettable experience.
FAQs
Q: Are these adventure activities suitable for beginners?
A: Yes, many of these locations provide activities appropriate for beginners as well as necessary instruction and safety measures.
Q: Is it necessary to have prior experience trekking in the Himalayas?
A: While prior trekking experience is advantageous, there are some trails suited for beginners. It is recommended that you select the appropriate trek based on your level of fitness.
Q: Are there age restrictions for participating in adventure activities?
A: The age requirements vary depending on the activity and location. Before embarking on your expedition, make sure to verify the precise prerequisites.
Q: Are these adventure destinations family-friendly?
A: Yes, many of these locations have family-friendly activities. However, it is recommended that you examine the age limitations and safety recommendations ahead of time.
Q: How can I ensure the safety of adventure activities?
A: It is critical to select authorized and respected operators, adheres to safety regulations, and employ proper safety equipment. When participating in adventure sports, always put your health first.