Outline of the Article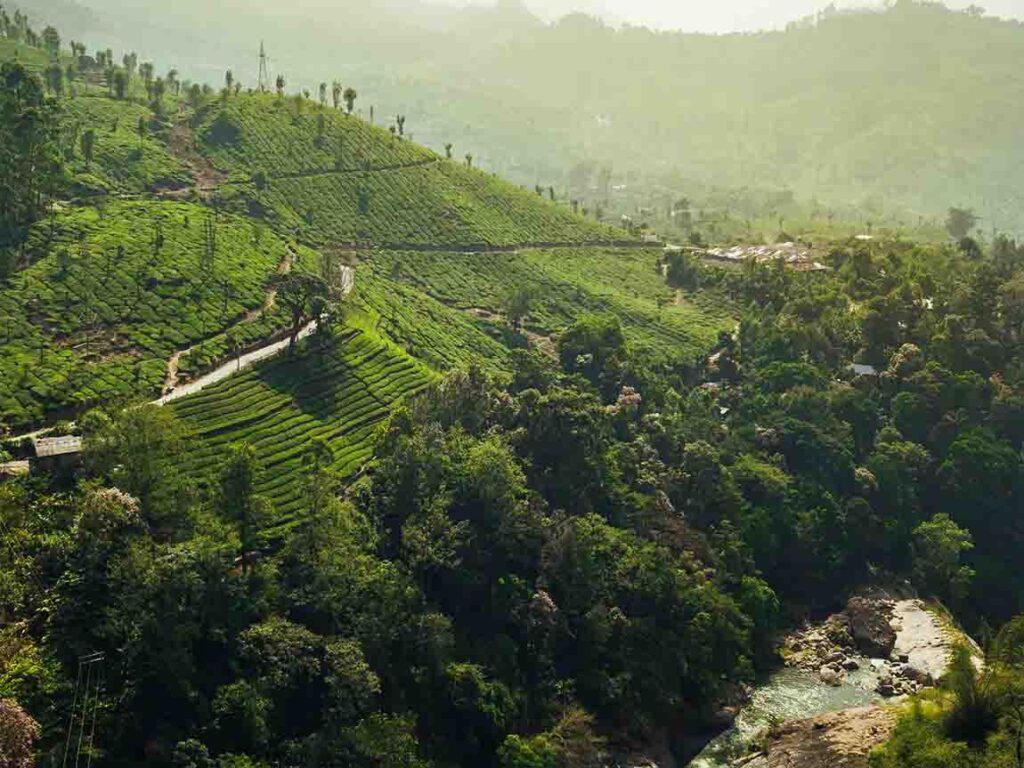 Do you want to visit a captivating location that combines spectacular natural beauty, calm scenery, and a refreshing climate? Look no further than Munnar, a tranquil hill station in India's scenic state of Kerala. Munnar, known for its lush tea plantations, mist-covered valleys, and rich flora and fauna, provides a truly delightful experience for nature lovers, adventure seekers, and those looking for a calm escape. We will delve into the soul of Munnar in this thorough travel guide, emphasizing its attractions, activities, local culture, and more. So, let us embark on a journey to discover Munnar's enthralling beauty.
Location and Overview of Munnar
Munnar is located in Kerala's Western Ghats at the confluence of three mountain streams: Mudrapuzha, Nallathanni, and Kundala. It is situated at roughly 10.0889° N latitude and 77.0595° E longitude. The village is set among undulating hills and valleys, with vistas of beautiful tea gardens, deep forests, and foggy peaks. Munnar's elevation spans from 1,500 to 2,695 meters above sea level, contributing to its mild and refreshing temperature all year.
Top attractions in Munnar for nature lovers
Tea Plantations & Estates
It is famous for its huge tracts of tea plantations, which cover the terrain like a vivid green carpet. Visitors can enjoy guided tours of these tea estates, observing the tea-making process from leaf plucking to the finished product. The pleasant fragrance of tea leaves permeates the air, providing guests with a sensory experience.
Eravikulam National Park
Eravikulam National Park is a biodiverse refuge overflowing with rich flora and animals and is home to the endangered Nilgiri Tahr. The park has undulating meadows, shola trees, and scenic hiking trails. During the flowering season, the park transforms into a bright carpet of Neelakurinji flowers, a once-in-a-decade spectacle.
Mattupetty Dam and Lake
Located near Munnar, Mattupetty Dam, and Lake provide a tranquil respite among nature's abundance. The reservoir is surrounded by beautiful flora and is perfect for boating and picnics. Visitors can also visit the local dairy farm and participate in activities such as horseback riding and trekking.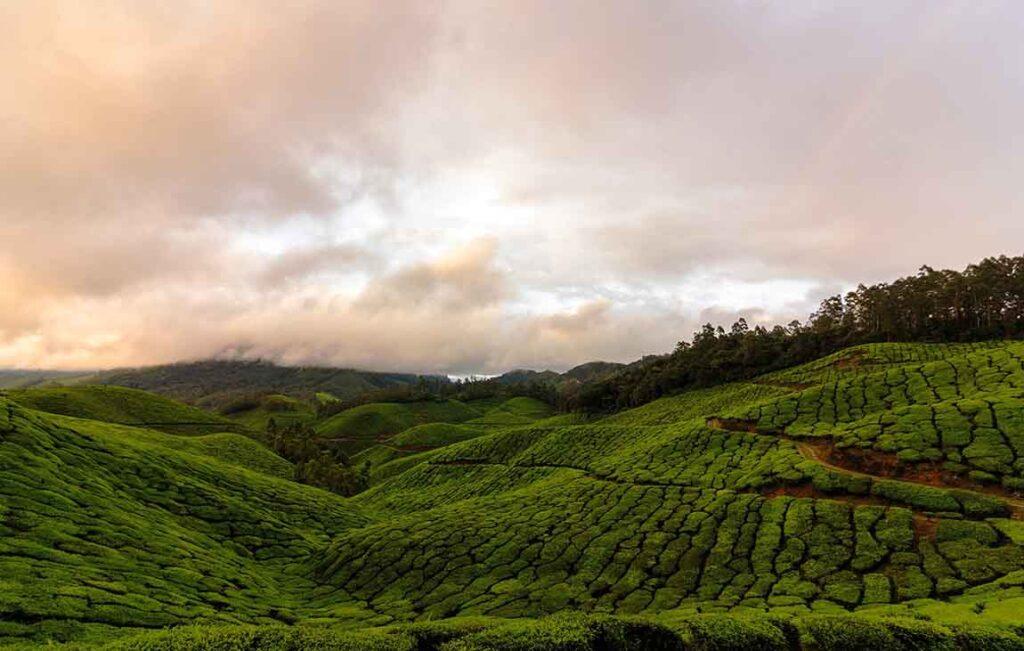 Top Station
Top Station, located on the Kerala-Tamil Nadu border, offers stunning views of the Western Ghats and the distant valley. The mist-covered hills and sprawling tea plantations create an eerie atmosphere. It is Munnar's highest point and is famous for its panoramic sunrise and sunset views.
Kundala Lake
Kundala Lake is a tranquil and attractive place, surrounded by green valleys and rolling hills. Boating on the lake's calm waters is a favorite pastime. The neighboring Kundala Dam and Golf Course contribute to the allure of this picturesque resort.
Tea Museum
For tea connoisseurs, a trip to Munnar's Tea Museum is a must. From the colonial era to the present, this museum depicts the growth of tea production in the region. Through instructive exhibitions and demonstrations, visitors may learn about the history, cultivation, and processing of tea.
Blossom International Park
Blossom International Park A nature lover's paradise, Blossom International Park offers a calm refuge amidst groomed gardens, exotic flora, and lovely waterfalls. It is a perfect location for a leisurely stroll, picnic, or simply relaxing in the midst of nature's splendor.
Munnar's waterfalls
It is endowed with various enthralling waterfalls that add to the area's natural beauty. Visit the beautiful Attukad Waterfalls, which are noted for their torrential streams pouring over the rocky terrain. Lakkam and Chinnakanal Waterfalls are also worth visiting for their scenic beauty and tranquility.
Echo Point
At an elevation of 2,600 meters, Echo Point is a remarkable location where you may witness the phenomena of echo. Shout your name and hear it echo through the hills. It is a famous tourist destination due to its tranquil surroundings, mist-covered mountains, and enchanting echo.
Anamudi Peak
A visit to Anamudi Peak is a necessity for ardent hikers and adventure enthusiasts. With an elevation of 2,695 meters, it is the tallest peak in South India. The hike to the summit provides breathtaking views of the surrounding valleys, tea plantations, and the Western Ghats, making it a remarkable experience for nature lovers.
Adventure and Nature Activities
It is not only a refuge for nature lovers, but it also has a plethora of adventure activities for adrenaline seekers. Here are some fun things to do in Munnar during your visit:
Trekking and hiking trails in Munnar
Trekking and hiking paths will take you through lush forests, tea plantations, and stunning valleys as you explore the raw beauty. The routes vary in complexity, making them suitable for both novice and experienced hikers. Popular treks include the Meesapulimala Trek, Chokramudi Trek, and Lakkam Waterfalls Trek, all of which offer breathtaking views and unforgettable experiences.
Wildlife Spotting
Go on wildlife safaris and nature walks to immerse yourself in the wilderness. Eravikulam National Park is a must-see for wildlife aficionados, as it is home to the endangered Nilgiri Tahr, as well as sambar deer, langurs, and a variety of bird species. Chinnar Wildlife Sanctuary and Anamudi Shola National Park, both of which have rich flora and animals, are well worth visiting.
Boating & Water Activities
Take a relaxing boat ride on Munnar's tranquil lakes. The tranquility of the surroundings will leave you rejuvenated whether you're rowing a traditional boat on Kundala Lake or pedal boating on Echo Point Lake. You can also engage in sports such as fishing or simply rest by the lake, taking in the natural beauty.
Jeep Safaris
For an amazing off-road adventure, take a jeep safari and discover isolated and pristine areas. Travel through rocky terrains, meandering roads, and stunning views of tea gardens, flowing waterfalls, and foggy valleys. Jeep safaris are highly suggested to sites like Kolukkumalai, the world's highest tea plantation, and Marayoor noted for its sandalwood forests and ancient dolmens.
Local Culture and Cuisine
Munnar, in addition to its natural beauty, provides a look into Kerala's rich culture and traditions. Here are some features of local culture and food to investigate:
Munnar's Unique Cultural Aspects
It is home to several tribal communities, including the Muthuvan, Malayarayan, and Mannan tribes. Interacting with these tribes allows you to learn about their customs, art forms, and traditional way of life. Participating in cultural programs and festivals organized by these groups allows you to learn about their lively traditions.
Traditional Festivals
It celebrates a number of festivals with zeal. Onam, Kerala's harvest festival, is one of the most well-known, with traditional dances such as Kaikottikali and Pulikali, as well as grand feasts. Another important event that draws travelers from all over the world is the yearly Neelakurinji Festival, which commemorates the blooming of the Neelakurinji flowers.
Must-Try Dishes & Local Cuisine
While at Munnar, indulge in the wonderful flavors of Kerala food. Don't miss out on the traditional Kerala Sadya, a feast served on a banana leaf that includes vegetarian foods such as avial, olan, and sambar. Fresh and tasty fish curries and prawn meals are available for seafood aficionados. Try the local speciality "puttu" with kadala curry, which is a favorite breakfast combination in Kerala.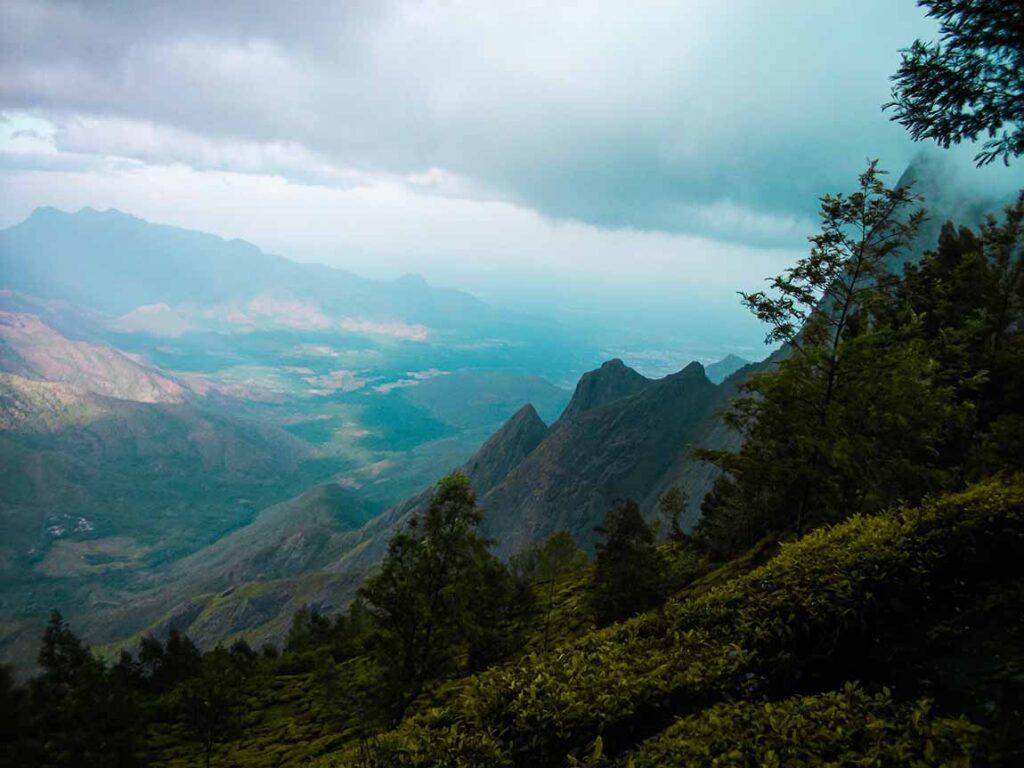 Accommodation Options
It has a variety of lodging alternatives to meet any traveler's interests and budget. Munnar has it all, whether you're seeking luxurious resorts, cozy cottages, or budget-friendly homestays. Here are some popular lodging options:
Luxury Resorts
Treat yourself to a sumptuous stay at one of Munnar's many resorts. These resorts provide world-class amenities, spa services, beautiful vistas, and exceptional service. The Windflower Resort & Spa, Devonshire Greens, and Ragamaya Resort & Spa are some of Munnar's well-known luxury resorts.
Cottages & Villas
Stay in cozy cottages and villas hidden among nature to experience the charm. These hotels offer a homey atmosphere as well as excellent conveniences. Many of the cottages have breathtaking views of the neighboring tea gardens and valleys. Tea Harvester, Deep Woods Resort, and Swiss County are all popular choices.
Homestays
Choose a homestay to immerse yourself in the local culture and hospitality. Local families that open their homes to visitors generally run these lodgings. Homestays provide a pleasant and personalized experience that allows you to interact with locals and learn about their culture. Dream Catcher Plantation Resort, Green Shades Homestay, and The Fog Resort & Spa are recommended homestays.
Budget Hotels and Guesthouses
Munnar features a variety of inexpensive hotels and guesthouses that offer comfortable accommodations without sacrificing quality. These places provide basic facilities, cleanliness, and a handy location. Hotel Hillview Munnar, Clouds Valley Leisure Hotel, and Las Palmas are among the more affordable options.
Best Time to Visit Munnar
When arranging a trip to Munnar, take into account the best months and seasons, as well as the weather and tourist crowds. Consider the following factors:
Ideal Months & Seasons
The months of October to March are ideal for visiting Munnar. This is considered peak season since the weather is good and conducive to outdoor activities. The temperature swings from 10°C to 25°C, making it ideal for sightseeing, trekking, and other outdoor activities. The monsoon season, which lasts from June to September, delivers lush foliage and is also a lovely time to visit for those who adore Munnar's rain-soaked beauty.
Weather and Tourist Crowds
Due to its position in the Western Ghats, It has a mild and refreshing climate all year. However, the winter months of December and January can be significantly cooler, with temperatures dipping to around 5°C, particularly in the evenings and early mornings. Temperatures in the summer months of April and May can reach up to 35°C. It receives a greater number of tourists during these peak seasons, resulting in more congested attractions and accommodations.
You may enjoy beautiful weather and avoid severe temperatures by planning your vacation to Munnar during the optimal months while also taking into account tourist throngs to make the most of your trip.
Transportation and Getting Around
When visiting Munnar, it is critical to be aware of the nearest airport and railway stations, as well as the local transport alternatives accessible for navigating around the region.
Nearest Airport
The closest airport to Munnar is Cochin International Airport, which is roughly 110 km away. It is well-connected to major Indian cities as well as international destinations. To get to Munnar, you can take a taxi or book a pre-arranged private transfer from the airport. The beautiful drive from the airport to Munnar takes around 3–4 hours and provides spectacular views of the Western Ghats.
Nearest Railway Stations
Aluva and Ernakulam Junction (also known as Ernakulam South) are the closest railway stations. It is roughly 110 kilometers away from Aluva, while Ernakulam Junction is approximately 130 kilometers away. These railway stations provide excellent connections to major cities in India. You may reach Munnar by cab or bus from the train terminals.
Local transportation alternatives:
Munnar has various local transportation alternatives for traveling around and experiencing the region, including:
Taxis: Taxis are a common and convenient means of transportation. Taxis are readily available for hire at the airport, railway terminals, and throughout the city. It is best to bargain the fare or use taxi services with fixed rates.
Auto-rickshaws: Auto-rickshaws are ubiquitous in Munnar and can be used for short distances inside the town or to neighboring attractions. Make sure to agree on a fare before beginning the ride, as they do not normally use meters.
Local Buses: It has a well-established network of local buses that connect the town and surrounding areas. These buses are an inexpensive way to travel short to medium distances. Munnar's primary bus station is the Munnar Private Bus Stand.
Rented Vehicles: If you prefer greater independence and flexibility in your travel, you can rent a car, motorcycle, or bicycle from one of Munnar's rental organizations. This allows you to go at your own leisure and see unusual places.
It's worth noting that the roads, particularly in the steep sections, can be small and winding. Follow traffic rules and drive or take public transport with caution for safe travel.
Safety Tips and Precautions
To ensure a safe and pleasurable vacation to Munnar, follow these safety guidelines and precautions:
Weather Awareness
Stay up-to-date on weather forecasts and be prepared for unexpected changes in weather conditions, particularly during the monsoon season. Carry proper rain gear and dress in layers to accommodate weather changes.
Hiking and Trekking Safety
Hiring a local guide who is experienced with the routes and terrain is recommended if you plan to engage in hiking or trekking activities. Carry necessary goods such as enough water, food, a first aid kit, and adequate trekking gear. Tell someone about your hiking plans and expected return time.
Responsible Tourism
While exploring Munnar, be mindful of the local culture, traditions, and environment. Avoid trash and keep your surroundings clean. Respect wildlife habitats and stick to authorized trails. Do not bother or feed animals or birds.
Health and Safety
Carry required medications, insect repellents, and sunscreen to protect yourself from common health issues. Stay hydrated by drinking bottled water. Travel insurance that covers medical emergencies is recommended.
You may enjoy a memorable and safe visit to Munnar if you follow this safety advice and precautions.
Conclusion
Munnar, with its beautiful beauty and quiet landscapes, is a nature lover's and adventurer's dream. It offers a stunning experience that will captivate you, from its lush tea plantations and mist-covered valleys to its diverse animals and rich cultural legacy. It has something for everyone, whether you're looking for a tranquil escape in the midst of nature or an adrenaline-pumping adventure. So pack your luggage, immerse yourself in Munnar's beautiful beauty, and make memories to last a lifetime.
Note: Before planning to visit Munnar Kerala. Please check any policy updates Welcome to Kerala Tourism – Official Website of Department of Tourism.
Frequently Asked Questions (FAQs)
Q1. What is the best time to visit Munnar?
The months of October to March are perfect for visiting Munnar because the weather is nice and ideal for outdoor activities.
Q2. How do I get to Munnar?
Cochin International Airport, located around 110 km from Munnar, is the nearest airport. From there, you can take a taxi or a bus to Munnar. Aluva, around 110 km from Munnar, has the nearest railway station.
Q3. Are there any adventurous activities in Munnar?
Yes, Munnar has a variety of adventure activities available, including trekking, animal viewing, kayaking, jeep safaris, and more.
Q4. What are some of the most popular Munnar souvenirs?
Tea and spices, handcrafted chocolates, scented oils, and traditional handicrafts are among the most popular Munnar souvenirs.
Q5. Is it safe to visit Munnar?
Yes, Munnar is a secure destination for visitors. To ensure safe and pleasurable travel, it is always advisable to take the required precautions and observe local guidelines.