Want to travel to a location with unmatched natural beauty and culture? Kerala is ready for you! This state, known as "God's Own Country," is located in southern India and is a monument to the magnificence of nature and its rich culture. Kerala Tourism welcomes you to fully experience the state's lush surroundings, which range from tranquil backwaters to immaculate beaches and foggy highland areas.
Enjoy its vivacious festivals, indulge in its mouthwatering cuisine, and encounter the friendliness of its populace. Join us on this virtual trip to discover why Kerala is more than simply a place to visit; it's a heart-stirring experience and a real entryway to heaven.
Outline of the Article
Introduction
India's crown jewel, Kerala Tourism, shines and draws visitors from all over the world. Kerala offers an incomparable experience with its tranquil backwaters, spotless beaches, green highlands, and distinctive wildlife. Learn about "God's Own Country" and its rich cultural legacy. Your utopia is here!
Natural Beauty
Kerala Beaches: Sun, Sand, and Serenity
The charm of Kerala Beaches: Sun, Sand, and Serenity' is promoted by Kerala Tourism. These beaches, which are located in the southwest of India, provide more than simply beautiful scenery. Traditions dance on the golden dunes there, and the waters murmur legends from long before. Each little sand particle has a tale to tell, from the vibrant Varkala shores to the serene stretches of Marari. Take part in water activities, see traditional fishing, or just enjoy the sunshine. Kerala's beaches are experiences as well as travel destinations. Explore 'God's Own Country' with Kerala Tourism and take in its tranquil beauty.
Backwaters and Houseboats
With Kerala Tourism, discover the calm beauty of the Backwaters and Houseboats. Ride on a classic houseboat as you cruise through serene rivers surrounded by beautiful vegetation. Here, contemporary conveniences coexist with age-old customs. From the comfortable nooks of your floating home, drift by villages, paddy fields, and local life. Discover the true essence of 'God's Own Country'. Explore Kerala Tourism's best-kept secret and enjoy the melody of the backwaters.
Kerala Hill Stations: Escape to Nature's Lap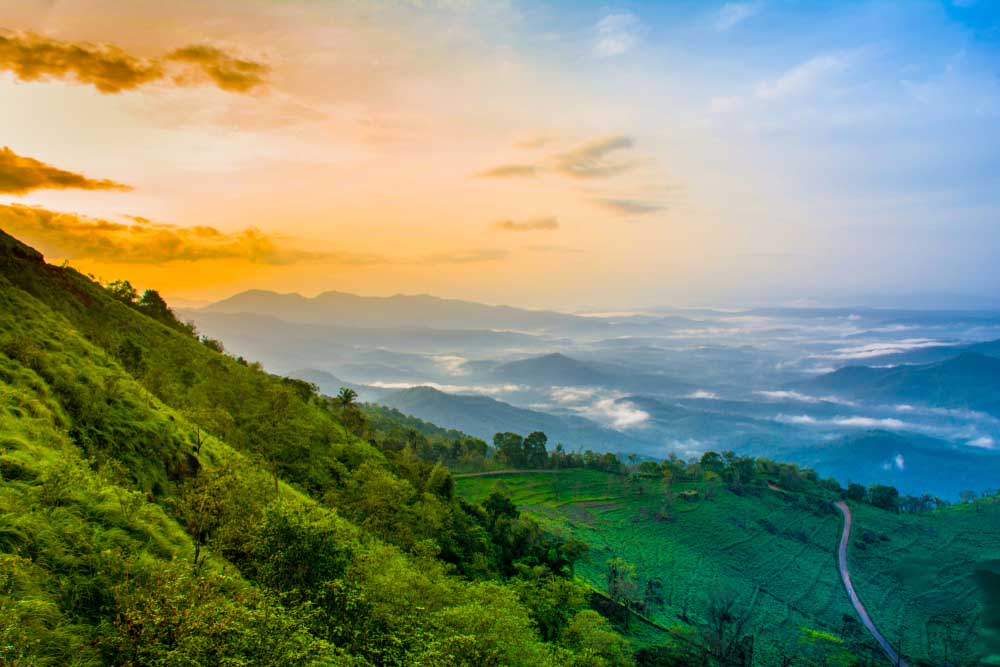 Kerala Hill Stations and their enchantment are revealed by Kerala Tourism. Nestled in the magnificent Western Ghats, these stations are works of nature. Tea plantations in the fog of Munnar beckon, while the winding roads of Ponmudi promise adventure. A unique feature of Thekkady is its unusual biodiversity. Every bend you make as you go across these hills unveils breathtaking views and clean mountain air.
Kerala's hills have both the quiet and the adventure you want. With Kerala Tourism, you are immersed in an experience rather than merely paying a visit. Don't just visit; experience the beauties of nature here.
Wildlife Sanctuaries and National Parks
Discover Kerala's pristine Wildlife Sanctuaries and National Parks with Kerala Tourism. Treasures like Periyar, where tigers live free, and Silent Valley, which echoes nature's murmurs, are hidden in its beautiful surroundings. Elephants abound in Wayanad, while exotic birds adorn the skies around Kumarakom. Every sanctuary tells tales of the beauty of nature, and each national park presents a distinctive animal display. Kerala's wildness beckons to every nature enthusiast; it is not just about backwaters and beaches. Explore Kerala's wild side by going off the beaten path with Kerala Tourism.
Cultural Heritage and Traditions
The cultural heritage of Kerala is as diverse as its natural beauty. Immerse yourself in vivid traditions and traditional practices passed down through the centuries.
Kathakali and Other Performing Arts
Immerse yourself in the dynamic world of Kathakali and Other Performing Arts with the help of Kerala Tourism. With its exquisite makeup and evocative dancing, kathakali portrays tales of lore and bravery. However, Kerala's creativity doesn't end there. Theyyam links the divine and the mundane, while Mohiniyattam sways gracefully. Every performance serves as a showcase for Kerala's diverse cultural heritage.
Experience these centuries-old customs firsthand, and allow the rhythms, hues, and tales to mesmerize you. Explore Kerala Tourism's depths and allow the state's performing arts stage to leave a lasting impression on your soul.
Ayurveda and Wellness Retreats
Discover Kerala Tourism's secret to rejuvenation: Ayurveda and Wellness Retreats. Kerala, the center of traditional Ayurvedic practices, provides life-changing wellness opportunities. Engage in individualized therapies, relish therapeutic foods, and engage in peaceful yoga as you are surrounded by Kerala's beautiful beauty. Ayurveda is more effective during the monsoons, making this the finest time of year for holistic healing. Relax in opulent getaways while taking in the orchestra of nature. You are in for a rejuvenating journey in Kerala.
Festivals and Temples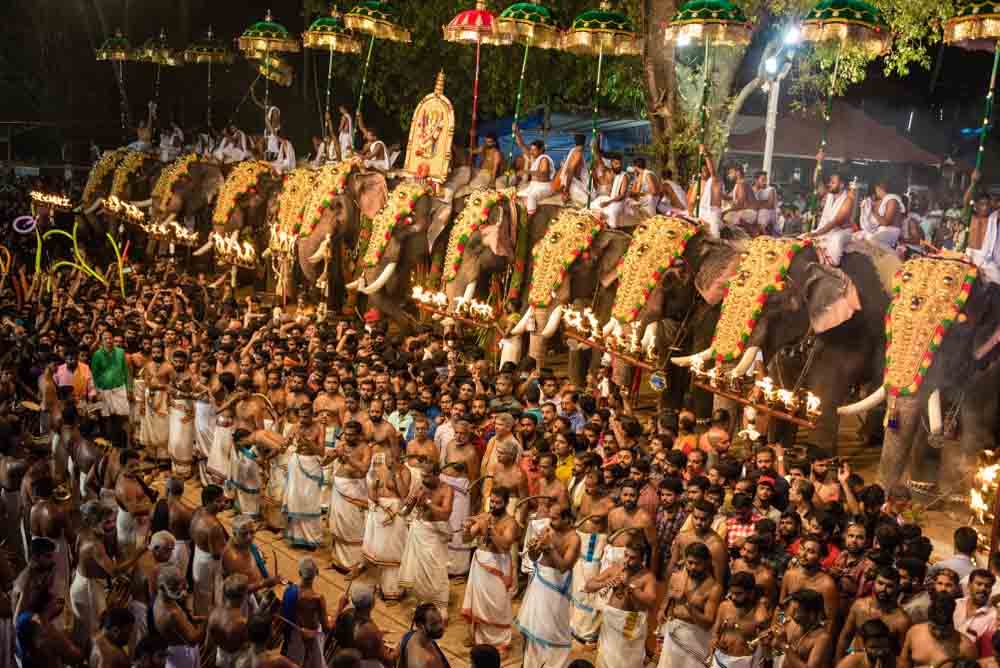 Take part in Kerala Tourism's vibrant Festivals and Temples events. Grand temple festivals and lively celebrations in Kerala serve as a showcase for the state's rich tapestry of traditions. Observe the splendor of Thrissur Pooram, be in awe of the magnificent Theyyam performances, and experience the heavenly energy of old temples. Explore Kerala's spiritual depths and keep pace with the pulsating beats of its celebrations. It's a voyage into the heart of God's Own Country, not merely a trip there. Be involved, taken in, and enchanted.
Adventure and Outdoor Activities
If you're looking for adventure and adrenaline-pumping adventures, Kerala has lots to offer.
Trekking and Hiking in the Western Ghats
Join Kerala Tourism as they take you on amazing treks and hikes over the Western Ghats. This hotspot for biodiversity offers lush pathways, expansive views, and the exhilaration of the unspoiled wild. Every step reveals the glories of nature, whether it be in the depths of Silent Valley or the peaks of Munnar. The Ghats promises tranquility and excitement, making them ideal for both inexperienced and experienced trekkers. Step by step, in the embrace of the gorgeous mountains, explore Kerala. Experience nature in its purest form.
Water Sports and Boating
Join Kerala Tourism as they dive into the thrilling world of water sports. Kerala offers a splash for everyone, from tranquil boating excursions on the backwaters to heart-pounding jet-skiing along the shore. Enjoy a ride on classic houseboats or take on the waves while windsurfing. Kerala's seas invite you to relax or experience excitement. In this paradise, where the adventures are as endless as the seas, explore, relax, and make waves. Make a splash in God's Own Country by joining us!
Wildlife Safaris and Bird Watching
With wildlife safaris and bird-watching trips offered by Kerala Tourism, explore Kerala's undiscovered marvels. Explore dense forests to see majestic elephants, or spend the early morning hours in silence to see unusual bird wonders. The sanctuaries of Kerala guarantee sightings that will leave a lasting impression thanks to the music of nature. Whether you're a serious birder or a big wildlife fan, Kerala's various ecosystems are calling. Let's travel into Kerala's deep interior together to experience nature in its purest, unadulterated form.
Delicious Cuisine and Culinary Experiences
No trip to Kerala would be complete without sampling its exquisite cuisine, which is noted for its rich flavors and aromatic spices.
Traditional Kerala Dishes
With the help of Kerala Tourism's guide to traditional foods, explore the gastronomic treasures of Kerala. Enjoy the luscious fish, aromatic spices, and coconut-rich curries that characterize the state's cuisine. Each meal, from the sour "Fish Moilee" to the salty "Puttu and Kadala," tells a story of Kerala's rich heritage. Discover ancient recipes passed down through the generations as you investigate. Allow Kerala Tourism to take your senses on a culinary journey while revealing Kerala's authentic spirit on every plate!
Spices and Flavors
Kerala Tourism's guide to the state's famed spices will help you discover the flavorful essence of Kerala. Travel through lush plantations filled with cloves, cardamom, and pepper. Kerala's cuisine has a rich flavor profile that is much sought after around the world because of its history with the spice trade.
Discover the stories of centuries-old trade and gourmet delights that have influenced palates around the world by diving deep into this aromatic journey with Kerala Tourism. Let's enjoy each flavor in Kerala one at a time!
Cooking Classes and Food Tours
With Kerala Tourism's special cooking lessons and cuisine tours, explore the depths of Kerala's gastronomic offerings. Take part in practical classes and learn the secrets of local cuisine that have delighted diners for generations. With Kerala Tourism, explore neighborhood markets in search of fresh ingredients and take in the kaleidoscope of flavors that are exclusive to Kerala's coasts. Join us on this culinary adventure as we reveal real dishes and enjoy tales that enhance each meal. Come celebrate, cook, and sample Kerala with us!
Popular Tourist Destinations in Kerala
Kerala has several notable tourist spots that highlight the finest of the state's natural and cultural features.
Kochi
The vibrant port city of Kochi perfectly captures the essence of Kerala Tourism's many offers. Its architectural landscape features a tasteful fusion of historic and contemporary buildings. Discover the historic charm of Fort Kochi, where recognizable Chinese fishing nets coexist with colonial architecture. Visit places of interest like the Jewish Synagogue and the Mattancherry Palace to fully experience Kochi's rich cultural diversity.
Kerala Tourism's dedication to presenting the diverse heritage of the state is reflected in these cultural treasures. Explore Kochi's colorful tapestry and learn about its fascinating history.
Munnar
Munnar, which is surrounded by beautiful tea plantations and undulating hills, is a sanctuary for those who love the outdoors. Kerala Tourism cordially invites you to stroll around the lush tea farms, taking in the magnificent scenery, and seeing the tea museums that detail the history of this well-liked beverage. Of course, don't forget to witness the breathtaking sunrise at the Top Station viewpoint. According to Kerala Tourism, Munnar is a haven for people looking for peace and natural beauty.
Alleppey
Alappuzha, another name for Alleppey, is the entry point to Kerala's renowned backwaters. Kerala Tourism extends an invitation to you to take a houseboat ride and enjoy the peace and quiet while the beautiful splendor of Vembanad Lake is revealed to you. A highly anticipated annual event that adds a dash of spice to your Alleppey trip is the thrilling Nehru Trophy Snake Boat Race. Discover the appeal of this backwater paradise as you immerse yourself in the area's stunning natural surroundings and rich culture, as expertly offered by Kerala Tourism.
Wayanad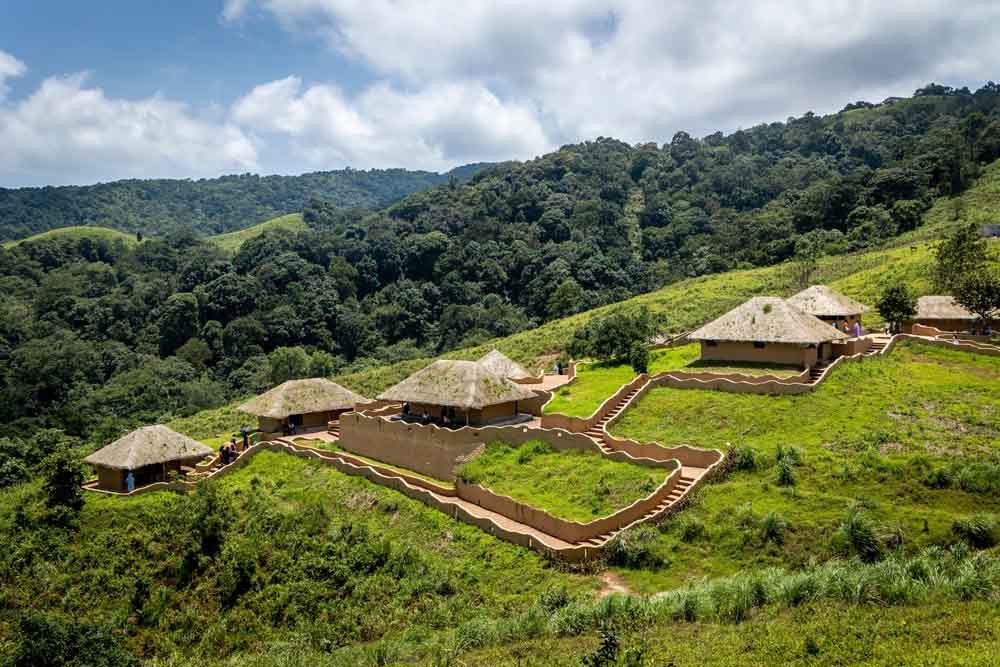 Nestled in the Western Ghats of Kerala, Wayanad is a nature lover's dream come true. Explore this charming district, known for its verdant surroundings, mist-covered mountains, and a plethora of wildlife, at the invitation of Kerala Tourism. Wayanad offers the ideal fusion of natural beauty and exhilarating adventures with intriguing sights like Chembra Peak, Pookode Lake, and the wildlife-rich Muthanga Wildlife Sanctuary.
Trekking through pristine woods, exploring historic caverns, and immersing yourself in the local tribal culture are all included in Kerala Tourism's comprehensive presentation of your trip to Wayanad. It's a comprehensive experience of the environment and culture in one breathtaking location.
Kovalam
Kovalam is a coastal treasure that Kerala Tourism promotes. It has crescent-shaped beaches and a relaxed atmosphere. Immerse yourself in the golden beaches, revitalize with Ayurvedic treatments, and engage in thrilling water sports. The three famous beaches in Kovalam—Lighthouse Beach, Hawa Beach, and Samudra Beach—are highlighted by Kerala Tourism. These unspoiled coasts provide the ideal fusion of action and relaxation.
Explore Kovalam's seaside charm, where the rich culture and stunning coastline of Kerala converge to create a once-in-a-lifetime experience.
Thekkady
Thekkady offers an unmatched combination of wildlife encounters and stunning scenery. It is located close to the renowned Periyar Tiger Reserve. Kerala Tourism cordially invites you to have a boat safari on Periyar Lake, where you may see a variety of wildlife, including elephants. Experience the thrill of bamboo rafting while discovering the marvels of nature on energizing treks.
With care and attention to detail, Kerala Tourism presents Thekkady as your entryway to an unparalleled blend of wildlife and scenic splendor. It is a must-stop on your trip through Kerala since you may immerse yourself in the bright flora and lush, green scenery.
Suggestion to Read: 10 Best Tourist Places to Visit in Kerala | Things to do!
Best Time to Visit Kerala
Kerala is a year-round destination thanks to its tropical climate and continuous warm temperatures. According to Kerala Tourism, the ideal time to travel depends on your interests and travel goals. The winter months of November through February have nice weather that is ideal for outdoor recreation and tourism.
The rainy season in Kerala, which lasts from June to September, covers the area in lush vegetation, making it the perfect setting for reviving Ayurvedic treatments. Beach trips are best enjoyed throughout the summer, which runs from March to May. Kerala Tourism makes sure there's a season that suits everyone to come explore and take in the splendor of this lovely state.
Accommodation Options
It has a diverse choice of housing alternatives to suit a variety of tastes and budgets.
Luxury Resorts and Hotels
The world-class resorts and hotels in Kerala redefine luxury and extravagance. Kerala Tourism extends an invitation for you to experience top-notch service, stunning scenery, and cutting-edge facilities. Situated amidst rolling hills, with views of the backwaters, or beside placid beaches, these lodging options ensure a sumptuous and opulent stay. Discover the height of luxury at one of Kerala Tourism's hand-picked resorts and hotels.
Homestays and Guesthouses
For a personal and genuine experience, select locally owned homestays & guesthouses in Kerala. Kerala Tourism invites you to experience the warm hospitality firsthand, interact with the hospitable natives, and learn about their way of life. Cozy lodgings, delectable home-cooked meals, and a special chance to engage with the local way of life are all provided by these hotels. With Kerala Tourism's curated collection of homestays and guesthouses, you can explore the heart and soul of Kerala, where every stay is a special adventure.
Treehouses and Eco-Lodges
Consider booking a stay in a Keralan treehouse or eco-lodge for a unique and eco-aware experience. Kerala Tourism extends an invitation for you to enjoy birdwatching, relax in the peaceful outdoors, and wake up to breathtaking views of the natural world. These lodgings offer a sustainable and engaging stay by blending in perfectly with their natural environment. Experience the wonders of environmentally friendly accommodation with Kerala Tourism, where every second is a trip through the state's breathtaking scenery.
Sustainable Kerala Tourism
Kerala is proud of its dedication to sustainable tourism practices that protect its natural and cultural riches.
Responsible Travel Practices
Kerala Tourism promotes eco-friendly travel practices, waste minimization, and the preservation of regional customs and culture. It is recommended that travelers choose eco-friendly transportation options, support local establishments, and follow policies that support the preservation of the environment and cultural heritage. Due to Kerala Tourism's dedication to responsible tourism, each visit has a positive effect on the environment and nearby communities, promoting meaningful and sustainable travel.
Ecotourism Initiatives
The Kerala government has launched a number of ecotourism initiatives that invite tourists to take in the beauty of the state's environment while actively supporting its preservation. Participation in events like wildlife conservation initiatives, bird watching, and nature treks is encouraged by Kerala Tourism.
These encounters not only increase awareness but also significantly contribute to preserving fragile habitats. Every traveler becomes a custodian of Kerala's priceless natural heritage through Kerala Tourism's ecotourism efforts, ensuring its preservation for future generations.
Community-based Tourism Projects
Kerala's efforts in community-based tourism are committed to giving the people living there opportunity for sustainable livelihood. Kerala Tourism extends an invitation for you to take part in immersive activities such as interactive tours, homestays, and village visits. Through these exchanges, you can get to know the locals, learn about their fascinating traditions, and significantly improve their economic situation.
Engaging in Kerala's community-based tourism allows you to not only make lifelong memories but also act as a force for good by enhancing locals' quality of life and promoting cross-cultural understanding.
Planning Your Trip
Careful planning and preparation are required to make the most of your visit to Kerala. When arranging your trip, keep the following points in mind:
Transportation
Kerala has good rail, road, and aviation transportation networks. For both internal and foreign travelers, the Cochin International Airport serves as the main entry point, ensuring easy access to the state. Kerala Tourism enhances travel convenience by providing a comprehensive public transport network, encompassing buses and trains, that links multiple locations around the area. Those looking for even more comfort and convenience frequently choose to hire a private vehicle or taxi. Kerala Tourism makes sure that all visitors can effortlessly discover the alluring beauty of the state through convenient transportation choices.
Itinerary Suggestions
Careful planning is essential when visiting Kerala's numerous options. Giving each excursion enough time will ensure a well-balanced mix of sightseeing, relaxation, and immersive activities. Consult travel guides or professional assistance for customized itineraries that suit your own interests and tastes. Kerala Tourism invites visitors to customize their trips, ensuring that every trip is a well-balanced blend of discovery and leisure, driven by your personal interests.
Travel Tips and Recommendations
Pack light and bring comfortable clothing that is appropriate for the tropical climate.
Keep insect repellant and sunscreen on hand.
When visiting holy locations, observe local customs and traditions and dress modestly.
If you have dietary limitations or allergies, try local cuisine.
To reduce plastic waste, stay hydrated and carry a water bottle.
Check that you have the proper travel insurance and vaccinations.
Conclusion
Kerala, a place of breathtaking natural beauty, extravagant cultural riches, and warm friendliness, truly captures the essence of heaven. Kerala has everything you might want, whether you're looking for adventure, rest, or cultural immersion. This gorgeous state is full of hidden gems that are just waiting to be discovered, from its immaculate beaches and serene backwaters to its verdant hill stations and mouthwatering food. Set out on a journey through Kerala and allow its unparalleled beauty and appeal to enchant you deeply. Kerala Tourism extends an invitation to you to experience the allure of this magical location, where each day is an adventure in pure delight.
Note: Before planning to visit Kerala. Please check any policy updates on Welcome to Kerala Tourism – the Official Website of the Department of Tourism.
FAQs (Frequently Asked Questions)
Q1. Is Kerala safe for tourists?
Yes, Kerala is usually regarded as a safe tourism destination. However, normal precautions, such as being aware of your surroundings, protecting your things, and following any specific safety rules supplied by authorities, are always recommended.
Q2. Can I experience Ayurveda treatments in Kerala?
Yes, Kerala is well-known for its Ayurvedic practices. Throughout Kerala, there are various Ayurvedic centers and resorts where you may indulge in revitalizing Ayurvedic treatments, massages, and therapies. These ancient therapeutic practices seek to restore balance and improve overall health and well-being.
Q3. Are there wildlife safaris in Kerala?
Yes, Kerala has a number of national parks and wildlife sanctuaries where you can go on exciting wildlife safaris. Periyar Tiger Reserve, Wayanad Wildlife Sanctuary, and Silent Valley National Park are some of the most popular places to see wildlife such as elephants, tigers, and other bird species.
Q4. Can I experience houseboat cruises in Kerala?
Absolutely! Houseboat trips are popular in Kerala's backwaters. You can rent a traditional houseboat, known as a "kettuvallam," and sail around the quiet backwaters, immersing yourself in the surroundings. Admire the beautiful scenery, spot local birds, and savour wonderful traditional meals made onboard.
Q5. What are the must-try dishes in Kerala?
Kerala is a foodie's delight, with a wide range of delectable delicacies. Appam (rice pancakes), puttu (steamed rice cake), karimeen pollichathu (pearl spot fish marinated in spices and wrapped in banana leaf), and Kerala-style fish curry cooked with coconut and spices are all must-tries. Among the vegetarian options are avial (mixed vegetable curry) and olan (pumpkin and coconut milk curry).
Q6. How can I experience the cultural heritage of Kerala?
Attend traditional performing arts such as Kathakali and Mohiniyattam to learn about Kerala's rich cultural heritage. Visit old temples such as Padmanabhaswamy Temple and Guruvayur Sri Krishna Temple to admire the architecture and take part in festivals and rituals. You may also visit Ayurvedic centers to learn about ancient medical practices and cookery lessons to learn about Kerala cuisine's techniques and flavors.