Do you want to visit a place that combines spectacular natural beauty, vibrant culture, and exciting adventures? Look no further than Kerala, a captivating state located in southern India. Kerala, often known as "God's Own Country," offers a perfect blend of gorgeous scenery, ancient traditions, and genuine hospitality that will take your breath away. In this post, we will take you on a virtual tour of Kerala to help you understand why it is truly a gateway to paradise.
Outline of the Article
Introduction
Kerala has developed into one of India's top tourist attractions due to its immense natural resources and cultural history. Millions of visitors from all over the world come to experience its unique offerings. It has something for everyone, from tranquil backwaters to beautiful beaches, lush hill regions, and unusual animals.
Natural Beauty
Kerala Beaches: Sun, Sand, and Serenity
It has a coastline of about 550 kilometers, which is lined with beautiful beaches. Whether it's the well-known Kovalam Beach, with its golden sands and serene atmosphere, or the lesser-known Varkala Beach, with its spectacular cliffs and pure blue waters, each beach in Kerala has its own unique appeal.
Backwaters and Houseboats
Kerala's backwaters are a network of interconnecting canals, rivers, and lakes that produce a breathtakingly gorgeous landscape. A houseboat trip through these serene backwaters is an unforgettable experience. Relax as you float over lush green paddy fields, coconut groves, and charming villages.
Kerala Hill Stations: Escape to Nature's Lap
It has various enthralling hill stations nestled in the Western Ghats. Munnar, with its tea plantations and mist-covered valleys, provides a revitalizing retreat from city life. Other notable hill stations are Wayanad, Thekkady, and Idukki, which are famed for their lush flora, wildlife, and trekking trails.
Wildlife Sanctuaries and National Parks
It offers a plethora of options for wildlife enthusiasts to see unique flora and fauna. Thekkady's Periyar Tiger Reserve is well-known for elephant sightings and boat safaris. Silent Valley National Park, which is home to endangered animals such as the lion-tailed macaque and the Nilgiri langur, is a nature lover's heaven. Eravikulam National Park, which is home to the endangered Nilgiri Tahr, and Wayanad Wildlife Sanctuary, which offers exhilarating jeep safaris and birdwatching opportunities, are two more renowned wildlife sanctuaries.
Cultural Heritage and Traditions
The cultural heritage of Kerala is as diverse as its natural beauty. Immerse yourself in vivid traditions and traditional practices passed down through the centuries.
Kathakali and Other Performing Arts
Kathakali is a classical dance-drama that blends nuanced facial expressions, exquisite movements, and vivid costumes. A Kathakali performance is like entering a world of mythology and tradition. It also celebrates other performing arts forms such as Mohiniyattam, Theyyam, and Ottamthullal, all of which showcase the region's rich cultural tapestry.
Ayurveda and Wellness Retreats
Kerala is well-known for its traditional Ayurvedic practices that promote overall well-being. Indulge in revitalizing Ayurvedic treatments, massages, and therapies aimed at restoring balance and harmony in the body and mind. Ayurvedic programs are available at many resorts and wellness retreats, ensuring a refreshing experience during your stay.
Festivals and Temples
It is a region of celebration, with many colorful festivals held throughout the year. The splendor of Thrissur Pooram, boat races such as the Nehru Trophy and Aranmula, and ceremonial Theyyam performances are just a few instances of the cultural spectacle that awaits you. Explore the meticulously crafted temples, such as the famed Padmanabhaswamy Temple and Guruvayur Sri Krishna Temple, which demonstrate amazing architectural and spiritual significance.
Adventure and Outdoor Activities
If you're looking for adventure and adrenaline-pumping adventures, Kerala has lots to offer.
Trekking and Hiking in the Western Ghats
The Western Ghats, a UNESCO World Heritage Site, provides a breathtaking backdrop for exhilarating trekking and hiking excursions. Explore the region's unique biodiversity by traveling through lush green woods, mist-covered peaks, and gushing waterfalls. The Meesapulimala Trek in Munnar and the Chembra Peak Trek in Wayanad are two popular trekking trails
Water Sports and Boating
Kerala's wide coastline and backwaters are a water sports enthusiast's dream. In the backwaters, try kayaking, canoeing, and jet skiing, or head to coastal locations like Varkala and Kovalam for surfing and parasailing. The calm backwaters also provide boating and cruising options, allowing you to take in the scenery at your own speed.
Wildlife Safaris and Bird Watching
Explore Kerala's national parks and wildlife sanctuaries on thrilling wildlife safaris. Explore the natural habitats of stately elephants, elusive tigers, and a plethora of bird species. The Thattekkad Bird Sanctuary is a bird watcher's dream, where you may view rare and migratory birds among the tranquil surroundings.
Delicious Cuisine and Culinary Experiences
No trip to Kerala would be complete without sampling its exquisite cuisine, which is noted for its rich flavors and aromatic spices.
Traditional Kerala Dishes
Appam, a fluffy rice pancake, and puttu, a steamed rice cake, are traditional foods. Don't miss the delectable seafood dishes like karimeen pollichathu (pearl spot fish marinated in spices and wrapped in banana leaf) and meen curry (fish curry with coconut and spices). Vegetarians will enjoy delicacies like avial (a mixed vegetable curry) and olan (a pumpkin and coconut milk curry).
Spices and Flavors
Kerala food is filled with spices that lend depth and complexity to the flavors. Aromatic spices such as cardamom, black pepper, cinnamon, and cloves are just a few examples. Explore spice plantations and learn about the production and processing of these spices, giving you a better understanding of Kerala's culinary legacy.
Cooking Classes and Food Tours
Participate in cooking courses and cuisine trips to immerse yourself in Kerala's culinary heritage. Learn to cook authentic dishes under the supervision of skilled chefs who will reveal the secrets of Kerala's gastronomy to you. Food excursions take you through lively local markets, street food booths, and hidden jewels, allowing you to sample Kerala's unique flavors.
Popular Tourist Destinations in Kerala
Kerala has several notable tourist spots that highlight the finest of the state's natural and cultural features.
Kochi
Kochi, a thriving port city, has a mix of old and modern buildings. Explore Fort Kochi, which is known for its colonial architecture and iconic Chinese fishing nets. Immerse yourself in the city's rich history and cultural variety by visiting Mattancherry Palace and the Jewish Synagogue.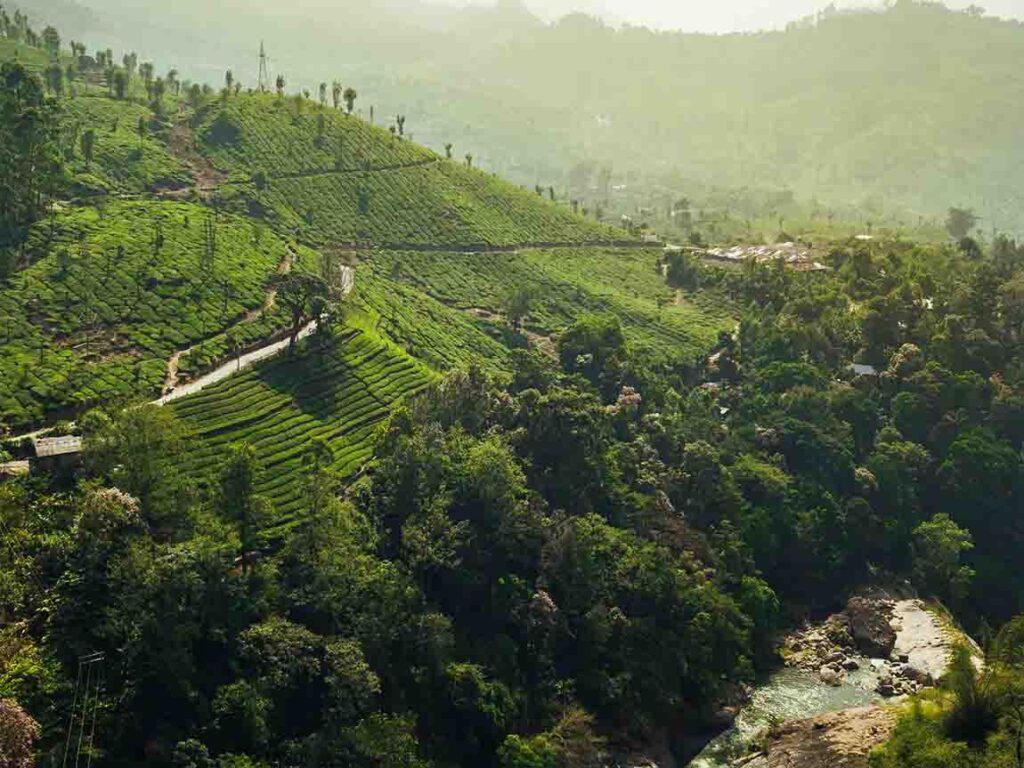 Munnar
Munnar, set among rolling hills and tea plantations, is a nature lover's heaven. Take a leisurely stroll through the tea estates, marvel at the magnificent surroundings, and visit the tea museums. Don't miss the spectacular sunrise from the Top Station viewpoint. Read More
Alleppey
Alleppey, also known as Alappuzha, is the gateway to Kerala's famous backwaters. Enjoy the serenity of a houseboat ride, the beauty of Vembanad Lake, and the Nehru Trophy Snake Boat Race, an exciting yearly event. Read More
Wayanad
Wayanad, located in Kerala's Western Ghats, is a nature lover's delight. This beautiful district is recognized for its lush green scenery, mist-covered mountains, and diverse wildlife. With attractions like Chembra Peak, Pookode Lake, and the wildlife-filled Muthanga Wildlife Sanctuary, it provides the ideal combination of scenic beauty and adventurous activities. Some of the pleasures of a trip to Wayanad include trekking through lush woods, exploring old caverns, and immersing oneself in indigenous tribal culture. Read More
Kovalam
Kovalam is a seaside town known for its crescent-shaped beaches and relaxed attitude. Relax on the golden sands, indulge in restorative Ayurvedic treatments, and participate in water sports. The lighthouse beach, Hawa beach, and Samudra beach are all prominent Kovalam attractions.
Thekkady
Thekkady, near the Periyar Tiger Reserve, has a unique combination of wildlife and scenic beauty. Take a boat safari on Periyar Lake to see elephants and other wildlife, go on nature hikes, or try bamboo rafting.
Best Time to Visit Kerala
Kerala has a tropical environment with mild temperatures throughout the year. The optimum time to visit is determined by your interests and the types of experiences you desire. The winter months of November to February are perfect for sightseeing and outdoor activities due to the pleasant weather. From June through September, the monsoon season delivers lush vegetation and is ideal for Ayurvedic therapies and rejuvenation. The summer months of March to May are rather warm but perfect for beach holidays.
Accommodation Options
It has a diverse choice of housing alternatives to suit a variety of tastes and budgets.
Luxury Resorts and Hotels
Kerala's best resorts and hotels offer richness and luxury. Enjoy world-class service, stunning views, and cutting-edge facilities. These hotels, whether hidden in the hills, overlooking the backwaters or along the seashore, provide a really luxurious experience.
Homestays and Guesthouses
Choose homestays and guesthouses owned by locals for a more intimate and authentic experience. Immerse yourself in Kerala's hospitality, engage with the locals, and learn about their way of life. These lodgings provide pleasant rooms, home-cooked meals, and an opportunity to interact with the local culture.
Treehouses and Eco-Lodges
Consider staying in a treehouse or an eco-lodge in Kerala for a unique and environmentally responsible experience. Wake up to the sounds of birds, take in panoramic views of the surroundings, and relax in nature's peace. These rooms blend harmoniously with their surroundings, delivering a sustainable and immersive experience.
Sustainable Tourism
Kerala is proud of its dedication to sustainable tourism practices that protect its natural and cultural riches.
Responsible Travel Practices
It promotes responsible tourism by encouraging eco-friendly activities, reducing waste, and honoring local people and traditions. Travelers are encouraged to use ecologically friendly forms of transportation, support local businesses, and follow environmental and cultural heritage criteria.
Ecotourism Initiatives
The state government has launched a number of ecotourism initiatives that allow visitors to experience Kerala's natural beauty while also helping to preserve it. Participate in nature hikes, bird viewing, and animal conservation programs to raise awareness and preserve fragile ecosystems.
Community-based Tourism Projects
In Kerala, community-based tourism programs aim to empower local people and offer them long-term livelihood prospects. Participate in homestays, village tours, and interactive activities to engage with people, learn about their traditions, and contribute to their economic well-being.
Planning Your Trip
Careful planning and preparation are required to make the most of your visit to Kerala. When arranging your trip, keep the following points in mind:
Transportation
Kerala has excellent air, road, and train connections. Cochin International Airport serves as the state's primary gateway, with regular local and international flights. Public transport, such as buses and railroads, allows easy access to many destinations throughout Kerala. Hiring a private car or taxi is another popular choice for convenience and comfort.
Itinerary Suggestions
With so much to see and do in Kerala, it's critical to plan your schedule carefully. Consider giving each trip enough time to allow for a healthy mix of sightseeing, leisure, and immersion experiences. Consult travel guides or seek expert guidance to tailor an itinerary to your interests and tastes.
Travel Tips and Recommendations
Pack light and bring comfortable clothing that is appropriate for the tropical climate.
Keep insect repellant and sunscreen on hand.
When visiting holy locations, observe local customs and traditions and dress modestly.
If you have dietary limitations or allergies, try local cuisine.
To reduce plastic waste, stay hydrated and carry a water bottle.
Check that you have the proper travel insurance and vaccinations.
Conclusion
Kerala, with its natural beauty, cultural richness, and loving hospitality, embodies the spirit of heaven. Kerala has it all, whether you want to relax, go on an adventure, or immerse yourself in culture. Every area of this picturesque state is a treasure waiting to be discovered, from pristine beaches and tranquil backwaters to verdant hill stations and tantalizing food. Begin your adventure in Kerala and allow its unparalleled beauty and charm to grab your heart and soul.
Note: Before planning to visit Kerala. Please check any policy updates on Welcome to Kerala Tourism – the Official Website of Department of Tourism.
FAQs (Frequently Asked Questions)
Q1. Is Kerala safe for tourists?
Yes, Kerala is usually regarded as a safe tourism destination. However, normal precautions, such as being aware of your surroundings, protecting your things, and following any specific safety rules supplied by authorities, are always recommended.
Q2. Can I experience Ayurveda treatments in Kerala?
Yes, Kerala is well-known for its Ayurvedic practices. Throughout Kerala, there are various Ayurvedic centers and resorts where you may indulge in revitalizing Ayurvedic treatments, massages, and therapies. These ancient therapeutic practices seek to restore balance and improve overall health and well-being.
Q3. What is the best time to visit Kerala?
The best time to visit Kerala is determined by your interests and the types of experiences you desire. The winter months of November to February are perfect for sightseeing and outdoor activities due to the pleasant weather. From June through September, the monsoon season provides lush vegetation and is ideal for Ayurvedic treatments and appreciating the splendor of the showers. Summer months, from March to May, are rather hot but good for beach holidays and hill station exploration.
Q4. Are there wildlife safaris in Kerala?
Yes, Kerala has a number of national parks and wildlife sanctuaries where you can go on exciting wildlife safaris. Periyar Tiger Reserve, Wayanad Wildlife Sanctuary, and Silent Valley National Park are some of the most popular places to see wildlife such as elephants, tigers, and other bird species.
Q5. Can I experience houseboat cruises in Kerala?
Absolutely! Houseboat trips are popular in Kerala's backwaters. You can rent a traditional houseboat, known as a "kettuvallam," and sail around the quiet backwaters, immersing yourself in the surroundings. Admire the beautiful scenery, spot local birds, and savour wonderful traditional meals made onboard.
Q6. What are the must-try dishes in Kerala?
Kerala is a foodie's delight, with a wide range of delectable delicacies. Appam (rice pancakes), puttu (steamed rice cake), karimeen pollichathu (pearl spot fish marinated in spices and wrapped in banana leaf), and Kerala-style fish curry cooked with coconut and spices are all must-tries. Among the vegetarian options are avial (mixed vegetable curry) and olan (pumpkin and coconut milk curry).
Q7. How can I experience the cultural heritage of Kerala?
Attend traditional performing arts such as Kathakali and Mohiniyattam to learn about Kerala's rich cultural heritage. Visit old temples such as Padmanabhaswamy Temple and Guruvayur Sri Krishna Temple to admire the architecture and take part in festivals and rituals. You may also visit Ayurvedic centers to learn about ancient medical practices and cookery lessons to learn about Kerala cuisine's techniques and flavors.