Kodaikanal, a scenic hill resort in Tamil Nadu, India, is known for its lush green landscapes, misty mountains, and tranquil lakes. Aside from its natural beauty, Kodaikanal has a wealth of adventure activities for adrenaline junkies and outdoor enthusiasts. Kodaikanal provides something for everyone, whether you're a solitary traveler looking for adventure or a family looking for bonding moments. This post will look at the exciting adventure activities available in this picturesque hill station.
Outline of the Article
Introduction
Kodaikanal, widely known as the "Princess of Hill Stations," provides not only calm vistas but also a variety of thrilling adventure activities for both nature lovers and adrenaline addicts. This gorgeous resort in Tamil Nadu's Western Ghats is a retreat for people seeking an escape from the everyday. In this post, we will look at a selection of adventure activities in Kodaikanal that will get your heart racing and your spirit soaring.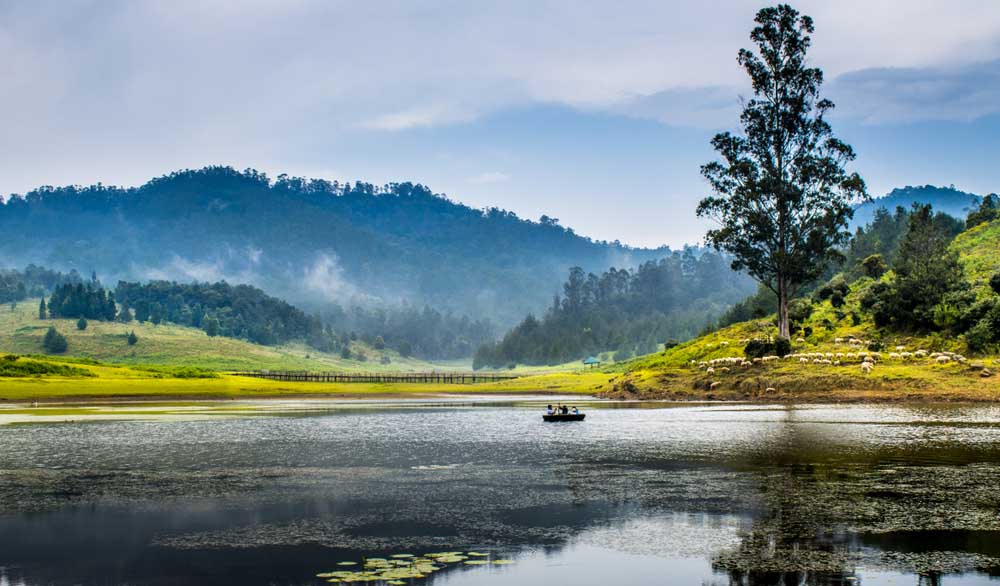 Adventure Activities in Kodaikanal: Unleash the Thrill!
Kodaikanal is a treasure trove of thrilling adventure activities that provide a one-of-a-kind combination of natural beauty and adrenaline-pumping adventures. There's something for everyone, whether you're a seasoned adventurer or a newbie eager to get out of your comfort zone. Let us explore the wonderful world of adventure activities in Kodaikanal:
Best Adventure Activities in Kodaikanal
1. Exploring the Wilderness
1.1 Trekking Through the Clouds
Trekking is one of the most popular things to do in Kodaikanal. Trekking routes in Kodaikanal take you through lush forests, meandering streams, and scenic vistas. Trails such as the Coaker's Walk Trail, Dolphin's Nose Trek, and Perumal Peak Trek are available. These excursions not only provide a sight of nature's splendor but also test your physical prowess. There's a walk for everyone, whether you're a seasoned hiker or a newbie. Bring good footwear, a drink, and a camera to record the breathtaking sights along the journey.
1.2 Camping Amidst Nature
Camping is one of the best things to do in Kodaikanal. It is an unrivaled experience of ultimate intimacy with nature. Consider sleeping beneath a star-studded sky, surrounded by the peaceful sounds of nature. Camping near Kodaikanal Lake or in the deep woodlands provides unparalleled tranquility and recuperation. To guarantee a comfortable camping trip, bring essentials such as tents, sleeping bags, bug repellants, and warm clothing.
1.3 Caving Adventure Activities
Caving adventure activities in Kodaikanal will take you underneath. Explore the underground caves and marvel at the unusual rock formations and pathways. The Guna Caves and Pillar Rocks Caves provide visitors with the opportunity to learn about the fascinating rock formations and ancient legends that surround these subterranean environments. Take guided excursions to assure your safety and to learn about the caverns' geological history. It's an unusual trip that reveals a new side of Kodaikanal's natural wonders.
2. Water Adventure activities in Kodaikanal
2.1 Boating on Kodaikanal Lake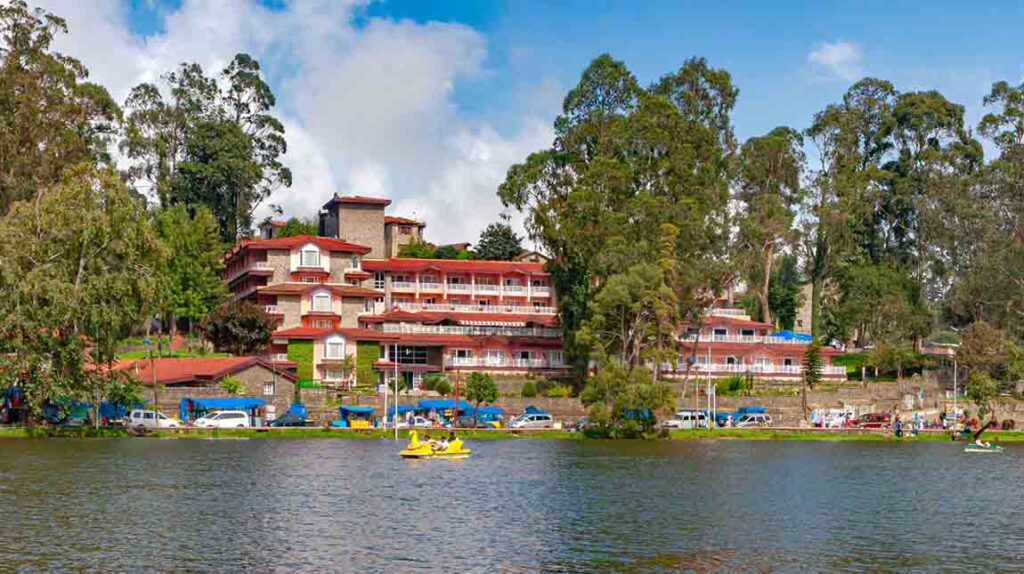 Kodaikanal Lake is a top tourist attraction in Kodaikanal that offers not only tranquil boat rides one of the best adventure activities in Kodaikanal but also the opportunity to take in the natural beauty of the surroundings. Rowboats or pedal boats are available for a leisurely glide across the crystal-clear waterways. The misty mornings and beautiful sunsets provide a magical touch to your boating adventure. Remember to photograph the moments against the backdrop of the Kodai highlands.
2.2 Waterfall Rappelling
Waterfall rappelling is one of the top adventure activities in Kodaikanal unlike any other for thrill enthusiasts. Consider descending dazzling waterfalls with water splashing all around you. This activity is common at the Silver Cascade Waterfall. As you relish the adrenaline rush, expert guides safeguard your safety. Prepare to get drenched and enjoy the rush of defeating nature's obstacles.
3. Airborne Thrills in Kodaikanal
3.1 Paragliding Over the Hills
Paragliding adventure activities in Kodaikanal allow you to soar like a bird over Kodaikanal's gorgeous landscapes. Feel the wind beneath your wings as you take in the scenery of hills, valleys, and lakes. Trained instructors safeguard your safety, making this an adventure for everyone. Capture the stunning vistas from above and keep the memories of this once-in-a-lifetime adventure close to your heart.
3.2 Ziplining Across Valleys
Zip lining is a unique way to explore the beauty of Kodaikanal while receiving an adrenaline rush. Zip along the lines to traverse between treetops and valleys. It's ideal for people searching for brief but exciting adventure activities in Kodaikanal. Overcome your fears and enjoy the thrill of flying through the air.
4. Cycling Adventures activities in Kodaikanal
4.1 Mountain Biking Trails
Kodaikanal, nestled among stunning scenery, provides thrill seekers with a thrilling mountain biking experience. Cyclists can explore a variety of terrains, battle difficult inclines, and enjoy thrilling descents. Bikers appreciate the Pine Forest and Perumalmalai trails, which promise an adrenaline-pumping adventure through nature's wealth. Rent a tough mountain bike and prepare to pedal your way through adventure activities in Kodaikanal, where nature and thrill collide flawlessly.
4.2 Cycling Through Villages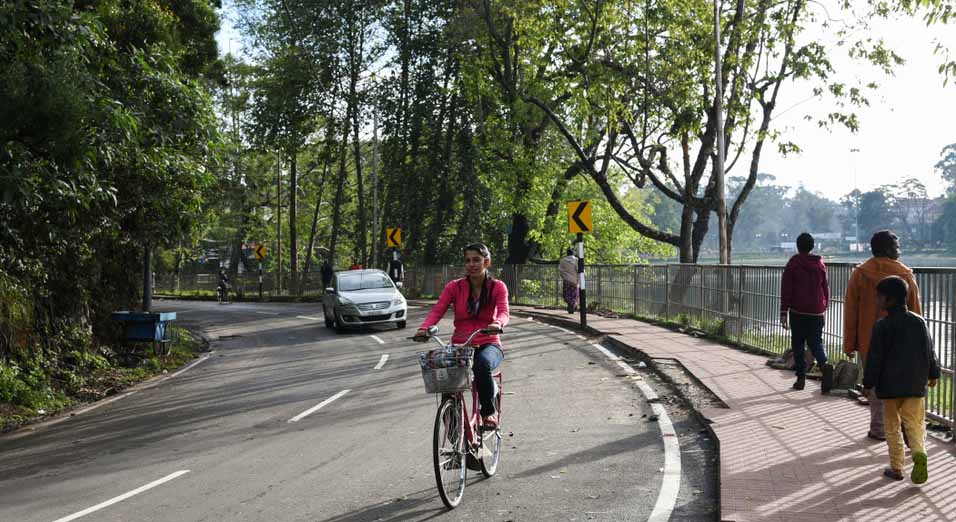 Exploring adjacent areas on your Kodaikanal bike experiences provides a unique opportunity to immerse yourself in local culture. Interact with friendly locals, sample traditional cuisine, and experience the allure of a simpler way of life. To ensure an enjoyable journey, choose routes that correspond to your level of fitness. Don't forget to bring your camera to capture the gorgeous scenery that goes along with these wonderful adventure activities in Kodaikanal.
4.3 Rock Climbing Challenges
Rock climbing in Kodaikanal is a must-try activity for individuals looking for an adrenaline rush and a test of physical power. Climbers of all skill levels will enjoy the granite cliffs and boulders. Fairy Falls and the Devil's Kitchen Boulders Boulders are popular rock climbing locations where you can conquer heights and enjoy panoramic views.
5. Wildlife Encounters in Kodaikanal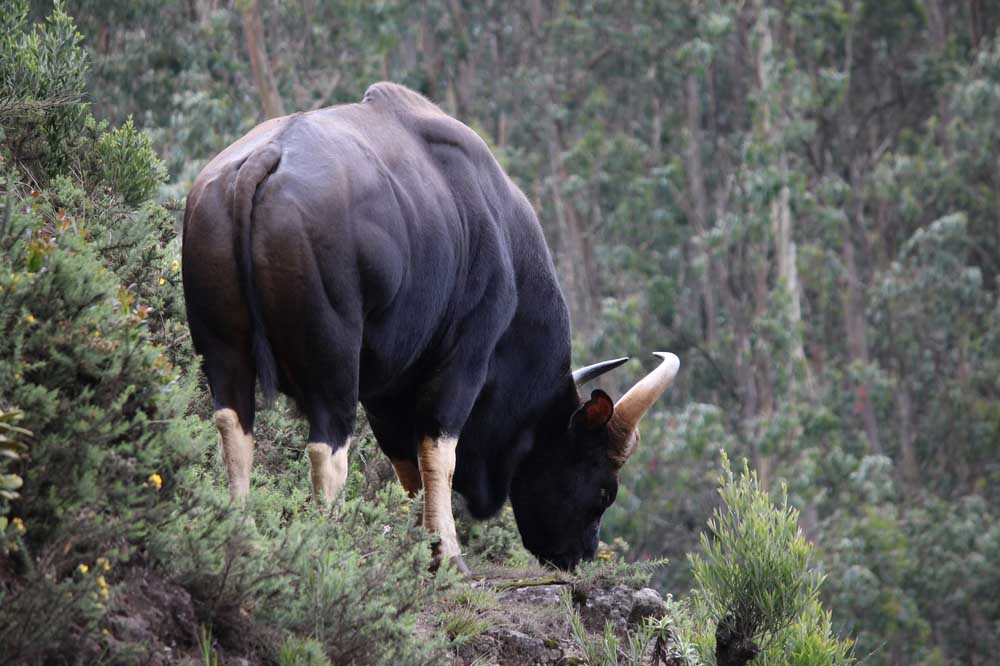 5.1 Jungle Safaris
Jungle safaris are one of the best things to do in Kodaikanal. Explore Kodaikanal's rich wildlife on guided forest safaris. Meet Nilgiri langurs, Indian gaurs, and exotic birds in their natural settings. Choose ethical wildlife viewing and learn about the value of conservation. Expert guides enrich your experience by offering information about the region's ecology and fauna. Visit the Mannavanur area if you want to see elephants in their natural habitat. The sight of these gentle giants roaming freely against the backdrop of the hills is amazing.
5.2 Bird-watching Expeditions
Kodaikanal is a sanctuary for birdwatchers, with a varied range of avian species to witness. Binoculars in hand, set out on thrilling bird-watching trips. You may even come across rare and migratory birds seeking sanctuary in this beautiful habitat. Capture these feathered creatures' brilliant plumage and enjoy the melodic sounds that accompany your travels in Kodaikanal's adventurous activities.
Suggestion to Read: 15 Best Tourist Places in Kodaikanal: Exploring Natural Beauty
6. Local Cuisine and Cultural Experiences
6.1 Indulging in Local Delicacies
Indulging in Kodaikanal's indigenous food is one of the most enjoyable ways to immerse yourself in its culture. You'll be taken to a world of flavors peculiar to this region the moment you take your first taste. Don't pass up the opportunity to enjoy hot and crispy vadas, a typical South Indian delicacy, as well as the aroma of freshly brewed coffee, which represents the warmth and hospitality of Kodaikanal.
6.2 Exploring Traditional Markets
Take a stroll around Kodaikanal's traditional markets to correctly grasp the essence of the local culture. You'll find a variety of handmade crafts, aromatic spices, and attractive gifts that reflect the region's traditions and craftsmanship. It's an opportunity to interact with the locals and take home a bit of Kodaikanal's history, generating lasting memories of your visit.
7. Photography Expeditions
7.1 Capturing the Beauty of Kodaikanal
Kodaikanal, with its magnificent vistas and colorful culture, is a photographer's dream. Photography trips to this picturesque hill station allow you to photograph its natural beauty, mist-laden slopes, tranquil lakes, and bustling marketplaces. From sunrise to sunset, each moment offers an opportunity to capture the essence of Kodaikanal in photography, preserving its enchantment for future generations.
7.2 Photography Workshops
Kodaikanal offers photography seminars given by local specialists for individuals wishing to improve their photographic skills. Techniques, composition, lighting, and other topics are covered in these workshops. Participants learn how to capture the soul of Kodaikanal via their lens through hands-on practice and personalized supervision. Whether you're a beginner or a seasoned photographer, these seminars will help you create spectacular photographs that convey the tale of your travels.
8. Thrift Shopping and Souvenirs
8.1 Shopping at Tibetan Flea Market
The Tibetan Flea Market in Kodaikanal is a one-of-a-kind shopping destination that provides an unforgettable experience. This lively market offers a diverse selection of things, including excellent handicrafts, fine jewelry, and apparel with a strong local and Tibetan influence. As you tour the colorful kiosks, you'll come across a variety of unique artifacts that capture the soul of Kodaikanal. Each item, from colorful fabrics to handcrafted souvenirs, has a story, allowing you to take a piece of Kodaikanal's charm home with you after your adventurous activities in Kodaikanal.
8.2 Handicrafts and Souvenirs
By purchasing handcrafted goods and souvenirs in Kodaikanal, you can help local artisans and communities. These one-of-a-kind sculptures, produced with skill and care, symbolize the region's culture and customs. By purchasing these goods, you are not only acquiring important keepsakes for your vacation, but you are also supporting the livelihoods of the people who make them. Each object conveys the authenticity of Kodaikanal's artistic legacy, whether it's delicately made pottery, traditional fabrics, or intricately carved wooden things.
9. Safety Tips and Precautions
9.1 Being Prepared for Outdoor Adventure Activities in Kodaikanal
While going on outdoor adventure activities in Kodaikanal is exciting, your safety should be your primary priority. Make sure you're well-prepared before you leave. Wear appropriate clothing and footwear, and bring necessary supplies such as water, snacks, a first-aid kit, and any necessary safety equipment. Familiarize oneself with the geography, weather conditions, and potential hazards of the activity. Following these precautions improves your overall experience while reducing potential risks.
9.2 Choosing Certified Guides and Operators
It is critical to choose certified and experienced guides and operators when taking part in guided expeditions. Certified specialists have the knowledge and experience to guide you through various activities in a safe and responsible manner. They are knowledgeable about the local environment, emergency protocols, and risk management. You can increase the safety and quality of your expedition by using qualified guides and operators. Their assistance improves your enjoyment while avoiding potential pitfalls.
10. Conclusion
Kodaikanal isn't simply a haven for nature lovers; it's also a playground for thrill seekers looking for a rush. This hill resort offers a one-of-a-kind experience that mixes thrills and natural beauty, with adventure activities ranging from trekking to paragliding. So, if you're looking for a memorable journey in the highlands, Kodaikanal should be your next stop.
Note: The official website of Tamil Nadu Tourism provides you with all information regarding the tourist destinations in Tamil Nadu.
11. Frequently Asked Questions (FAQs):
Q1. What are the best adventure activities in Kodaikanal for beginners?
A. Trails, horseback riding, and nature walks are ideal choices. These activities offer a gentle introduction to Kodaikanal's natural beauty and adventure scene.
Q2. What is the best time of year to visit Kodaikanal for adventure activities?
A. The best time for adventure activities in Kodaikanal is from September to May. The weather is pleasant and the skies are clear, making it ideal for activities like trekking, paragliding, and camping.
Q3. How do I reach Kodaikanal from nearby cities?
A. Kodaikanal is well-connected by road. You can reach Kodaikanal from cities like Madurai and Coimbatore by bus or taxi. The nearest railway station is Kodai Road, and the nearest airport is Madurai Airport.
Q4. Is Kodaikanal suitable for adventure enthusiasts of all ages?
A. Yes, Kodaikanal offers adventure activities for people of all age groups and fitness levels.
Q5. What is the approximate cost range for various adventure activities in Kodaikanal?
A. Costs vary depending on the activity. Boating and cycling can be budget-friendly while paragliding and rappelling are relatively more expensive.