Are you looking for a peaceful and captivating location for your next vacation? Alleppey, Kerala, is the place to be. Alleppey, also known as Alappuzha, is a gorgeous city in southern India noted for its mesmerizing backwaters, pristine beaches, historic temples, rich wildlife, revitalizing Ayurvedic treatments, scrumptious cuisine, and vibrant culture. In this article, we will look into the top Alleppey attractions and activities to do, ensuring that your visit is nothing short of spectacular.
Table of Contents
Introduction
Alleppey, nestled among the scenic Kerala backwaters, is known as the "Venice of the East." Its serene atmosphere, meandering canals, and lush foliage make it a sanctuary for nature lovers and peace seekers alike. Whether you are an adventurer, a culture buff, or a foodie, Alleppey has a plethora of experiences that will captivate you.
Exploring the Backwaters
Alleppey's backwaters are the city's crown jewels, and no visit is complete unless you immerse yourself in their magnificence.
1 Houseboat Cruises
Take a houseboat trip over the enchanted network of canals, lakes, and lagoons. These traditional houseboats, called "kettuvallams," provide a one-of-a-kind and luxurious opportunity to explore the tranquil backwaters. Witness the breathtaking scenery, observe local life along the banks, and savor exquisite Kerala food made on board by professional chefs.
2 Canoeing and Kayaking
Canoeing or kayaking excursions provide a more close and daring interaction with the backwaters. Paddle along narrow canals, observe abundant birdlife, and find hidden spots inaccessible to larger boats. Feel the calm breeze caress your face as you soak in the peace and quiet of your surroundings.
3 Village Tours
Take a village trip to experience Alleppey's true rural life. Discover the bustling communities hidden among paddy fields and coconut palms. Interact with the welcoming locals, learn about their traditional crafts, and gain insight into the agricultural practices that sustain their way of life. As you meander through the little roads, passing past colorful buildings and cheerful faces, observe the simplicity and harmony of their everyday activities.
Discovering the Beaches
Alleppey is endowed with magnificent beaches that provide the ideal balance of tranquility and natural beauty.
1 Marari Beach
Escape to Marari Beach, a hidden treasure known for its pristine beaches and calm surf. Take long walks along the golden dunes, soak up the sun, and listen to the soothing sounds of the sea. Allow your problems to melt away as you surrender to the serene ambiance of coastal resorts' restorative Ayurvedic massages.
2 Alappuzha Beach
Alappuzha Beach, in the heart of the city, is a hive of activity. Witness the captivating sight of fishermen expertly navigating their colorful boats through the surf. Take a leisurely stroll along the lively seaside promenade, which is studded with food stalls providing delectable local fare. Don't pass up the chance to see spectacular sunsets that paint the sky in orange and gold hues.
3 Andhakaranazhi Beach
Andhakaranazhi Beach is a tranquil and private beach experience. This beach offers a serene getaway away from the tourists, surrounded by swaying palm trees and tranquil backwaters. Allow the pleasant sea breeze to refresh your senses as you listen to the rhythmic lapping of the waves.
Visiting the Temples
Alleppey is rich in history and spirituality, with several historic temples that are very important to the residents.
1 Ambalappuzha Temple
Ambalappuzha Temple, dedicated to Lord Krishna, is noted for its unique architecture and the famed Palpayasam (sweet milk porridge) offering. Take in the beautiful atmosphere while admiring the magnificent decorations on the temple walls. The yearly "Pallipana" festival is a must-see event where you may see enthralling rituals and ancient art forms.
2 Mullakkal Temple
Mullakkal Temple, dedicated to Goddess Rajarajeswari, is another notable Alleppey temple. As you enter the temple's hallowed grounds, take in the splendor of the gopuram (tower). Participate in the annual "Navratri" festival, when the temple comes alive with colorful processions, music, and dance.
Enjoying the Wildlife
Alleppey's plentiful animals and calm natural areas would appeal to nature lovers.
1 Kumarakom Bird Sanctuary
Explore the Kumarakom Bird Sanctuary, which is home to a diverse range of avian species. Wander through the lush vegetation, spotting migratory birds and listening to the chirping tunes. Capture breathtaking images of these awe-inspiring creatures and marvel at the untouched beauty of their natural home.
2 Punnamada Lake
Explore the peaceful Punnamada Lake, a large body of water that hosts the prestigious Nehru Trophy Boat Race. Cruise the quiet waters while watching the vivid spectacle of traditional snake boat racing. Admire the oarsmen's synchronized rowing and feel the adrenaline surge as the boats vie for glory. The marathon, which takes place in August, honors Alleppey's rich cultural legacy.
3 The Charm of Vembanad Lake
Alleppey's appeal is enhanced by Vembanad Lake, Kerala's largest lake. This beautiful lake's dazzling waters are home to a diverse range of vegetation and fauna. Take a relaxing boat trip on Vembanad Lake and take in the breathtaking splendor of the surrounding scenery. If you're lucky, you might see some colorful migratory birds or playful dolphins, which will add to the enchantment of the trip.
Indulging in Ayurveda
Alleppey is associated with Ayurveda, an ancient Indian system of healing and well-being.
1 Ayurvedic Spas
Pamper yourself with rejuvenating Ayurvedic treatments at Alleppey's renowned spas. Massages, therapeutic herbal baths, and relaxing oil therapies will relax your mind, body, and soul. Expert therapists educated in Ayurvedic medicine will personalize treatments to your unique needs, leaving you feeling refreshed and revitalized.
2 Wellness Retreats
Choose a health resort in Alleppey to immerse yourself in a holistic wellness experience. These retreats combine Ayurvedic medicines, yoga, meditation, and nutritious cuisine to provide a holistic approach to well-being. Participate in relaxing yoga classes by the serene backwaters, master ancient breathing methods, and nourish your body with nourishing meals created from fresh, organic ingredients. Accept the tranquility of your surroundings and go out on a path of self-discovery and inner development.
You May Love to Read:
Exploring Wayanad Kerala's Paradise: A Complete Travel Guide
Exploring the Cuisine
Alleppey is not complete without sampling its exquisite cuisine, which is noted for its distinct flavors and utilization of fresh, local products.
1 Traditional Kerala Food
Try traditional Kerala foods like appam (rice pancake), puttu (steamed rice cake), and avial (mixed vegetable curry) to get a taste of the real Kerala. Tuck into coconut-based curries, fragrant spices, and sour tamarind-infused foods. Don't miss out on the authentic Kerala sadya (traditional feast) served on banana leaves, which provides a delectable culinary experience.
2 Seafood Delights
Alleppey, as a seaside region, is well-known for its fresh seafood dishes. Succulent prawns, fish fry, crab curry, and karimeen (pearl spot fish) are all made with traditional spices and flavors. Because of the amount of fresh fish, every bite is a blast of flavors that will tantalize your taste senses.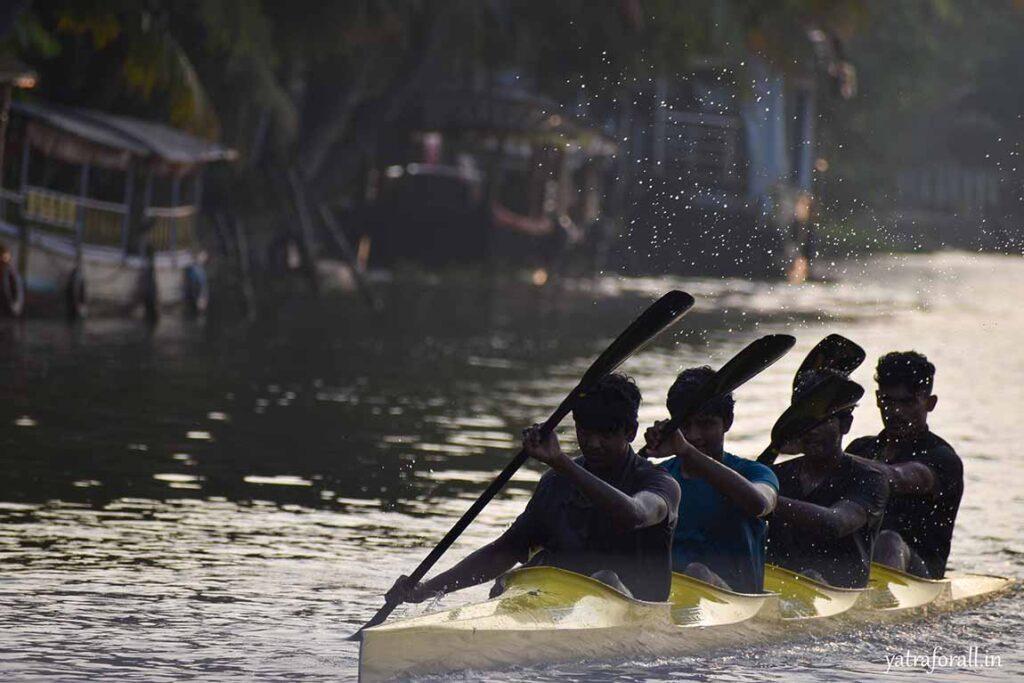 Festivals and Cultural Experiences
Participate in Alleppey's colorful festivities to immerse yourself in the unique cultural tapestry. The Nehru Trophy Boat Race, conducted on the second Saturday of August each year, is an exciting spectacle in which long snake boats compete against each other, accompanied by traditional music and fervent cheers. Other major events that demonstrate the rich heritage and competitive spirit of the people are the Aranmula Snake Boat Race and the Champakulam Moolam Boat Race.
Shopping
Take a stroll around Alleppey's bustling markets and lively bazaars, where you may purchase one-of-a-kind souvenirs and local handicrafts.
Immerse yourself in the bustling ambiance of the Canal Bazaar, where traders sell everything from spices and textiles to handicrafts and souvenirs. Explore the streets' various shops, which sell finely woven coir goods, scented spices, traditional artwork, and vivid textiles. As a remembrance of your amazing journey, bring home a piece of Alleppey's rich cultural legacy.
Best Time to Visit Alleppey
Alleppey may be visited all year, but the winter season, from November to February, is the finest time to see its magnificence. The weather is still decent, allowing you to enjoy outdoor activities and explore the backwaters without being subjected to excessive heat or rain. If you want to experience the charm of Alleppey's festivals, visit during the boat race season, which runs from July to September.
How to Reach Alleppey
It is well-connected to major Indian cities and is easily accessible via numerous forms of transportation. If you prefer to fly, the nearest airport is Cochin International Airport, which is about 75 kilometers away. You can take a taxi or a bus from the airport to Alleppey. If you prefer to go by train, Alleppey has its own railway station that is well-connected to major Indian cities. Several trains run to and from Alleppey on a daily basis, making it a convenient alternative for travelers. Furthermore, well-kept roads connect Alleppey to neighboring cities, and buses and taxis are readily available for people who prefer to travel by road.
Conclusion
Alleppey, Kerala, is a veritable treasure trove of natural beauty, cultural riches, and soul-soothing experiences. It provides a memorable experience filled with serenity and enchantment, whether you prefer to cruise the backwaters, relax on pristine beaches, tour ancient temples, encounter wildlife, indulge in Ayurvedic treatments, enjoy local cuisine, or shop for unique souvenirs.
So, plan a trip to Alleppey and immerse yourself in its enthralling appeal. Discover hidden jewels, interact with the lively culture, and make experiences last a lifetime.
Note: Before planning to visit Alleppey Kerala. Please check any policy updates on Welcome to Kerala Tourism – Official Website of Department of Tourism.
FAQs (Frequently Asked Questions)
Q1. What is the best time to visit Alleppey?
A. The best time to visit Alleppey is between November and February when the weather is mild and great for exploring the outdoors.
Q2. Are houseboat cruises safe in Alleppey?
A. Yes, Alleppey houseboat rides are generally safe. The houseboats are well-maintained and have safety features. However, before embarking on a cruise, it is usually advisable to select reputed operators and confirm that all necessary safety safeguards are in place.
Q3. Are there any specific dress codes to be followed while visiting temples in Alleppey?
A. Yes, when visiting Alleppey temples, it is best to dress modestly and conservatively. Both men and women must cover their shoulders and legs. It is also common to remove one's shoes before entering the temple grounds.
Q4. Can I enjoy Alleppey on a budget?
A. Absolutely! Alleppey has a variety of lodging alternatives, including budget-friendly options like guesthouses and homestays. You can also get around the city by riding local buses or renting bicycles, both of which are inexpensive ways of transportation. Furthermore, experiencing local street cuisine and choosing low-cost dining options will allow you to taste Alleppey's flavors without breaking your wallet.
Q5. How far is Alleppey from Cochin International Airport?
A. Cochin International Airport is roughly 78 kilometers (48 miles) distant from Alleppey. Depending on traffic, it takes about two hours to go to Alleppey by car.
Q6. Are there any adventure activities available in Alleppey?
A. While Alleppey is well-known for its tranquil backwaters and peaceful pleasures, there are also adventure activities for thrill seekers. In select regions, you can engage in activities like kayaking, canoeing, and windsurfing. These activities are a fun way to explore the backwaters and add some adventure to your trip.
Prepare to embark on an unforgettable journey to Alleppey, Kerala, where you can immerse yourself in the beauty of backwaters, relax on pristine beaches, explore ancient temples, encounter wildlife, indulge in Ayurvedic treatments, enjoy local cuisine, and make memories to last a lifetime. Plan your visit now to enjoy Alleppey's enchantment.