Outline of the Article
Shimla, in the Indian state of Himachal Pradesh, is a beautiful hill station that draws thousands of visitors each year. Shimla provides a lovely experience for travelers seeking natural beauty and tranquility, with its beautiful vistas, colonial buildings, and comfortable climate.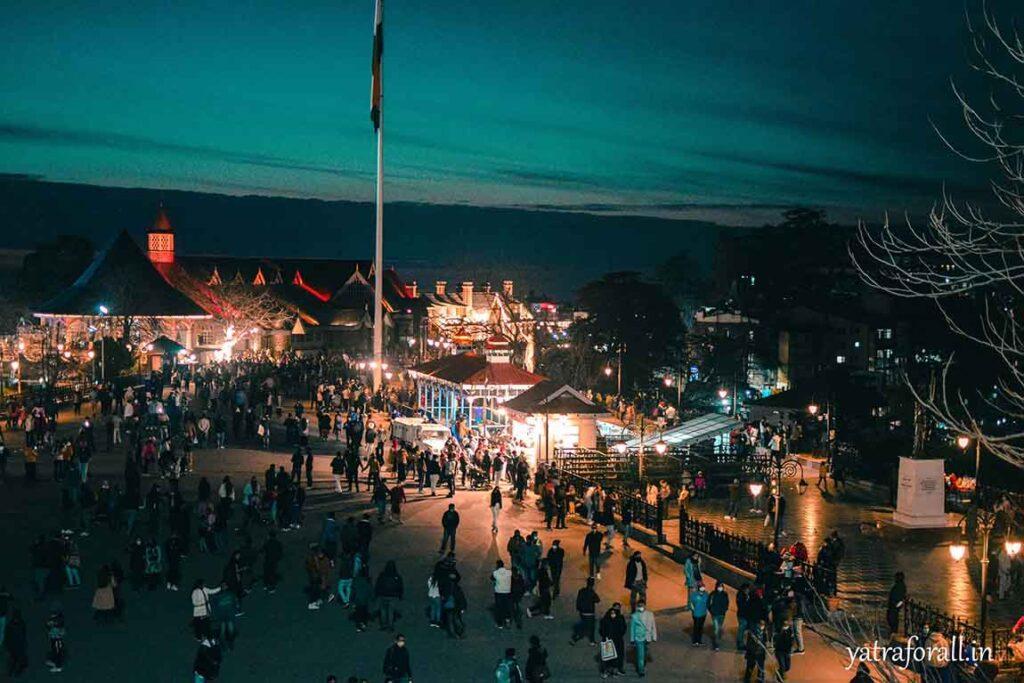 History of Shimla
Shimla has a long history dating back to the British colonial period. It began as the summer capital of British India and grew to become a key administrative and political center. The town witnessed various historical events and played an important role in India's independence fight.
Climate and Weather
Shimla has a mild climate all year, making it a great location for visitors wishing to escape the sweltering heat of the plains. Summers are moderate and pleasant, and winters bring snowfall, which turns into a winter wonderland.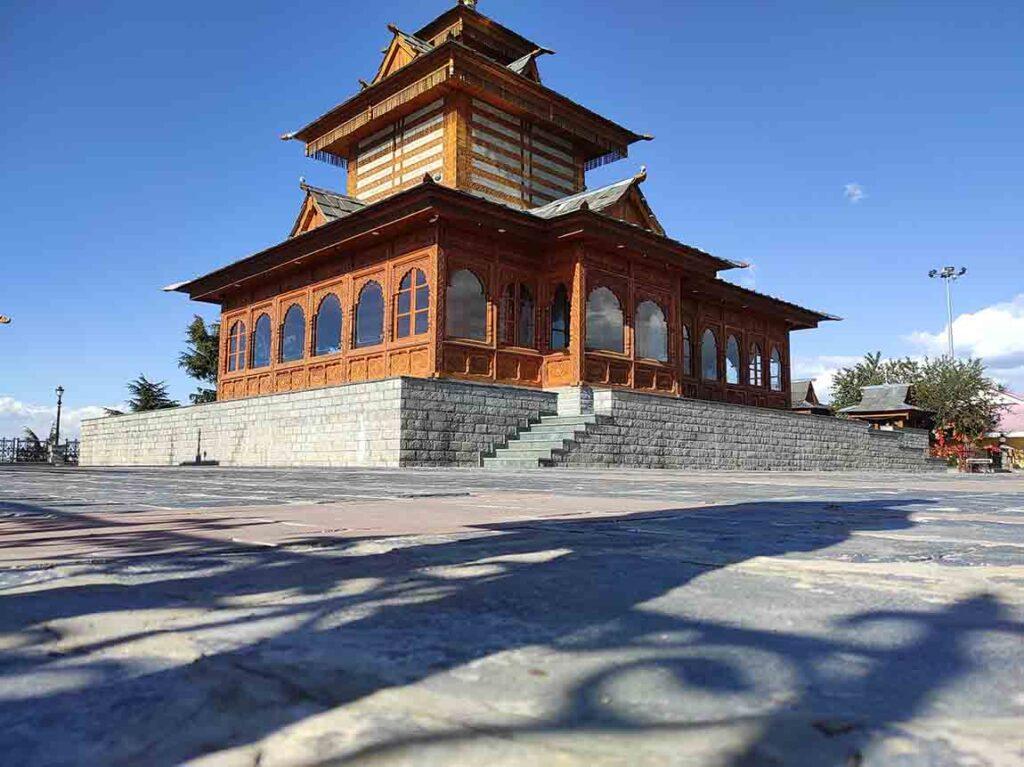 Top Attractions in Shimla for Tourists
Shimla, Himachal Pradesh's lovely hill station, is embellished with several attractions that draw travelers from all over the world. The following are the top must-see attractions:
The Ridge: The Ridge, located in the center, is a vast open place with amazing views of the surrounding mountains. It is a popular destination for leisurely walks, shopping at local shops, and taking in cultural events and festivals.
Mall Road: Shimla's main boulevard is a busy center of activity. It has a dynamic ambiance and is lined with shops, restaurants, and cafes. It is ideal for shopping, trying local specialties, and taking a leisurely stroll.
Jakhu Temple: Jakhu Temple, located atop Jakhu Hill, is a respected holy shrine devoted to Lord Hanuman. Visitors may take a beautiful journey to the temple to see the spectacular 108-foot-tall statue of Lord Hanuman while taking in panoramic views of Shimla.
Christ Church: Christ Church, one of Shimla's most notable attractions, is a stunning structure of neo-Gothic architecture. It is known for its beautiful stained glass windows and provides a peaceful atmosphere for prayer and thought.
Shimla State Museum: Explore Himachal Pradesh's rich cultural legacy at the Shimla State Museum. The museum houses an extensive collection of artifacts like ancient sculptures, paintings, pictures, and traditional costumes.
Summer Hill: A tranquil and serene location, Summer Hill provides a reprieve from the hustle and bustle of metropolitan life. It is well-known for its lush foliage, tranquil atmosphere, and stunning views. Picnics, nature walks, and tours of the old Georgian House are all available to visitors.
Tara Devi Temple: Tara Devi Temple, located on Tara Parvat, is a prominent pilgrimage site devoted to Goddess Tara. Visitors to the temple can seek blessings and enjoy panoramic views and the surrounding valleys.
Annandale: Once a playground for British soldiers, Annandale is now a scenic park with breathtaking views. It is a popular location for picnics, golf, and other outdoor activities.
Green Valley: A must-see destination, Green Valley is known for its lush green woods and magnificent views. It is an ideal location for nature enthusiasts and photographers to capture the magnificence of the landscape.
Himalayan Bird Park: The Himalayan Bird Park, located near the Viceregal Lodge, is a must-see for bird watchers. It is home to a number of Himalayan bird species and provides a tranquil setting for bird viewing and nature appreciation.
The Indian Institute of Advanced Study: housed in the erstwhile Viceregal Lodge, is a famous institution known for its architectural splendor and lush environs. Visitors to the museum and gardens can learn about India's rich intellectual past.
Day Trips from Shimla: Exploring Nearby Attractions
Shimla's picturesque surroundings make it an ideal location for exploring the enchanting destinations around. Here are some fantastic day trips from Shimla to enjoy the beauty of Himachal Pradesh:
Kufri: A lovely hill resort about 16 km from Shimla, Kufri is known for its panoramic vistas and adventurous activities. During the winter months, enjoy horseback riding, go-karting, and the thrill of skiing. The Himalayan Nature Park in Kufri is home to a variety of Himalayan fauna, making it a perfect destination for nature lovers.
Chail: About 45 km from Shimla, Chail is a calm hill station famed for its peaceful atmosphere and spectacular scenery. Explore the lovely green woodlands, visit the Chail Palace, and go for nature walks among the pine trees. The world's highest cricket ground is also located here, lending the area a distinct appeal.
Naldehra: Travel to Naldehra, which is around 22 km from Shimla. This picturesque hill station is well-known for its 18-hole golf course, which offers breathtaking views of the surrounding mountains. To soak in the tranquility of the area, take a calm stroll among the cedar forests or go on a horseback ride.
Mashobra: Mashobra, a tranquil town surrounded by lush forests and apple orchards, is only 13 kilometers from Shimla. Take a stroll around the natural splendor, see the Mahasu Devta Temple, and breathe in the fresh mountain air. Mashobra also provides opportunities for adventure sports such as rock climbing and rappelling.
Tattapani: Tattapani, around 51 km from Shimla, is famous for its hot water springs, which have medicinal effects. Relax in the natural hot water pools, swim in the Sutlej River, or go river rafting for an exciting adventure. Tattapani's natural beauty is simply breathtaking.
Solan: About 48 km from Shimla, Solan is known as the "Mushroom City of India" because of its extensive mushroom cultivation. Visit the Shoolini Mata Temple, and the Mohan Shakti Heritage Park, and ride the cable car for breathtaking views of the valley. Solan is also known for its breweries, so don't pass up the chance to try some local beer.
Rampur: Rampur is a historical town located roughly 130 kilometers from Shimla. It is well-known for its rich cultural legacy and the famed Lavi Fair, which exhibits the region's lively customs. Explore the Padam Palace, pay a visit to the Raghunath Temple, and immerse yourself in Rampur's culture.
Sarahan: Travel to Sarahan, approximately 165 km from Shimla, to enjoy the grandeur of the Himachal Pradesh Himalayas. Visit the stunning Bhimakali Temple, which is famous for its unique architecture and religious significance. Explore the neighboring charming villages and enjoy panoramic views of the snow-capped summits.
Renuka Lake: Travel 123 km from Shimla to Renuka Lake and immerse yourself in the calm environment of this natural gem. Renuka Lake, Himachal Pradesh's largest natural lake, provides boating options and is surrounded by thick forests, making it an ideal location for picnics and nature hikes.
Barog: Barog is a small town near Shimla that is noted for its scenic beauty and historical significance. Visit the famed Barog Tunnel, the longest tunnel on the Kalka-Shimla railway route and an engineering wonder. Enjoy a leisurely walk along the nature trails, magnificent views of the surrounding valleys, and excellent local foods at wayside vendors. Barog provides a serene respite from the hustle and bustle of city life, allowing you to unwind and revitalize amidst nature's serenity.
These day tours from Shimla are ideal for exploring Himachal Pradesh's diverse landscapes, cultural legacy, and natural beauty. Whether you're looking for adventure, peace, or a glimpse into history, these surrounding attractions will leave you with wonderful memories of your trip.
Adventure Activities in Shimla
Shimla, with its magnificent scenery and steep terrain, provides a plethora of exhilarating adventure sports for adrenaline junkies. If you're looking for some adventure, here are some activities you can do:
Trekking: Take a trekking journey to explore the enthralling trails that encircle Shimla. Trek to popular spots like Chadwick Falls, Kufri, and Chail, and enjoy breathtaking views of snow-capped mountains, lush valleys, and dense woods along the way.
Paragliding: Fly high above Shimla's gorgeous surroundings and enjoy the thrill of paragliding. Take to the skies from the hills and enjoy bird's-eye views of the spreading valleys and snow-capped summits.
Skiing: During the winter season, Shimla transforms into a skiing paradise. Drive to Kufri or Narkanda, both of which are close and cut through the fluffy snow on the slopes. There are options for all skill levels, whether you are a beginner or an experienced skier.
Zorbing: Feel the rush of exhilaration as you roll down the hills in a large, transparent ball known as a zorb. Zorbing is a popular adventure activity in Shimla in which you tumble down mild slopes while admiring the panoramic views of the surrounding surroundings.
River Rafting: Quench your need for adventure by going river rafting on neighboring rivers like the Sutlej and Tirthan. Prepare for exhilarating rapids as you navigate the raging waves and take in the breathtaking surroundings along the riverbanks.
Rock Climbing & Rappelling: Try your hand at rock climbing and rappelling in Shimla's rough environment. Ascend the steep cliffs and then descend using ropes and harnesses, all while being surrounded by breathtaking natural scenery.
Camping: Spend a night in nature's embrace by camping at one of Shimla's gorgeous camping spots. Set up your tents, have a fire, and enjoy the peace and quiet of the forest. Camping allows you to bond with nature and enjoy the peaceful atmosphere of the Highlands.
Mountain Biking: Ride a mountain bike across Shimla's mountainous terrain and indulge in thrilling cycling excursions. As you pedal your way through the gorgeous surroundings, you will encounter twisting routes, difficult slopes, and breathtaking scenery.
Ropeway Ride: A exciting ropeway trip from Shimla to Jakhu Hill provides panoramic views of the city. Witness the expansive vistas emerge beneath you as you ascend in the cable car, offering a memorable experience.
Horse Riding: Go horseback riding to experience a traditional way of transportation. Take a leisurely bike along the scenic trails, see prominent sights, and immerse yourself in the region's natural splendor.
These adventure activities provide the perfect combination of adrenaline, thrill, and breathtaking vistas, making your visit to this hill station absolutely unforgettable.
Delicious Cuisine
Shimla's cuisine is exquisite and represents the region's cultural diversity. Its food is a culinary delight, ranging from traditional Himachali meals to popular North Indian specialties. For a real culinary experience, enjoy meals like Chha Gosht (spiced lamb), Siddu (steamed bread), and Tudkiya Bhath (rice cooked in spices and lentils).
Shopping
It is a shopping wonderland. Handicrafts, woolens, jewelry, and souvenirs abound in the lively markets and modest boutiques. Lakkar Bazaar is known for its complex woodwork crafts, while Lower Bazaar is known for its traditional Himachali caps and shawls. The bustling street markets are ideal for some retail therapy and bringing home one-of-a-kind souvenirs.
Accommodation Options
It has a variety of lodging alternatives to suit every budget and desire. You'll find a place to stay that meets your needs, from luxury resorts and heritage hotels to cozy guesthouses and homestays. Many lodgings provide spectacular views of the surrounding mountains, allowing you to wake up every morning to the splendor.
Best Time to Visit
The best visit is in the summer, from April to June when the weather is nice and great for exploring the outdoors. Winter, from December to February, provides a wonderful experience with snow-covered landscapes and winter sports activities. However, keep in mind that can get congested during high tourist seasons, so plan your trip appropriately.
Getting There
It is well-connected by road, train, and air to major Indian towns. Chandigarh Airport, located around 113 kilometers away, is the nearest airport. From there, you can take a taxi or a bus to Shimla. You can also enjoy a scenic train ride on the UNESCO World Heritage Kalka-Shimla Railway, which offers breathtaking mountain vistas.
Safety Tips
While It is generally a safe place, it is always prudent to exercise caution. Avoid going out alone at night, especially if you live in a remote region. Keep your belongings safe, and be on the lookout for pickpockets in crowded places. To guarantee a safe and pleasurable experience, verify weather conditions before embarking on any hikes or outdoor activities.
Conclusion
Shimla, with its enthralling beauty, rich history, and lovely attractions, is a must-see trip. It provides something for everyone, whether you're looking for peace and quiet, adventure, or cultural activities. It delivers a wonderful and enchanting adventure, from strolling down Mall Road to immersing oneself in the spiritual aura of Jakhu Temple.
Note: Before planning to visit Shimla Himachal Pradesh. Please check any policy updates on the Himachal Tourism Official Website.
FAQs
Q1: Can I visit Shimla during the monsoon season?
A: While rain falls in Shimla during the monsoon season (July to September), it can cause landslides and road obstructions. Before arranging travel during this time period, verify the weather and road conditions.
Q2: Are there any adventure activities suitable for children in Shimla?
A: Yes, Shimla offers family-friendly adventure activities like as nature walks, horseback riding, and visits to amusement parks. However, it is critical to ensure that the activities are age-appropriate and well-supervised.
Q3: Can I witness snowfall in Shimla?
A: Shimla does receive snowfall throughout the winter months, which lasts from December to February. It's a magnificent sight to see the town covered in a fresh coating of snow, creating a winter wonderland.
Q4: Are there any guided tours available in Shimla?
A: Yes, Shimla has a number of guided excursions that provide information about the town's history, architecture, and culture. Local travel firms or hotels can help you plan these tours.
Q5: Can I explore nearby attractions from Shimla?
A: Yes, Shimla provides a gateway to other attractive Himachal Pradesh attractions. Day visits to sites like Kufri, Chail, and Mashobra can be planned to see more of the region's natural splendor.
Q6: Is it necessary to book accommodation in advance?
A: It is best to arrange your accommodations ahead of time, especially during peak tourist seasons. This guarantees that you have a location to stay in that fits your needs and prevents any last-minute complications.
Q7: Is photography allowed at tourist attractions in Shimla?
A: Yes, photography is permitted at the majority of Shimla's tourist sites. However, it's always a good idea to double-check each venue to see if there are any unique restrictions or standards.