Welcome to Goa Travel Guide:
Goa, India's smallest state, is a tropical paradise famed for its beautiful beaches, lively culture, and wonderful cuisine. Goa has something for everyone, from sunbathing on the beautiful dunes to touring ancient temples and forts. In this Goa Travel guide, we will take you on a journey through the best of Goa's beaches, culture, and cuisine.
Outline of the Article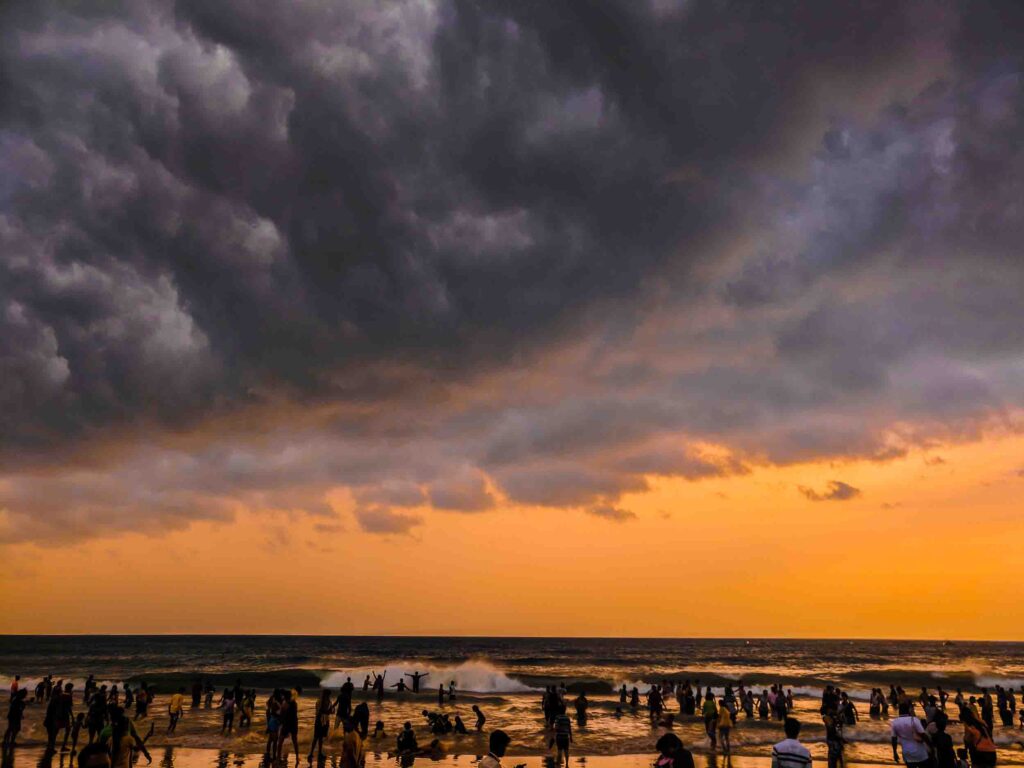 Beaches of Goa:
Goa is popular for its beaches, which are a perfect combination of sun, sand, and sea. Here are a few of Goa's most popular beaches that you should not miss:
Baga Beach: Located in North Goa, Baga Beach is one of Goa's most well-known beaches. The beach is popular for its nightlife and water sports, such as parasailing, banana boat rides, and jet skiing.
Palolem Beach: Palolem Beach is a magnificent crescent-shaped beach in South Goa surrounded by lush green hills. The beach is well-known for its relaxed environment and shacks that serve fresh fish.
Anjuna Beach: Located in North Goa, Anjuna Beach is well-known for its monthly flea market and trance nightclubs. The beach is particularly noted for its red cliffs, which provide breathtaking views of the sea.
Calangute Beach: Calangute Beach is a prominent tourist destination in North Goa and is known as the "Queen of Beaches." Calangute Beach, about 15 kilometers from Panaji, Goa's capital, is a beautiful expanse of golden sand flanked by palm trees and shacks.
Culture of Goa:
The culture of Goa is a unique fusion of Indian and Portuguese elements. Here are some of the cultural attractions in Goa that you should visit:
Old Goa: Located around 10 kilometers from Panaji, Old Goa is a UNESCO World Heritage Site with various churches and cathedrals established during the Portuguese colonial era. Some of the must-see attractions in Old Goa include the Basilica of Bom Jesus, the Se Cathedral, and the Church of St. Francis of Assisi.
Goa Carnival: The Goa Carnival is an annual three-day carnival held in February. The festival is famous for its vibrant parades, live music, and dancing acts.
Spice farms: Spice farms in Goa provide an insight into the state's agricultural legacy. Some of the most well-known spice plantations in Goa are the Sahakari Spice Farm and the Savoi Plantation.
The cuisine of Goa:
The cuisine of Goa is a delectable blend of Indian and Portuguese flavors. Here are a few must-try dishes in Goa:
Fish Curry and Rice: This is Goa's most popular dish, made with freshly caught fish and served with rice in a spicy coconut curry.
Pork Vindaloo: Pork Vindaloo is a fiery curry made with pork, vinegar, and Goan spices. It is typically accompanied by rice or toast.
Bebinca: A typical Goan dessert composed of layers of coconut milk, sugar, and eggs.
Nightlife in Goa:
Goa is well-known for its bustling nightlife, which draws visitors from all over the world. Here are some of the best places in Goa to enjoy the nightlife:
Tito's: Tito's is a well-known nightclub on Baga Beach in North Goa. The club is well-known for its live music, dancing acts, and energetic environment.
Club Cubana: Located in Arpora, North Goa, Club Cubana is a well-known open-air nightclub with spectacular views of the surrounding hills. The pool parties, music, and beverages at the club are well-known.
LPK Waterfront: Located on the banks of the Mandovi River in North Goa, LPK Waterfront is a one-of-a-kind nightclub constructed to mimic a ship. The club is well-known for its musical performances, dancing shows, and themed events.
You May also Love to Read:
Best places to visit in monsoon in India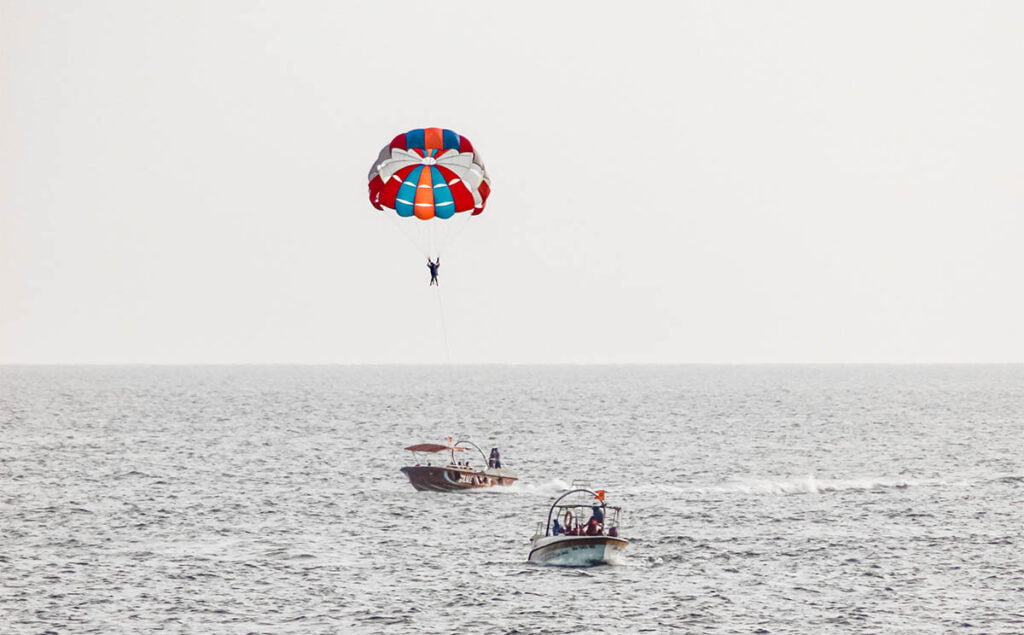 Adventure Activities in Goa:
Goa is more than simply beaches and partying. For adrenaline seekers, the state also provides a variety of adventure activities. Here are some of the adventure activities available in Goa:
Scuba Diving: The clean waters of Goa are ideal for scuba diving. You may go underwater and witness colorful corals, fish, and other marine life.
Parasailing: A popular water sport in Goa, parasailing allows you to fly above the sea while attached to a parachute.
Trekking: The lush green hills of Goa provide ample opportunity for trekking. You can go on an adventure through the forests, waterfalls, and hidden routes.
Shopping in Goa:
Goa is well-known for its street markets, which sell a diverse range of goods including clothing, accessories, spices, and souvenirs. Here are some of the best shopping spots in Goa:
Anjuna Flea Market: Every Wednesday, the Anjuna Flea Market sells a wide range of things, including apparel, accessories, jewelry, and handicrafts.
Mapusa Market: The Mapusa Market, which takes place every Friday, is a traditional market that sells a variety of things such as fresh vegetables, spices, and Goan sweets.
Panaji Market: The Panaji Market is a bustling market that sells a wide range of things including clothing, shoes, and souvenirs.
Travel Tips:
Here are some travel tips for anyone planning a trip to Goa:
Pack for the weather: Because Goa is a tropical destination, bring light, breathable clothes that is appropriate for the hot and humid weather. Remember to bring sunscreen, a hat, and sunglasses.
Choose the perfect season to visit: Although Goa is open all year, the best time to come is between November and March, when the weather is cooler and drier.
Learn some basic phrases: While English is widely spoken in Goa, learning some basic phrases in the local language, Konkani, or Hindi, can help you communicate with the locals and improve your travel experience.
Observe local customs: Because Goa is a melting pot of cultures and religions, it's crucial to observe local customs and dress modestly when visiting temples and other holy places.
Use public transport: Goa has an extensive bus network and taxis, so it's best to take these instead of driving yourself, as roads can be small and difficult for new drivers.
Beware of scammers: Be aware of touts and scams, such as impersonating tour companies or money changers, and only use authorized and reputed businesses.
Stay safe on the beaches: Goa's beaches are well-known for their beauty, but it's critical to exercise caution when swimming. Follow the lifeguards' directions, don't swim too far out, and avoid venturing into the ocean after dark.
Try the local cuisine: Goa is known for its seafood and distinctive cuisine, so try meals like fish curry, vindaloo, and sorpotel.
Stay hydrated: Because Goa can be extremely hot and humid, drink plenty of water and other fluids throughout the day to avoid dehydration.
By following these travel tips, you can have a safe and enjoyable trip to Goa, and experience all that this vibrant destination has to offer.
Conclusion:
Finally, Goa is a destination that offers something for everyone. Goa has it all, whether you want to relax on the beaches, learn about the culture and history, party all night, or try adventure activities. So gather your belongings and prepare for a wonderful trip in this tropical paradise. Hope you will find your desired Destination In this Goa Travel guide.
Note: Before Planning to visit Goa, Please check any policy updates on the Department of Tourism, Government of Goa official website.