Are you planning a vacation to Manali and need a detailed travel guide? You don't need to search any further! This article will act as your ultimate guide, giving you all of the necessary information to make your vacation to Manali unforgettable. We have it all, from breathtaking scenery to thrilling activities. So, join me on this virtual adventure to discover the splendor of Manali.
Outline of the Article
1. Introduction to Manali Travel Guide
Manali is a prominent hill station in India's Himachal Pradesh state that attracts tourists from all over the world. This magnificent hamlet, located at an elevation of 2,050 meters (6,726 feet), is surrounded by snow-capped mountains, lush valleys, and rushing rivers. Manali offers the ideal combination of natural beauty, adventure, and tranquility, making it a great destination for nature lovers, honeymooners, and adventure seekers alike.
2. Best Time to Visit
Manali has four distinct seasons throughout the year, each with its distinct beauty. The optimum time to visit is determined by your tastes and the activities you want to participate in. Temperatures range from 10°C to 25°C (50°F to 77°F) throughout the summer months of April to June. This is an excellent time to engage in outdoor activities such as paragliding, trekking, and river rafting. If you enjoy the snow and want to see Manali's winter wonderland, plan your vacation between December and February.
3. How to Reach Manali
Manali is well-connected to major Indian towns via numerous kinds of transportation. The closest airport is Kullu-Manali Airport, which is around 50 kilometers (31 miles) away. You can also get to Manali by bus from towns such as Delhi and Chandigarh. Another option is to travel by train to Joginder Nagar Railway Station, which is approximately 165 kilometers (102 miles) from Manali.
4. Top Tourist Attractions
Manali is endowed with a plethora of tourist attractions catering to a wide range of interests. Some must-see locations include:
Hadimba Temple: This old wooden temple dedicated to the goddess Hadimba is recognized for its unusual construction and tranquil setting.
Rohtang Pass: At 3,979 meters (13,050 ft), Rohtang Pass provides stunning vistas of snow-capped mountains and serves as a gateway to the Lahaul and Spiti valleys.
Solang Valley: Known for its adventure sports, Solang Valley is a haven for adrenaline addicts, with activities such as paragliding, zorbing, and skiing available.
Vashisht Hot Water Springs: Visit Vashisht hamlet to enjoy the medicinal hot water springs and to see the Vashisht Temple, which is famed for its magnificent woodwork.
Old Manali: Explore Old Manali's hippy vibe with its bright cafes, unique stores, and artsy lanes.
5. Adventure Activities in Manali
Manali is a wonderland of exhilarating activities for adventure seekers. Participate in:
Trekking: Immerse yourself in nature's enchanting beauty by trekking along the picturesque paths of Beas Kund, Hampta Pass, or Bhrigu Lake.
River Rafting: Get a burst of adrenaline as you traverse the rapids of the Beas River on a thrilling rafting excursion.
Paragliding: Fly high in the sky and take in Manali's aerial splendor while paragliding over the scenic valleys.
Skiing: For an amazing skiing experience among the snow-covered slopes, head to Solang Valley or Gulaba.
6. Places to Stay in Manali
Manali has a variety of lodging alternatives to meet every budget and desire. There is something for everyone, from magnificent resorts to cozy guesthouses and homestays. Mall Road, Old Manali, and Naggar Road are all popular places to stay in Manali. To get the best rates, book ahead of time, especially during peak tourist seasons.
7. Local Cuisine and Food Joints
During your stay in Manali, indulge in the flavors of Himachali food. Local specialties such as Madra, Dham, and Sidu should not be overlooked. Manali has several culinary places and restaurants where you can sample these delectable cuisines. Johnson's Cafe, Cafe 1947, and The Lazy Dog Lounge are among the most popular.
8. Shopping in Manali
Explore the vivid handicrafts and souvenirs available in Manali's busy markets. Tibetan Market, Mall Road, and Manu Market are well-known for their one-of-a-kind offerings. Shop for handcrafted shawls, woolen apparel, jewelry, and local artifacts to bring a bit of Manali home with you.
9. Safety Tips for Travelers
While Manali is generally a safe destination, care should always be taken. Here are some precautions to take:
Weather Check: Check the weather forecast frequently and pack accordingly, especially during the winter months.
Altitude Sickness: If you intend to travel to higher altitudes, such as Rohtang Pass, acclimatize gradually to avoid altitude sickness.
Expedition Sports: For a safe expedition, follow the directions of expert guides and instructors during adventure activities.
Be Wary of Stray Animals: When wandering Manali's neighborhoods, be wary of stray dogs and cows.
10. Manali's Cultural Heritage
Immerse yourself in Manali's rich cultural legacy. The area is well-known for its traditional music, dance forms like Nati and Bajantris, and vibrant festivals. Participate in local cultural events, engage with friendly locals, and observe the Himachali people's colorful customs.
11. Manali as a Honeymoon Destination
Manali is a popular honeymoon destination due to its picturesque landscapes and quiet ambience. Couples can take a stroll through apple orchards, dine by candlelight by the river, and stay in honeymoon suites with beautiful views. Manali's tranquility and natural beauty make it an ideal spot for celebrating love and creating lasting memories.
12. Exploring Nearby Destinations
Manali serves as a gateway to several neighboring sites worth visiting. Make plans for day visits to:
Kullu: Visit the nearby town of Kullu, which is famous for its scenic beauty, historic temples, and the annual Kullu Dussehra celebration.
Manikaran: Visit the spiritual town of Manikaran, which is known for its hot springs and the Gurudwara Manikaran Sahib.
Naggar: Explore Naggar's cultural heritage by visiting Naggar Castle, and the Roerich Art Gallery, and relaxing at the Jana Waterfall.
13. Manali for Nature Lovers
Manali is heaven for nature lovers. Take a stroll along the Beas River's banks, hike to Jogini Falls, or explore the enthralling forests of the Great Himalayan National Park. Capture stunning views of snow-capped mountains, meandering rivers, and blossoming valleys, and immerse yourself in nature's tranquility.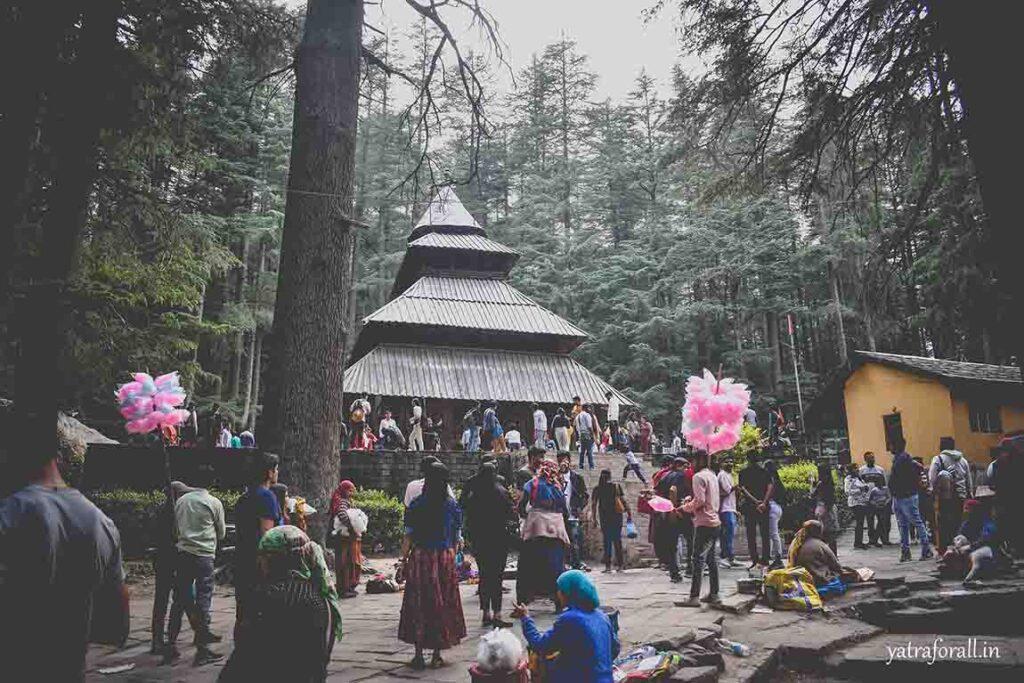 14. Festivals and Celebrations in Manali
Manali celebrates different holidays with zest and zeal. Among the most notable are:
Winter Carnival: Take part in Manali's exciting Winter Carnival, which includes cultural performances, sporting events, and a variety of activities.
Hadimba Devi Fair: This fair honors the goddess Hadimba and features folk dances, music, and local handicrafts.
Spring Festival: Celebrate the entrance of spring with the Spring Festival, where villagers perform traditional dance forms and celebrate nature's flowering.
Conclusion
Manali has an enthralling combination of natural beauty, adventure, and cultural encounters. The town captivates every traveler's heart, from snow-capped mountains to flowing rivers. Manali has something for everyone, whether you want an adrenaline rush or a peaceful vacation in the midst of nature. So pack your luggage, set out on this fantastic vacation, and make memories to last a lifetime.
FAQs
Q: What is the best time to visit Manali?
A: The best time to visit Manali is determined by your personal tastes. The summer months of April to June are pleasant, while the winter months of December to February are great for snow lovers.
Q: How can I reach Manali?
A: Manali is easily accessible by road, air, and train. You can get there by flying into Kullu-Manali Airport, taking a bus from a nearby city, or taking a train to Joginder Nagar Railway Station.
Q: What are the top tourist attractions in Manali?
A: Hadimba Temple, Rohtang Pass, Solang Valley, and Vashisht Hot Water Springs are some of the most prominent tourist sites in Manali.
Q: Are there adventure activities in Manali?
A: Yes, Manali has a variety of adventure sports available, including trekking, river rafting, paragliding, and skiing.
Q: Can I explore nearby destinations from Manali?
A: Without a doubt! Manali acts as a gateway to surrounding tourist sites such as Kullu, Manikaran, and Naggar.