Are you planning a vacation to Hampi, one of India's most popular tourist destinations? With its rich history, spectacular architecture, and scenic beauty, It provides a one-of-a-kind experience that is difficult to discover elsewhere in the globe. However, arranging a vacation to Hampi might be daunting, particularly if you don't know where to begin. In this article, we will walk you through the ultimate Hampi travel guide, assisting you in planning your perfect trip right now.
Outline of the Article
Introduction
Hampi is a UNESCO World Heritage Site in India's southern state of Karnataka. It was the capital of the Vijayanagara Empire between the 14th and 16th centuries. It is famous for its gorgeous temples, ancient ruins, and breathtaking scenery, which draw millions of tourists each year.
Best Time to Visit
Between October and February, when the weather is lovely and cool, is the best time to visit Hampi. Summer months (March to May) can be extremely hot, with temperatures exceeding 40°C. The monsoon season (June to September) can be unpredictable, with severe rain and flooding on occasion.
Getting There
It is well-connected to major Indian cities via regular planes, trains, and buses. The nearest airport is in Hubli, around 150 km from Hampi. Hospet 13 km has the nearest railway station. Buses and taxis are also available from major Karnataka cities.
Accommodation
From luxury resorts to affordable hotels and homestays, It has lodging to fit every budget. If you wish to immerse yourself in the traditional way of life, you can stay in a homestay, which provides a comfortable and authentic experience. The following are some of the most popular hotels:
Evolve Back Kamalapura Palace
Hyatt Place Hampi
KSTDC Mayura Bhuvaneshwari
Gowri Resort
Places to Visit
It has a lot to offer, from stunning temples to ancient ruins and beautiful landscapes. Here are some of the must-visit places in Hampi:
Virupaksha Temple
Virupaksha Temple, which dates back to the 7th century, is one of the oldest and most prominent temples. It is dedicated to Lord Shiva and is a renowned Hindu pilgrimage place.
Hampi Bazaar
Hampi Bazaar is a lively bazaar in the center of Hampi. It was originally the Vijayanagara Empire's principal commercial center and is today a renowned tourist destination.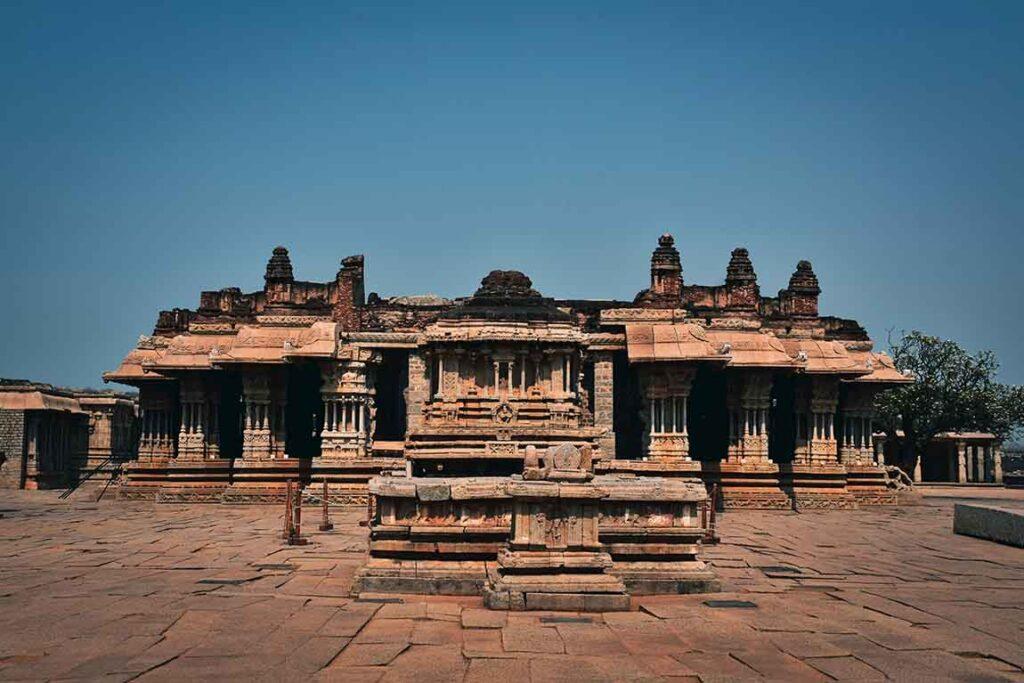 Vijaya Vittala Temple
The Vijaya Vittala Temple is one of Hampi's most beautiful and ornate temples. It's noted for its magnificent architecture and melodic pillars.
Lotus Mahal
Lotus Mahal is a one-of-a-kind edifice located in the Zenana Enclosure, which was originally the royal family's women's apartments. It is famous for its beautiful architecture and intricate carvings.
Elephant Stables
Elephant Stables is a massive edifice that housed royal elephants in the past. It is well-known for its distinctive architecture and exquisite sculptures.
Matanga Hill
Matanga Hill is a renowned trekking destination, affording breathtaking views of the surrounding countryside. It is also well-known for its spectacular sunrise and sunset views.
You May also Love to Read
Badami, Karnataka: A Comprehensive Travel Guide
Activities to Do
Apart from sightseeing, It offers a range of activities to keep you entertained during your trip. Here are some things to do in Hampi:
Coracle Ride
A coracle is a small woven bamboo boat that is a popular mode of transportation. You can enjoy the picturesque splendor from a fresh perspective by taking a coracle ride down the Tungabhadra River.
Cycling
Cycling is a popular pastime and there are various rental businesses where you may borrow a bicycle. Cycling around town and the surrounding landscapes is a terrific way to stay fit and active while on vacation.
Rock Climbing
It is a rock climbing paradise, with numerous boulder hills and crags ideal for the sport. Even if you are a beginner, you can hire a guide and try your hand at rock climbing.
Sunset and Sunrise Views
It is famous for its spectacular sunrise and sunset views, and there are various locations across the town that provide breathtaking views of the sun rising and setting over the surrounding hills. Popular attractions include Matanga Hill, Hemakuta Hill, and Malyavanta Raghunathaswamy Temple.
Food and Drink
It has a rich culinary tradition, and you can find a variety of local and international cuisines in the town. Some of the must-try dishes:
Bisi Bele Bath – Bisi Bele Bath is a meal of spicy rice and lentils.
Idli Vada Sambar – a popular breakfast dish
Masala Dosa – a crispy crepe filled with spiced potatoes
Badanekayi Palya – a spicy eggplant dish
Filter Coffee – a strong and flavorful South Indian coffee
Safety Tips
Although it is a secure destination for tourists, it is always prudent to take steps to guarantee a safe and pleasurable journey. Here are some precautions to take:
Avoid going out alone at night.
Maintain the safety and security of your assets.
Dress correctly, particularly when visiting temples.
Carry a first-aid kit as well as any necessary prescriptions.
While cycling or driving, abide by all traffic laws.
Conclusion
It is a destination that should be on the bucket list of every traveler. It has a unique blend of history, culture, and geographical beauty, making it an ideal vacation destination. With this complete Hampi travel guide, you can plan your ideal trip today and discover the delights of this lovely town.
Note: Before planning to visit Hampi, Karnataka. Please check any policy updates on the Karnataka tourism official website Welcome to Karnataka Tourism – Government of Karnataka.
FAQs
What is the best time to visit Hampi?
The best time to visit Hampi is between October and February.
How do I get to Hampi?
Hampi is well-connected to major cities in India, with regular flights, trains, and buses available.
What are the must-visit places in Hampi?
Some of the must-visit places in Hampi are Virupaksha Temple, Vijaya Vittala Temple, and Matanga Hill.
What are the popular activities to do in Hampi?
Some of the popular activities to do in Hampi are cycling, rock climbing, and coracle rides.
Is Hampi safe for tourists?
Yes, Hampi is a safe place for tourists, but it is always advisable to take precautions to ensure a safe and enjoyable trip.