Are you seeking a wonderful break in Karnataka? Gokarna is a hidden gem on India's western coast, offering spectacular beaches, temples, and stunning surroundings. This comprehensive guide will offer you all of the information you need to visit Gokarna Karnataka and have a great time.
Outline of the Article
Introduction
Gokarna, located on India's west coast, is a lovely town famed for its pristine beaches, tranquil surroundings, and magical temples. Sometimes it is known as "Mini-Goa," which is the ideal destination for people looking for adventure and leisure. It has something for everyone, whether you wish to swim in the crystal-clear waters of Om Beach or climb through the green hills of the Western Ghats. In this travel guide, we will discover Gokarna's hidden treasures and equip you with everything you need to arrange your perfect trip. So pack your bags and get ready for a journey of a lifetime!
Getting There
It has good access to major cities in Karnataka and neighboring regions. The nearest airport is in Goa, around 140 km from it. To get to Gokarna, you can take a cab or a bus from the airport. The nearest railway station is in Ankola, about 20 kilometers from Gokarna. You can also take a bus or taxi from Bangalore, which is approximately 500 kilometers distant from it.
Best time to visit
The months of October to March are good for visiting Gokarna because the weather is pleasant and suitable for beach activities. Due to severe rains and strong tides, the monsoon season, which lasts from June to September, is not recommended.
Top attractions in Gokarna
Om Beach
Om Beach is one of Gokarna's most prominent beaches, recognized for its distinctive shape that mimics the Hindu sign 'Om.' The beach has breathtaking views of the Arabian Sea and is ideal for water sports such as surfing and banana boat rides.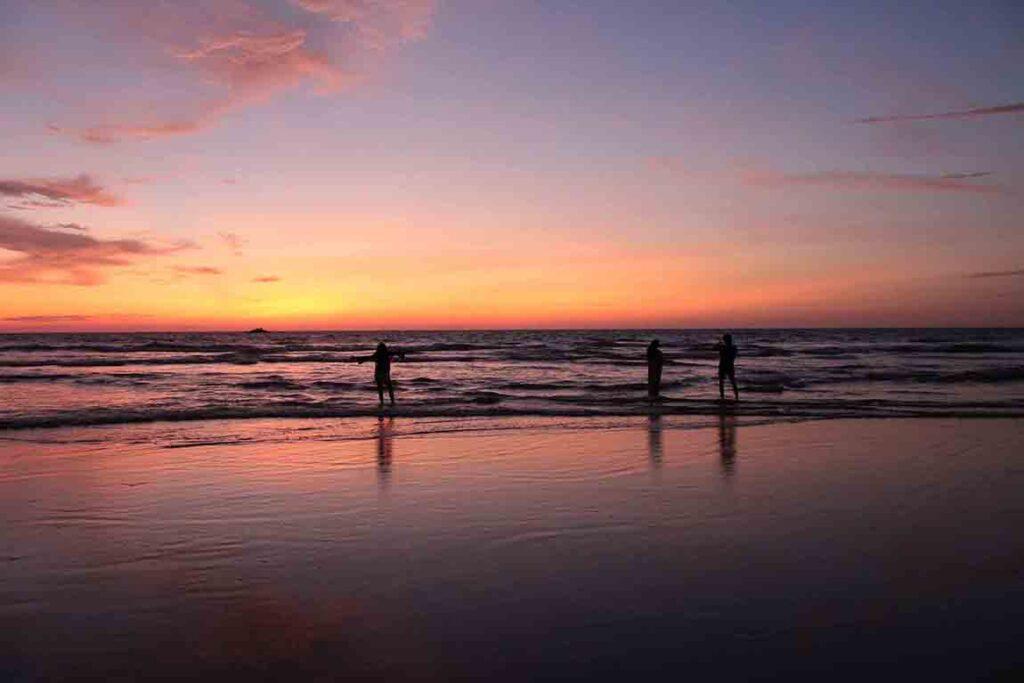 Kudle Beach
Kudle Beach is another lovely beach, with clear water and golden sand. It's a popular spot for swimming, sunbathing, and surfing. The beach is studded with shacks that serve delectable seafood and beverages.
Mahabaleshwar Temple
Mahabaleshwar Temple is a well-known Hindu temple. It is devoted to Lord Shiva and is thought to be one of India's seven sacred Mukti Stalas. The temple's architecture and elaborate embellishments are stunning.
Half Moon Beach
Half Moon Beach is an isolated beach with a serene and peaceful ambiance. The beach is only accessible by boat or a bush walk. It is ideal for camping and bonfires.
Paradise Beach
Another quiet beach that offers beautiful views of the Arabian Sea is Paradise Beach. The beach is only accessible by boat or a bush walk. It's an ideal area for unwinding and taking in the scenery.
Mirjan Fort
Mirjan Fort is a historic landmark in the Karnataka district of Uttara Kannada. It was built during the rule of the Vijayanagara Empire in the 16th century on the banks of the Aganashini River. The fort has a long history and has been vital in protecting the region against foreign invasions.
You May Love to Read:
10 Best Waterfalls in Karnataka That Will Leave You Mesmerized
Accommodation
It has a variety of lodging alternatives to suit all budgets. Gokarna has it all, from luxurious resorts to budget-friendly hostels. Namaste Yoga Farm, SwaSwara Wellness Retreat, and Kudle Ocean Front Resort are among the popular choices.
Food
It is famous for its succulent fish and South Indian cuisine. The town provides a wide range of restaurants to suit all tastes and budgets. Namaste Cafe, Pai Restaurant, Chez Christophe, and Shiva Moon Cafe are among the popular choices.
Shopping
It is an excellent spot to buy souvenirs and beachwear. A variety of shops in town sell one-of-a-kind handicrafts, jewelry, and clothes. The Main Market, Kudle Beach Road, and Om Beach Road are all famous shopping destinations.
Activities
Tourists may enjoy a range of activities in Gokarna. It has something for everyone, from beach hopping to hiking.
Beach hopping
Beach hopping is one of the most popular activities in Gokarna, which is recognized for its stunning beaches. Among the must-see beaches are Om Beach, Kudle Beach, Half Moon Beach, and Paradise Beach.
Trekking
It offers several scenic trekking paths that provide breathtaking views of the Arabian Sea and the surrounding hills. The Beach Walk, Yana Caves trek, and Vibhuti Falls excursion are among the most famous hiking tracks.
Water sports
Water sports including surfing, parasailing, and banana boat excursions are popular in Gokarna. There are a number of water sports providers in town who offer these activities at reasonable prices.
Safety
It is a relatively safe town, however, visitors should exercise caution and take appropriate precautions. It is best to avoid going out alone at night, especially on isolated beaches. It is also advised to keep valuables secure and safe.
Conclusion
It is a lovely beach town that provides the ideal balance of relaxation and action. It is a must-see destination for any traveler, with its magnificent beaches, historic temples, and breathtaking surroundings.
Note: Before planning to visit Gokarna Karnataka. Please check any policy updates on the Karnataka tourism official website Welcome to Karnataka Tourism – Government of Karnataka.
FAQs
What is the best time to visit Gokarna?
The best time to visit Gokarna is between October to March.
How can I reach Gokarna?
Gokarna is well connected by road, rail, and air. The nearest airport is in Goa, and the nearest railway station is in Ankola.
What are the top attractions in Gokarna?
Some of the top attractions in Gokarna include Om Beach, Kudle Beach, Mahabaleshwar Temple, Half Moon Beach, Paradise Beach, and Mirjan Fort.
What are some popular activities to do in Gokarna?
Some popular activities in Gokarna include beach hopping, trekking, and water sports.
Is Gokarna a safe destination for tourists?
Gokarna is a relatively safe town, but tourists should exercise caution and take necessary precautions.