Badami, a lovely village set in northern Karnataka's rocky outcrops, is a veritable treasure mine of history, art, and natural beauty. This ancient capital of the Chalukya empire is home to some of India's most breathtaking rock-cut cave temples, as well as majestic forts, palaces, and other architectural marvels that bear witness to the region's rich cultural legacy. In this complete travel guide, we look at Badami and everything it has to offer.
Outline of the Article
Introduction
Badami is a tiny town in Karnataka's Bagalkot district famed for its rock-cut cave temples, old forts, and breathtaking natural beauty. The village is located on the shores of Agastya Lake, surrounded by rough sandstone hills and lush vegetation. The region has a long history that dates back to the 6th century when it served as the capital of the Chalukya kingdom.
It is a popular tourist site, attracting tourists from all over the world who come to marvel at its magnificent architecture, learn about its history, and relax in its tranquil setting. The town is also a sanctuary for adventure lovers, with trekking, rock climbing, and other outdoor activities available.
Getting There
It is well-connected by road, train, and air to major towns in Karnataka and other areas of India. The nearest airport is roughly 150 kilometers away in Belgaum, while the nearest railway station is in Badami itself. From major cities such as Bangalore, Hyderabad, and Mumbai, buses and cabs are available.
Best Time to Visit
Best visited between October and March when the weather is nice and cool. The weather during this period ranges from 15 to 30 degrees Celsius, making it perfect for touring and outdoor activities. The monsoon season, which runs from July to September, is also an excellent time to come if you appreciate lush foliage and the occasional rain shower.
Places to Visit
Badami Cave Temples
The Badami Cave Temples, a series of four rock-cut cave temples built out of sandstone hills, are the primary attraction. These temples, which date back to the sixth century, are dedicated to Hindu deities such as Lord Shiva and Lord Vishnu. The temples are famous for their beautiful carvings and sculptures depicting Hindu mythology scenes.
Bhutanatha Group of Temples
The Bhutanatha Group of Temples is a collection of ancient temples devoted to Lord Shiva and his wife Parvati, located on the banks of Agastya Lake. These temples are noted for their unusual blend of Dravidian and Nagara architectural styles, dating back to the 7th century.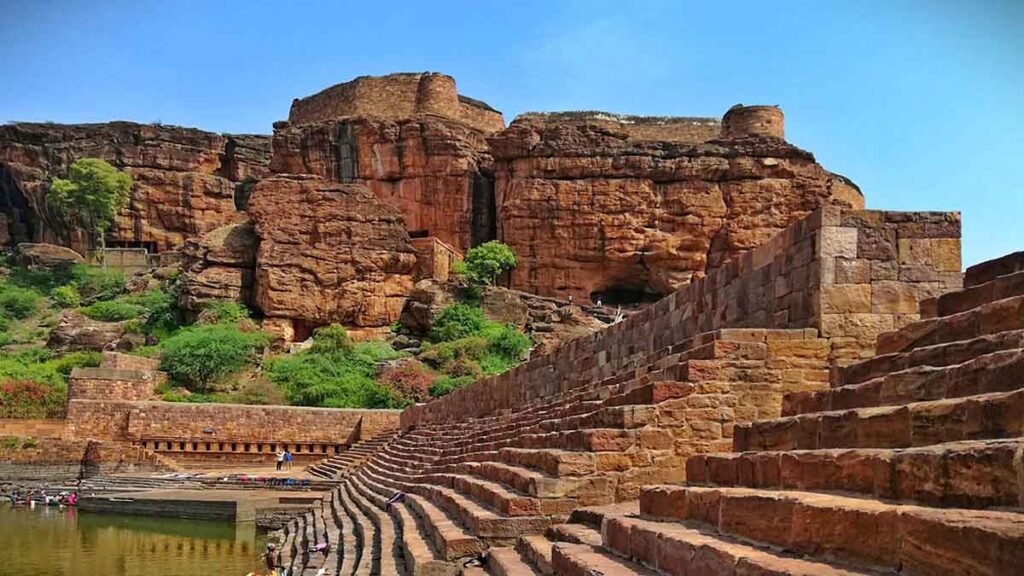 Badami Fort
The Badami Fort is a historic monument perched atop a sandstone hill overlooking Badami. The Chalukya dynasty built the fort in the 6th century, and it exhibits excellent design, including a succession of entrances, pillared rooms, and courtyards. Visitors can roam about the fort and take in the breathtaking views of the surrounding environment.
Banashankari Temple
The Banashankari Temple, dedicated to the Hindu goddess Banashankari, is a significant religious monument. The temple complex is made up of multiple shrines and rooms that are embellished with beautiful carvings and sculptures. The temple is located on the banks of the Malaprabha River and is a popular pilgrimage destination for Hindus.
Agastya Lake
The Agastya Lake is a tranquil body of water in the middle of Badami. The lake, which is surrounded by steep hills and rich flora, is great for environment enthusiasts and birdwatchers. Visitors can also take a boat ride across the lake or relax with a picnic on its shores.
Archaeological Museum
The Archaeological Museum is a treasure mine of Chalukya dynasty artifacts and antiquities. The museum showcases a vast assortment of sculptures, coins, inscriptions, and other historical artifacts, giving visitors an insight into the region's rich cultural legacy.
Mallikarjuna Temple
Another ancient temple devoted to Lord Shiva is the Mallikarjuna Temple. The temple, which has beautiful carvings and sculptures, is a must-see for history and architecture buffs.
Aihole
Aihole is a little village near Badami that is well-known for its extensive collection of ancient temples and monuments. Visitors can wander the village and marvel at the structures' remarkable architecture and craftsmanship.
Pattadakal
Pattadakal is a UNESCO World Heritage Site noted for its collection of ancient temples and monuments. Visitors are welcome to visit the site and marvel at the magnificent architecture and beautiful carvings.
Kudala Sangama
Kudala Sangama is a holy town, the confluence of the Krishna and Ghataprabha rivers. Every year, hundreds of worshippers visit the village as a pilgrimage site.
Things to Do
Trekking and rock climbing
It is a popular destination for adventure sports, with several chances for trekking, rock climbing, and rappelling. The surrounding rough sandstone hills provide a demanding terrain for adventure lovers, with several trails and options to explore.
Shopping
It is well-known for its handicrafts, which include stone sculptures, metal crafts, and textiles. Visitors can browse the local markets and stores for one-of-a-kind souvenirs and gifts to take home.
Birdwatching
Various bird species, including peacocks, parakeets, and eagles, can be seen in the rich flora surrounding them. In the lovely surroundings, visitors can enjoy birding and nature hikes.
Accommodation
It has a variety of lodging alternatives to meet every budget and inclination. Luxury hotels and resorts give world-class amenities and services, while budget-friendly hotels and guesthouses offer minimal amenities at low prices.
Food and Drink
It is well-known for its traditional cuisine, which includes jowar roti, enne gai, and holige. Visitors can try local cuisine at the town's popular restaurants and cafes.
Safety and Precautions
Visitors to Badami are encouraged to use sun protection because the environment can grow hot and humid during the day. It's also a good idea to wear comfortable shoes when exploring the area because many of the sights require walking and climbing.
Conclusion
It is a must-visit destination for anyone interested in history, culture, or natural beauty. With its beautiful rock-cut cave temples, old forts, and scenic environs, the town provides visitors with a one-of-a-kind and unforgettable experience. It has something for everyone, whether you're looking for adventure, nature, or history.
Note: Before planning to visit Badami, Karnataka. Please check any policy updates on the Karnataka tourism official website Welcome to Karnataka Tourism – Government of Karnataka.
FAQs
What is the best time to visit Badami?
The best time to visit Badami is between October and March.
What are the main attractions in Badami?
The main attractions in Badami include the Badami Cave Temples, Bhutanatha Group of Temples, Badami Fort, Agastya Lake, and Banashankari Temple.
How do I get to Badami?
Badami is well-connected by road and rail. The nearest airport is in Belgaum, about 150 km away.
Is Badami safe for tourists?
Yes, Badami is generally safe for tourists. However, it is always advisable to take the necessary precautions and be aware of your surroundings.
How long does it take to explore Badami?
You can explore the major attractions of Badami in 1-2 days. However, if you want to explore the surrounding areas as well, you may need more time.
Are there any accommodation options in Badami?
Yes, there are several accommodation options in Badami, ranging from budget guesthouses to luxury resorts.