India, a land of different cultures, rich history, and magnificent scenery, has a multitude of must-see destinations for visitors from all over the world. India has something for every style of traveler, from the renowned Taj Mahal to the tranquil Kerala Backwaters. In this detailed guide, we will look at the Best Must-Visit Places in India, hidden jewels, cultural icons, and exotic destinations that make India a traveler's delight.
Outline of the Article
Introduction
With its rich terrain and cultural legacy, India entices visitors to explore its mesmerizing beauty. Whether you're looking for a spiritual retreat, a mountain adventure, or a calm beach vacation, India has you covered.
20 Best Must-Visit Places in India
1. Taj Mahal, Agra, Uttar Pradesh: A Symbol of Eternal Love
The Taj Mahal, one of the Seven Wonders of the World, is an architectural marvel and a symbol of love. Built-in honor of Emperor Shah Jahan's loving wife, Mumtaz Mahal, it's magnificent white marble exterior and exquisite patterns astound tourists. The Taj Mahal is one of the Must-Visit Places in India.
2. Golden Temple, Amritsar, Punjab: A Divine Experience
Sikhs consider the Golden Temple, also known as Harmandir Sahib, to be their holiest temple. Its gleaming golden dome amidst the tranquil Amrit Sarovar provides a spiritual experience that transcends boundaries. Golden Temple is also one of the Must-Visit Places in India, that you must visit at least once in your life.
3. Jaipur, Pink City, Rajasthan: Royalty and Culture Collide
Jaipur, Rajasthan's capital, is a city rich in history and culture. The Pink City shows the grandeur of Rajput architecture and culture, from majestic forts like Amer Fort to bustling markets. Read More
4. Kerala Backwaters: Serenity and Tranquility
Kerala's peaceful backwaters, with their interconnecting canals, rivers, and lakes, offer a pleasant getaway from city life. Houseboat trips provide a unique opportunity to immerse oneself in nature's serenity. Kerala Backwaters is one of the Must-Visit Places in India, that you must visit at least once with your family. Read More
5. Varanasi Ghats, Uttar Pradesh: The Spiritual Heart of India
Varanasi, also known as Banaras, is extremely religiously significant to Hindus. The Ganges Ghats are a hive of spiritual activity, and the Ganga Aarti is a spellbinding ceremony not to be missed. Varanasi is one of the Must-Visit Places in India, that you must visit at least once to see Evening Ganga Aarti.
6. Goa Beaches: Sun, Sand, and Celebration
The beautiful beaches of Goa are known for their golden sands, bright beach shacks, and lively atmosphere. Whether you want to relax or party, Goa has a beach to fit your needs. Read More
7. Hampi Ruins, Karnataka: A Journey Back in Time
Explore the ancient ruins of Hampi, a UNESCO World Heritage Site, and travel back in time. The strange landscape, filled with temples and monuments, transports you to another time and place. Hampi is one of the Must-Visit Places in India, that you must visit at least once. Read More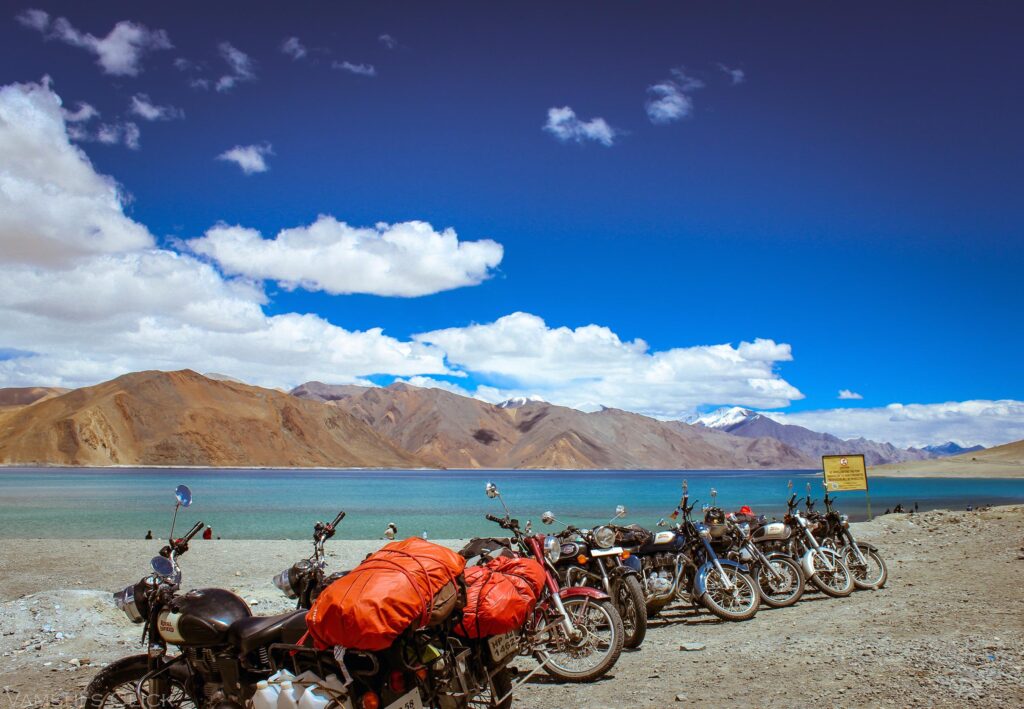 8. Ladakh Himalayas: A Land of Mystique and Adventure
Ladakh is one of the Must-Visit Places in India for Adventures travelers, Because Ladakh is an adventurer's dream, with its rough landscapes, high-altitude routes, and old monasteries. The region's scenic splendor is unrivaled. Read More
9. Rishikesh, Uttarakhand the Yoga Capital of the World
Rishikesh, located in the Himalayan foothills, is a refuge for yoga and meditation enthusiasts. It is a popular site for white-water rafting and other adventure activities, in addition to spiritual pursuits.
10. Andaman Islands: – Tropical Paradise in the Bay of Bengal
The Andaman Islands are a paradise for nature lovers and water sports enthusiasts, with pristine beaches, crystal-clear oceans, and diverse marine life.
11. Mysore Palace, Karnataka: An Architectural Marvel
Mysore Palace, Karnataka is one of the Must-Visit Places in India. A stunning architectural masterpiece, lavishly decorated with rich artwork and grandeur. Step into Mysore's royal heritage and experience the splendor of a bygone period. Read More
12. Khajuraho Temples, Madhya Pradesh: A Dance of Divinity
The Khajuraho Temples are well-known for their detailed and graphic sculptures of human emotions and sensuality. These UNESCO World Heritage Site temples are architectural marvels.
13. Udaipur Lake Palace, Rajasthan: A Majestic Abode
The Lake Palace, floating on the calm waters of Lake Pichola, is a majestic palace hotel that provides a regal experience with its opulent amenities and spectacular views.
14. Darjeeling Tea Gardens: Sip the Finest Tea Amidst Nature
Darjeeling's tea gardens are a sensory delight. While admiring the breathtaking vistas of the Himalayan mountains, savor the aroma and taste of some of the world's best teas. This is the reason Darjeeling is one of the Must-Visit Places in India. Read More
15. Ajanta and Ellora Caves, Maharashtra: Ancient Rock-Cut Architecture
The Ajanta and Ellora Caves in Maharashtra feature ancient rock-cut architecture and elaborate Buddhist cave temples. These UNESCO World History Sites bear witness to India's diverse cultural history and aesthetic quality.
16. Shimla Hill Station, Himachal Pradesh – A Colonial Retreat
Shimla Hill Station is one of the Must-Visit Places in India. Views of the Himalayas, colonial elegance, and good weather. Investigate Mall Road, Viceregal Lodge, and Kufri's exploits. A tranquil setting for leisure and visual splendor. A must-see place for all visitors. Read More
17. Rann of Kutch, Gujarat – A White Desert Wonderland
The Rann of Kutch in Gujarat is one of the Must-Visit Places in India. A vast salt marsh with lovely white scenery. Discover the traditional events of Rann Utsav, as well as animals and neighboring communities. This lively destination promises an unforgettable and one-of-a-kind journey.
18. Srinagar Dal Lake, Jammu, and Kashmir – A Picture-Perfect Vision
Srinagar, Jammu, and Kashmir's summer capital, is known for its magnificent views, particularly the Dal Lake. Visitors can take a relaxing shikhara ride on the calm waterways, which are flanked by floating gardens and houseboats. Read More
19. Mahabodhi Temple, Bihar – A Journey to Enlightenment
The Mahabodhi Temple at Bodh Gaya is a revered site for Buddhists all over the world since it is thought to be the location where Siddhartha Gautama acquired enlightenment and became the Buddha. The serene atmosphere and spiritual significance of the temple attract pilgrims from all over the world.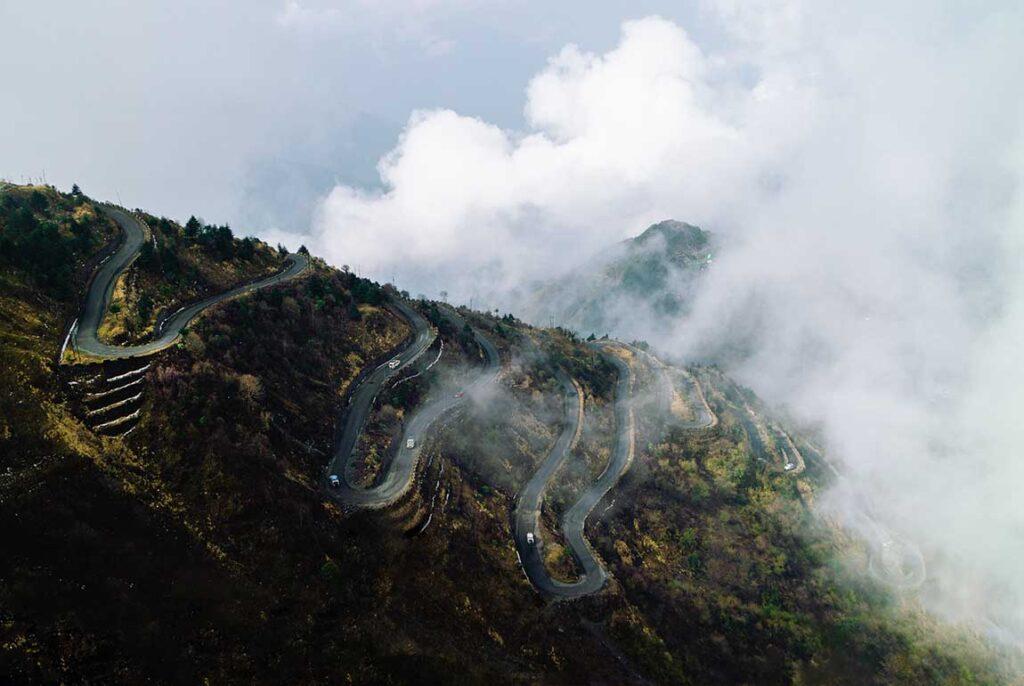 20. Sikkim Himalayas – Beauty in the Lap of Nature
Sikkim is one of the Must-Visit Places in India. Sikkim, nestled in the Himalayas, provides spectacular vistas, tranquil monasteries like Rumtek, the grandeur of Gurudongmar Lake, and the vibrant culture of Gangtok. A beautiful destination for any traveler. Read More
Conclusion
The various and enthralling Must-Visit Places in India cater to a wide range of interests and tastes. India has everything, whether you're looking for cultural exploration, spiritual enlightenment, or thrilling experiences. From the renowned Taj Mahal to the tranquil Kerala Backwaters, each location has its own distinct appeal that will make an indelible mark on your heart.
Plan your trip carefully, immerse yourself in the rich culture, savor the flavors of Indian cuisine, and build memories that last a lifetime with these 20 Must-Visit Places in India. India is a must-see location for any intrepid traveler.
FAQs
Q1: What are the best travel spots in India?
A: The Taj Mahal, Kerala Backwaters, and Ladakh Himalayas are among the top places to visit in India.
Q2: Which Indian state is known for its vibrant culture?
A: Rajasthan is well-known for its vibrant culture, vivid festivals, and stunning forts.
Q3: What makes the Andaman Islands special?
A: The Andaman Islands are a tropical paradise for nature enthusiasts, with their beautiful beaches, clear waterways, and diverse marine life.
Q4: Which city in India is famous for its tea gardens?
A: Darjeeling, West Bengal, is well-known for its gorgeous tea estates and world-renowned Darjeeling tea.
Q5: What is the best time to visit India?
A: The best time to visit India depends on where you are. In general, the months of October through March are nice in most sections of the country.