Kashmir, also known as "Paradise on Earth," is a mesmerizing location in northern India. Kashmir is a wonderfully enchanting experience for travelers, with its stunning scenery, rich cultural heritage, and friendliness. Whether you're looking for adventure, nature, or culture, this thorough travel guide will help you discover Kashmir's hidden beauties. Let us start on a spectacular journey through the mysterious valley of Kashmir, from its major tourist sites to off-the-beaten-path activities.
Outline of the Article
Overview of Kashmir as a Travel Destination
Introduction to Kashmir's Natural Beauty and Serenity
Kashmir is well-known for its stunning natural beauty. The region is surrounded by snow-capped hills, lush green valleys, meandering rivers, and exquisite lakes. The tranquil Dal Lake, the gorgeous Mughal Gardens, and the breathtaking Gulmarg are just a few of the sights that display Kashmir's grandeur.
The Rich History and Cultural Heritage of Kashmir
Kashmir has a complex cultural legacy that has been impacted by various civilizations throughout history. The region has been ruled by different kings and empires, leaving behind architectural wonders such as the exquisite Mughal Gardens, old temples, and shrines. Kashmir's cultural diversity is reflected in its colorful festivals and traditional arts and crafts.
Weather and Best Time to Visit Kashmir
Kashmir has four distinct seasons, each with its own allure. Spring and summer (April to September) bring nice weather, blossoming flowers, and lively events, making it a perfect time to visit the region. Autumn (October and November) covers the landscapes with red and gold hues, creating a hypnotic ambiance. Winter (December to March) blankets the region in snow, drawing skiers and snowboarders.
Highlights of Popular Tourist Attractions in Kashmir
Exploring the Mesmerizing Dal Lake
Dal Lake is a well-known tourist destination in Srinagar, the summer capital of Jammu & Kashmir. Ride a shikhara, a traditional wooden boat, along the calm waters, admiring the floating gardens, lovely houseboats, and bustling floating marketplaces. Witness the brilliant sunset colors reflecting on the surface of the lake, creating a lovely ambiance.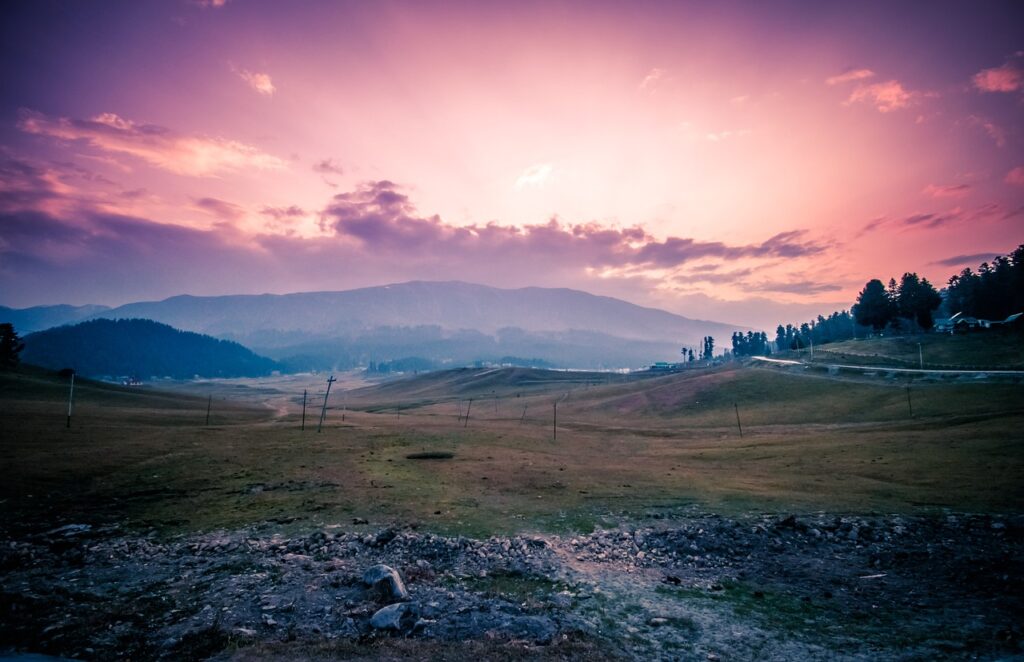 Unveiling the Beauty of Gulmarg
Gulmarg, in the Pir Panjal Range of the Himalayas, is a haven for adventurers and nature lovers. Gulmarg, known for its stunning settings, offers skiing, snowboarding, and trekking options. Take a gondola trip to one of the world's highest cable car systems, and enjoy panoramic views of the snow-covered peaks. Read More.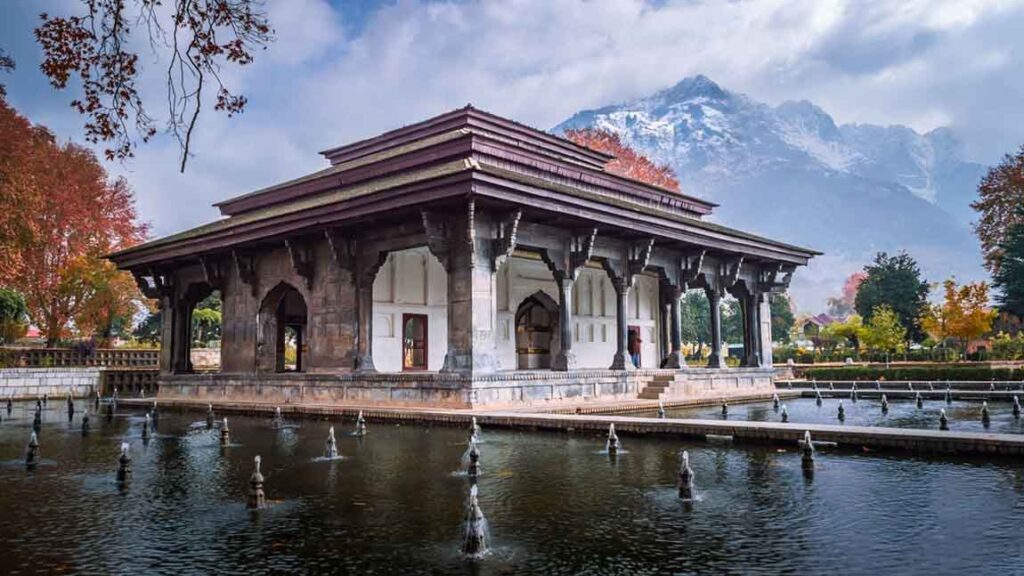 Discovering the Mughal Gardens
The Mughal Gardens, which include Shalimar Bagh, Nishat Bagh, and Chashme Shahi, are magnificent gardens constructed during the Mughal Empire. These perfectly kept gardens with bright flowers, cascading fountains, and terraced lawns provide a tranquil escape. Stroll around the well-kept pathways and soak in the serenity of these lovely gardens.
Exploring the Indira Gandhi Tulip Garden
The Indira Gandhi Tulip Garden, located in the heart of Srinagar, is a breathtaking sight to see. This garden is spread out across a large area and is covered with vivid tulips of all colors, producing a wonderful display. Stroll around the well-kept pathways and take in the splendor of hundreds of flowering tulips. The garden's appeal is enhanced by panoramic views of Dal Lake and the Zabarwan Range.
Visiting the Hazratbal Mosque
The Hazratbal Mosque is a respected religious monument on the shores of Srinagar's Dal Lake. It is very important to the Muslim community since it houses a sacred relic, which is thought to be a strand of Prophet Muhammad's hair. The mosque's gorgeous white marble architecture is a sight to behold, with elaborately carved motifs and a majestic dome. Visitors can experience the tranquil atmosphere and religious practices at this sacred site.
Discovering the Palace of Fairies
The Palace of Fairies, also known as Pari Mahal, is a historical site atop the Zabarwan Range that overlooks Dal Lake. This beautiful edifice was previously a Buddhist monastery before becoming a palace for Mughal princes. It now stands as a stunning fusion of Islamic and Buddhist architectural traditions. Explore the tiered gardens, take in panoramic city views, and relax in the calm environment of this ethereal mansion.
Exploring the Fort of Green Mountain
The Fort of Green Mountain, also known as Hari Parbat Fort, is a spectacular stronghold perched atop Hari Parbat Hill in Srinagar. The fort, which was built during the Mughal era, provides panoramic views of the city, Dal Lake, and the surrounding mountains. Explore the fort's old ramparts, explore the medieval temples, and immerse yourself in the enthralling stories of bygone times.
Paying Homage at Shankaracharya Temple
The Shankaracharya Temple, located on the top of Srinagar's Shankaracharya Hill, is a famous pilgrimage destination devoted to Lord Shiva. The approximately 2,000-year-old temple provides panoramic views of the city, Dal Lake, and the snow-capped Himalayan hills. Climb the stone steps to the temple, soak in the divine aura, and marvel at the beautiful architecture. For believers and history buffs alike, this temple carries enormous religious and historical value.
You May Also Love to Read:
Ladakh Travel Guide: The Majestic Beauty of the Himalayas.
Introduction to Local Culture and Traditions
The Warm Hospitality of Kashmiri Locals
Kashmiris are well known for their hospitality and friendliness. The people will welcome you with open arms as you explore the region. Engage in discussion, savor authentic Kashmiri cuisine, and directly experience their rich cultural traditions. The friendliness and compassion of the residents will leave an indelible imprint on your heart.
Traditional Festivals, Arts, and Crafts of Kashmir
Kashmir is brimming with festivals, arts, and crafts. Various festivals, like Eid-ul-Fitr, Navroz, and Baisakhi, are celebrated with tremendous zeal and excitement in the region. Witness traditional music, dance performances, and cultural processions while immersed in the brilliant colors and energetic atmosphere of these festivals. Investigate the wonderful creativity of Kashmiri handicrafts such as handwoven carpets, Pashmina shawls, and finely carved wooden artifacts.
Etiquette and Customs in Kashmir
While interacting with the people of Kashmir, observe local conventions and decorum. It is traditional to welcome with "As-salaam alaykum" (peace be upon you) and to react with "Wa alaykum as-salam" (peace be upon you). Dress modestly and keep cultural sensitivity in mind. Before photographing individuals or religious sites, obtain permission to ensure respect for their privacy and holiness.
Essential Travel Tips and Safety Guidelines
Obtaining Permits and Documents
Make sure you have all of the appropriate permits and documentation for your trip to Kashmir. Non-Indian tourists must get a tourist pass, while Indian citizens must provide a valid ID. Before arranging your vacation, it is best to review the most recent travel advisories and instructions published by local authorities.
Health and Safety Precautions
While Kashmir is generally a secure destination for tourists, certain measures must be taken. Keep hydrated, carry a first-aid kit, and protect yourself from severe weather. Be careful of your surroundings and respect the local norms and traditions. Hiring a licensed local guide is recommended for a better understanding of the region and to ensure a safe and pleasurable visit.
Planning Your Kashmir Itinerary
Creating a Well-Structured Itinerary
A well-planned schedule is crucial for making the most of your Kashmir vacation. Begin by making a list of must-see attractions depending on your interests. Allow enough time for each destination, taking into account travel distances and exploration time. A well-planned schedule offers a smooth travel experience, allowing you to immerse yourself in Kashmir's magnificence.
Suggested Itineraries for Different Trip Durations
Kashmir has a variety of travel experiences ideal for trips of varied lengths. There's something for everyone, whether you're looking for a weekend escape or a longer vacation. Consider seeing Dal Lake, Gulmarg's snow-covered hills, and Srinagar's cultural marvels. Create your itinerary based on your tastes, providing a balance of popular and off-the-beaten-path events.
Immersing in Kashmiri Culture
Discovering Traditional Festivals and Celebrations
Traditional holidays and celebrations are strongly ingrained in Kashmiri culture. Experience the spectacular Eid-ul-Fitr celebrations, which feature a blend of religious devotion, delectable feasts, and colorful costumes. Navroz is a cultural festival in which music, dance, and ancient traditions take center stage. These events provide a glimpse of Kashmir's unique cultural tapestry.
Exploring the Art and Crafts of Kashmir
Kashmir is famous for its complex arts and crafts that have been handed down through the centuries. Visit local artisans and see how the famous Kashmiri carpets, delicate Pashmina shawls, and intricate paper-mâché artifacts are made. Participate in interactive workshops to learn traditional art techniques and bring a piece of Kashmir's artistic legacy home with you.
Practical Tips for a Smooth Journey
Transportation Options Within Kashmir
For moving throughout the region, Kashmir has a variety of transportation choices. In cities and towns, taxis, buses, and auto-rickshaws are readily available. Consider hiring a private cab or taking a shared cab for a more scenic experience. Furthermore, renting a bike or choosing a self-drive automobile rental provides greater flexibility when experiencing Kashmir's stunning surroundings.
Finding Suitable Accommodations
Kashmir has a diverse choice of accommodations to suit a variety of budgets and preferences. There are options for every traveler, from luxurious resorts overlooking Dal Lake to tiny guesthouses in secluded valleys. Book your accommodations ahead of time, especially during high tourist season, to ensure a comfortable stay.
Off-the-beaten-path adventures in Kashmir
Kashmir has hidden gems waiting to be discovered beyond the famous tourist attractions. Aru Valley is a peaceful haven surrounded by snow-capped peaks and lush trees. Discover the lovely Lolab Valley, which is noted for its breathtaking splendor and unspoiled landscapes. These off-the-beaten-path spots provide an opportunity to escape the masses and enjoy Kashmir's undiscovered beauty.
Outdoor Activities and Adventure Opportunities
Kashmir has a wealth of outdoor activities for adventure seekers. Trek over the magnificent Himalayas, with routes ranging from simple to difficult. River rafting on the Lidder or Zanskar Rivers is a thrilling experience. Take an exciting wildlife safari in Dachigam National Park, which is home to rare and endangered species.
Exploring Alternative Routes and Destinations
In addition to the regular tourist routes, Kashmir provides alternate routes and places for people looking for one-of-a-kind experiences. Explore the magical splendor of Lolab Valley, a secret jewel tucked in nature's lap. Travel through the picturesque Gurez Valley, which is known for its lush green meadows and panoramic views. These lesser-known roads provide an opportunity to experience Kashmir's pristine splendor.
Conclusion
Kashmir is a country of breathtaking beauty, cultural riches, and kind hospitality. This thorough travel book has given you insights into Kashmir's intriguing attractions, cultural history, and practical suggestions for touring the region. Kashmir offers an amazing travel experience, from the tranquil Dal Lake to the daring trails of Gulmarg, and from the vivid festivals to the complex arts and crafts. Embrace Kashmir's enchantment and make memories that will last a lifetime.
FAQs
Q1. Is Kashmir safe for tourists?
Kashmir is a typically safe tourism destination. However, it is critical to stay current on travel advisories and adhere to local authorities rules. For a safe and enjoyable visit, respect local customs and traditions, take appropriate measures, and hire licensed guides.
Q2. What is the best time to visit Kashmir?
Kashmir is best visited in the spring and summer (April to September) when the weather is favorable and the scenery is in full bloom. Autumn (October and November) provides spectacular vistas of nature's shifting colors. Winter sports lovers flock to the snow-covered slopes from December to March.
Q3. Are there any off-the-beaten-path destinations in Kashmir?
Yes, Kashmir has various off-the-beaten-path spots for travelers looking for one-of-a-kind experiences. Aru Valley, Lolab Valley, and Gurez Valley are a few hidden jewels that display Kashmir's pristine beauty. These locations provide tranquility, scenic beauty, and a chance to get away from the masses.
Q4. Can I engage in adventure activities in Kashmir?
Absolutely! For adrenaline enthusiasts, Kashmir has a wide selection of adventure activities. Trekking in the Himalayas, river rafting on the Lidder or Zanskar rivers, and animal safaris in Dachigam National Park are just a few of the activities available. These activities allow you to immerse yourself in Kashmir's natural beauties.
Q5. What is the significance of the Mughal Gardens in Kashmir?
Kashmir's Mughal Gardens are historically and architecturally significant. These Mughal-era gardens have exquisite designs, beautiful flowers, and a tranquil environment. They are a tribute to Kashmir's rich cultural legacy and serve as a calm retreat for guests.