Welcome to Gulmarg Kashmir, a lovely hill station set in Kashmir's majestic Himalayas! This lovely place has something for everyone, whether you're searching for action, a honeymoon, or a quiet getaway. We'll go over everything you need to know before arranging a vacation to Gulmarg in this blog.
Outline of the Article
Getting There
Srinagar International Airport, which is around 56 kilometers away, is the closest airport to Gulmarg. You can take a taxi or a bus from the airport to Gulmarg. If you're taking the train, the nearest station is Jammu Tawi, which is around 290 kilometers away. From there, you can take a taxi or a bus to Gulmarg Kashmir.
Things to do
Skiing in Gulmarg: Gulmarg is well-known for its ski resort, which provides some of the best skiing and snowboarding experiences in India. The resort features both beginner and advanced slopes, making it ideal for both experienced and inexperienced skiers.
Gulmarg Gondola: The Gulmarg Gondola is one of the world's highest cable car systems, offering stunning vistas of the Himalayas. The ride takes you to the top of Apharwat Peak, a popular trekking and hiking destination.
Trekking: Gulmarg is surrounded by stunning mountains and valleys, making it a popular trekking and hiking destination. The Alpather Lake walk, the Khilanmarg trek, and the Strawberry Valley trek are among the most popular hiking routes.
Golf: The Gulmarg Golf Course is one of the highest in the world and is nestled in stunning surroundings. The golf course is open from May to November and is a must-see for golf fans.
Horse Riding: Horseback riding is a popular sport in Gulmarg, and you may ride through the gorgeous valleys and meadows.
Cultural experiences: Gulmarg is rich in culture and customs, and you may learn about them by visiting local markets, sampling traditional Kashmiri food, and visiting religious places like the Baba Reshi Shrine.
Wildlife spotting: Gulmarg is home to a diverse range of animals, including the Himalayan black bear, musk deer, and snow leopard. You can spot these animals in their natural habitats by taking a nature tour.
Photography: Gulmarg is a famous place for nature photography due to its breathtaking scenery and natural beauty. With your camera lens, you can record snow-capped mountains, colorful wildflowers, and lush green pastures.
These are just a few of the various activities available in Gulmarg. Gulmarg Kashmir has something for everyone, whether you're seeking adventure activities, cultural events, or just some time in nature.
Accommodation
Gulmarg has a variety of hotel alternatives to suit all budgets. There is something for everyone, from luxury resorts to budget-friendly hotels. The Khyber Himalayan Resort & Spa, Nedous Hotel, and Hotel Highlands Park are among the most prominent hotels in Gulmarg Kashmir.
You May Love to Read:
Kulu Manali, Himachal Pradesh. A Complete Travel Guide
Food
Gulmarg is well-known for its Kashmiri cuisine, which combines Mughal and Persian influences. Rogan Josh, Gushtaba, and Dum Aloo are among the must-try foods. Gulmarg has a number of eateries that serve great Kashmiri food as well as international cuisine.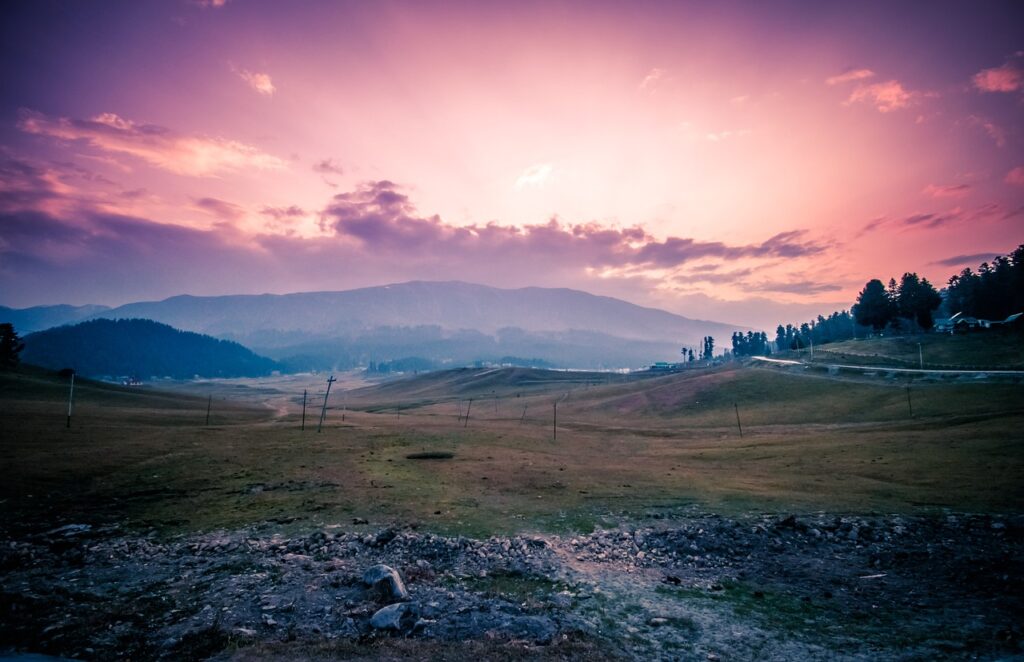 Safety in Gulmarg
While Gulmarg is a safe site for visitors, precautions and safety requirements should be followed. It is best to avoid traveling alone at night and to stay in well-lit places. It's also vital to bring enough warm gear, especially in the winter when temperatures might drop below freezing.
Best time to visit
The best time to visit Gulmarg is during the summer months of May to September when the weather is nice and ideal for outdoor activities such as trekking and golfing. If you enjoy skiing, the winter months of December to February are the most excellent time to visit because the town is covered with snow and the ski slopes are at their best.
Local culture and traditions
Gulmarg is a largely Muslim town, and Islamic traditions have a strong influence on local culture. The inhabitants of Gulmarg are friendly and welcoming, and you will be greeted with open arms. When visiting holy sites, it is critical to follow local customs and traditions.
How to plan your itinerary
If you're going to Gulmarg, you should plan your itinerary ahead of time to make the most of your time there. Gulmarg's must-see attractions include the Gulmarg Ski Resort, Apharwat Peak, Gulmarg Golf Course, and Strawberry Valley. A day trip to the nearby town of Tangmarg noted for its lovely apple orchards, is also advised.
Budget planning
Gulmarg Kashmir is an expensive location, particularly during the high tourist season. It is critical to organize your budget ahead of time and include fees for lodging, meals, transportation, and activities. You can save money by traveling during the off-season, staying in budget-friendly hotels, and dining at local restaurants.
Final thoughts
Gulmarg Kashmir is a destination that offers something for everyone, from adventure seekers to those looking for a relaxing getaway. The town's stunning natural beauty, combined with its rich culture and traditions, make it a must-visit destination in India. So why wait? Start planning your trip to Gulmarg today and get ready for an unforgettable experience in the Himalayas of Kashmir! Note:- Before Planing your trip to Gulmarg Kashmir, Please Check any policy updates on Jammu and Kashmir Tourist Development Corporation's official website.