Have you ever imagined a place where the air is clean, the culture is alive, and the history is rich? Welcome to Darjeeling, affectionately known as the "Queen of the Hills". Every part of this village, hidden in the Himalayan mountains, tells a different story. The top sights in Darjeeling emerge as you walk through its beautiful alleyways, each more mesmerizing than the previous.
There's something for everyone here, from spectacular sunrise views to age-old monasteries and world-renowned tea gardens. Darjeeling awaits those looking for an amazing journey. Are you prepared to go on this journey?
Outline of the Article
Introduction to Darjeeling's Attractions
Darjeeling, nestled snugly amidst the gorgeous Himalayas, proudly holds the title of "Queen of the Hills". A trip here is like turning through history, with each corner whispering stories from the colonial era. Those who plan a trip to the top attractions in Darjeeling are setting a date with both nature's beauty and intriguing historical storylines.
So, whether you're a history buff looking for stories or a nature lover looking for breathtaking views, Darjeeling delivers a rich tapestry of experiences. Dive deep and allow the beauty of the hills to enchant you!
Top 10 Sights in Darjeeling
Darjeeling is a small town that's easy to explore on foot. Here are some of the top attractions in Darjeeling:
1. The Himalayan Mountaineering Institute
Darjeeling, nestled in the Himalayas, is more than just tea and scenery. The Himalayan Mountaineering Institute is the city's pulse, and it beats with adventure. A beacon for climbers, it not only commemorates peaks but also the human spirit that dares to advance. Born out of Sir Edmund Hillary's Everest victory, the institute is more than just a training facility; it is a trip through mountaineering history. Keen to explore the top sights in Darjeeling? Begin here and immerse yourself in tales of bravery and conquering.
Things to Do:
Enroll in mountaineering and rock climbing courses.
Explore the rich mountaineering history at HMI's museum.
Witness climbing demonstrations at Tenzing Rock.
Best Time to Reach (Timing):
Optimal months: March–May and September–November.
Always refer to official timings before visiting.
Major Attractions:
Internationally recognized mountaineering courses.
A museum celebrating legendary mountaineers' achievements.
Tenzing Rock is a hotspot for rock climbing enthusiasts.
Immerse yourself in the top sights in Darjeeling here.
Location:
Located in Darjeeling, West Bengal.
Adjacent to the renowned Padmaja Naidu Zoological Park.
Easily reachable from the town center.
Venture beyond tea gardens in Darjeeling; HMI offers an adventurous twist to your journey!
2. Batasia Loop: A Historical Marvel
Picture this: you're in Darjeeling, surrounded by its tranquil beauty, and then you come across the Batasia Loop. It's not just any old railway line; it's an engineering marvel, a tribute to bright brains. You'll be treated to stunning views of snow-kissed peaks as the Toy Train smoothly maneuvers a 360-degree spin. But wait, it gets better.
This spot, undoubtedly one of the top tourist attractions in Darjeeling, also houses a moving war memorial, softly conveying tales of valor. It's a place where history and nature collide, providing an experience that will linger long after you've left.
Things to Do:
Experience the iconic toy train ride circling the loop.
Enjoy a serene walk amidst verdant gardens, capturing the essence of the top sights in Darjeeling.
Relish panoramic views of snow-capped Kanchenjunga peaks.
Best Time to Reach (Timing):
Optimal times are between March to May or October to November, ensuring clear vistas.
Early mornings or late afternoons capture the locale's picturesque essence the best.
Major Attractions:
The poignant war memorial salutes brave Gorkha soldiers.
Viewing platforms deliver breathtaking glimpses of surrounding valleys and peaks.
Engage with local handicraft vendors—truly a touch of Darjeeling.
Location:
Conveniently located about 5 km from Darjeeling town center.
An integral part of the Darjeeling Himalayan Railway, a cherished UNESCO World Heritage site.
Easily reachable by car, local taxi, or the delightful toy train.
Embark on a journey to Batasia Loop and embrace the soulful allure that makes it one of the top sights in Darjeeling.
3. Peace Pagoda and its spiritual aura
Imagine discovering a refuge of serenity within the bustling vitality of Darjeeling – the Peace Pagoda. It's more than just an architectural masterpiece, standing tall in dazzling white magnificence. It represents togetherness, harmony, and a genuine yearning for a peaceful world. You'll notice an infectious quiet that encourages introspection as you go about it.
Gentle chants, subtle rustling of leaves, and panoramic vistas of the surrounding landscapes all blend together to create an unforgettable experience. This is one of the top sights in Darjeeling, not only for the eyes but also for the soul. It is where you can find peace among the heights.
Things to Do:
Immerse yourself in the calming chants and prayers for world peace.
Take a serene walk around the pagoda, embracing the spiritual aura of one of the top sights in Darjeeling.
Capture stunning photos against the backdrop of the Kanchenjunga range.
Best Time to Reach (Timing):
The most suitable months are between March to May and October to November for the clearest views.
Visit during the tranquil hours of early morning or just before sunset for a peaceful experience.
Major Attractions:
Marvel at the four massive avatars of Lord Buddha, each signifying a different phase of his life.
Experience panoramic views of Darjeeling from the viewing platform, a visual treat for any traveler.
Engage with monks and learn about the principles of Buddhism, adding depth to your visit.
Location:
Nestled atop Charlimont Hill, the Peace Pagoda is approximately 2 km from Darjeeling town center.
It's a serene spot away from the hustle and bustle, easily accessible by local transportation or a refreshing walk.
As you plan your journey, don't forget to mark the Peace Pagoda on your list. Its essence of tranquility and spirituality makes it undeniably one of the top sights in Darjeeling.
4. Ride the Toy Train: Nostalgia on Wheels
The Toy Train in Darjeeling has a mystical quality to it. It's more than just a ride; it's a voyage rich with history and charm. The steady sound of the train chugs along like a lullaby from the past. At every turn, the windows frame postcard-worthy scenery, making you wonder whether this is all real. But it's the sensation of memory that captures your heart, not the gorgeous vistas.
It is a UNESCO World Heritage Site and a popular tourist destination in Darjeeling. Each bend and tunnel tells a narrative as the hills pass by. So, if you're looking for a nostalgic journey that combines the past and the present, this nostalgic ride awaits. Get on board and watch the magic happen!
Things to Do:
Hop on board the UNESCO World Heritage 'Toy Train' and experience a journey like no other.
Enjoy the rhythmic chugging and serpentine turns, capturing the essence of the top sights in Darjeeling.
Absorb scenic vistas as the train winds its way through hilly terrain, quaint villages, and tunnels.
Best Time to Reach (Timing):
Operates throughout the year. However, consider booking between March and June, when Darjeeling's beauty is at its peak.
There are multiple departures daily, but the morning rides offer mesmerizing sunlit panoramas of the hills.
Major Attractions:
Revel in the old-world charm of vintage steam engines pulling the train.
The Batasia Loop, where the train makes a loop, offers unparalleled views of Mount Kanchenjunga.
Brief stops at charming stations like Ghum let you explore age-old monasteries and museums.
Location:
The journey starts from the Darjeeling Railway Station, located in the heart of the town.
You can opt for various routes, but the ride from Darjeeling to Ghum is the most popular among travelers.
Boarding the Toy Train isn't merely about the destination; it's the enchanting journey that leaves an indelible mark. As you meander through the best of what the hills offer, you quickly realize why it's among the top sights in Darjeeling. Join in, and let the nostalgia flow!
5. Explore the lush tea gardens
People immediately think of the famed tea gardens when they think of Darjeeling. These gardens represent the spirit of the region, with rolling green vistas as far as the eye can see. Walking through them is about more than simply the views; it's about the stories they convey. The tea journey here is wonderful, from leaf gathering through brewing.
It's no surprise that they're among the top sights in Darjeeling. And why not stop for a cup of freshly brewed Darjeeling tea while you're there? That's more than simply a drink; it's an experience in and of itself. So, are you prepared for a tea-riffic adventure?
Things to Do:
Take a leisurely stroll through the vibrant green rows, soaking in nature's tranquility.
Learn the art of tea-making, from plucking fresh leaves to brewing that perfect cup. It's a sensory delight amidst the top sights in Darjeeling.
Taste the globally renowned Darjeeling tea right where it's grown, experiencing freshness like never before.
Best Time to Reach (Timing):
Visit between March to June as the gardens burst into a lush green panorama.
Early morning visits offer a surreal mist-covered view, with tea pluckers starting their day.
Major Attractions:
Participate in a guided tea factory tour to understand the nuances of tea processing.
Capture Instagram-worthy shots with the backdrop of vast plantations and the majestic Himalayas.
Interact with local workers, gaining insights into their daily lives and the tea trade's legacy.
Location:
Scattered around Darjeeling's slopes, many famous tea estates like the Happy Valley and Glenburn Tea Estate invite visitors.
A short drive or a local jeep ride from Darjeeling town will lead you to these aromatic havens.
Exploring the lush tea gardens isn't just about sipping tea. It's about immersing yourself in a tradition that has made Darjeeling iconic worldwide. Truly, they remain the top sights in Darjeeling for anyone longing for nature's embrace and a touch of heritage.
6. Padmaja Naidu Himalayan Zoological Park
Have you ever wished to see the Himalayas without trekking for miles? Darjeeling's Padmaja Naidu Himalayan Zoological Park is your ticket! This isn't just any zoo; it's a celebration of the region's diverse wildlife. It is home to a plethora of endangered species and provides more than simply looks; it is about stories.
The cheerful red pandas and gorgeous snow leopards are unquestionably popular, but every corner and nook has a story to tell. Clearly, it's one of the most popular sights in Darjeeling. So, if you're looking for a crazy encounter, this park has you covered! Are you ready to meet some new furry friends?
Things to Do:
Engage in a wildlife expedition, walking amidst rich biodiversity.
Spot and learn about endangered species, ensuring an educational journey for both kids and adults.
Capture the picturesque surroundings on your camera as you move amidst lush greenery and serene spots.
Best Time to Reach (Timing):
Open most of the year, but visiting between March to June or September to November promises pleasant weather.
Operational hours are typically from 8:30 AM to 4:30 PM, with slight variations based on the season.
Major Attractions:
Meet the elusive Red Panda and Snow Leopard, both endangered and revered.
The aviary houses a range of birds, making it a birdwatcher's delight.
The park is also home to the Himalayan Mountaineering Institute, enhancing its reputation among the top sights in Darjeeling.
Location:
Located at Jawahar Parbat, it is merely 2 km from the main town of Darjeeling.
Easily accessible via local taxis or on foot if you're in the mood for a brisk walk amidst nature
When you step into Padmaja Naidu Himalayan Zoological Park, it's more than just a zoo visit; it's a rendezvous with nature, accentuated by the sounds of chirping birds and the sights of rare animals. Among the top sights in Darjeeling, this park stands out as a testament to India's conservation efforts. Dive into this wildlife haven and embrace the wonders of Mother Nature!
7. The spiritual serenity of Mahakal Temple
Have you ever found a spot that just calls to your soul? Many people associate the Mahakal Temple in Darjeeling with this. The aura of Observatory Hill, perched atop Observatory Hill, will steal your breath away. It's distinguished by an ethereal blend of spiritual chants, prayer flags floating in the breeze, and unrivaled panoramic panoramas.
That is why it is regarded as one of the top sights in Darjeeling. Whether you're on a spiritual search or just trying to relax, this temple provides an experience unlike any other. Do you want to go on a spiritual retreat with a view? You already know where to go!
Things to Do:
Immerse yourself in spiritual chants and melodies that reverberate throughout the temple.
Participate in the daily rituals and ceremonies, getting a firsthand experience of the local culture.
Spend quiet moments meditating or reflecting with the panoramic views of the hills as your backdrop.
Best Time to Reach (Timing):
Ideal times to visit are early mornings or late afternoons for a peaceful experience.
The temple is open from 4:00 AM to 12:00 PM and then from 4:00 PM to 7:00 PM.
Major Attractions:
The unique blend of Hindu and Buddhist symbols within the temple is a sight to behold.
Experience the palpable spiritual energy, a major reason why it's among the top sights in Darjeeling.
Nearby, you can also catch breathtaking views of Kanchenjunga Peak on clear days.
Location:
Nestled atop Observatory Hill, it's a brisk walk from the main town of Darjeeling.
The climb might be steep, but the serene atmosphere and views from the top are well worth the effort
The Mahakal Temple isn't just another place of worship; it's a spiritual journey, a confluence of faiths, and an embodiment of Darjeeling's diverse culture. As you navigate through the top sights in Darjeeling, let the temple's tranquil surroundings bring you a sense of peace and introspection. Embrace the spiritual essence of the hills and let it rejuvenate your soul.
8. Delight in the views from Tiger Hill
Have you ever tried to catch a sunrise? If you haven't seen a sunrise yet, Tiger Hill in Darjeeling might just convert you! Picture this: an orange and gold sky, with the beautiful Kanchenjunga peak lighting up as if on cue. It's nothing less than wonderful. To be honest, it's moments like this that cement Tiger Hill's place among the top sights in Darjeeling.
But words can only do so much justice to that spectacular spectacle. It was one of those "you had to be there" moments. So, the next time you visit Darjeeling, you know where to go at sunrise, right? I'll see you at sunrise!
Things to Do:
Wake up early to witness one of the most mesmerizing sunrises over the Himalayan range. The play of colors on the snowy peaks is pure magic.
Pack a light breakfast and enjoy a picnic with the horizon unfolding in front of you.
For photography enthusiasts, the hill offers numerous vantage points to capture the beauty of nature.
Best Time to Reach (Timing):
To experience the iconic sunrise, reach between 4:00 AM and 5:00 AM, depending on the season.
Although sunrise is the primary draw, visiting during the daytime offers a different perspective on the expansive landscapes.
Major Attractions:
The main allure is undoubtedly the first rays of the sun hitting the peaks of Kanchenjunga. On a clear day, Mount Everest can be seen.
Apart from the sunrise, the panoramic view of the surrounding valleys and tea gardens makes Tiger Hill one of the top sights in Darjeeling.
Location:
Situated approximately 11 km from Darjeeling town, the hill is accessible by road. You can hire a taxi or opt for local transport early in the morning.
The breathtaking sunrise at Tiger Hill is a quintessential Darjeeling experience. Tranquility envelopes you as sunrise colors the sky. Tiger Hill, one of the finest attractions in Darjeeling, provides more than simply a vista; it is a moment of reflection that will last a lifetime. A definite must-see!
9. Drench in the beauty of Rock Garden and Ganga Maya Park
Do you know how it feels when nature and human touch combine in perfect harmony? That's how Darjeeling's Rock Garden and Ganga Maya Park feel. Terraced gardens cascade alongside glittering waterfalls in these areas tucked among verdant hills, and charming bridges lend just the right touch of charm. It's no surprise that they're among the most popular top sights in Darjeeling.
The beauty is palpable; it's like nature's own canvas, splattered with human artistry. If there was ever a place where you could lose yourself while still finding so much, this is it. Are you ready for a visual treat? Darjeeling is calling!
Things to Do:
Take a leisurely stroll through the manicured terraces, enjoying the melodic sound of cascading water.
Find a quiet spot to sit and soak in the serenity, surrounded by the vibrant flora.
Capture memories with your camera; the garden offers countless picturesque nooks.
Best Time to Reach (Timing):
The garden is most inviting during the morning hours (8:00 AM – 10:00 AM) and late afternoons (4:00 PM – 6:00 PM), when the sun isn't too harsh.
Try to avoid the midday rush to get the most out of your visit.
Major Attractions:
The multi-level waterfall that courses through the garden is a major crowd-puller.
Unique and artistically crafted sitting areas made of rocks and greenery.
As one of the top sights in Darjeeling, the panoramic view of the valley from the upper levels of the garden is a visual treat you shouldn't miss.
Location:
Located about 10 km from the main town of Darjeeling, Rock Garden is easily accessible via road. Opt for a local taxi or shared jeeps that frequently ply to the location.
The Rock Garden, with its tiered beauty and flowing waterfalls, is one of the top sights in Darjeeling. It's a must-see for any traveler looking for peace and beauty. It's a wonderful blend of nature and design.
10. Delve into the Darjeeling Observatory Hill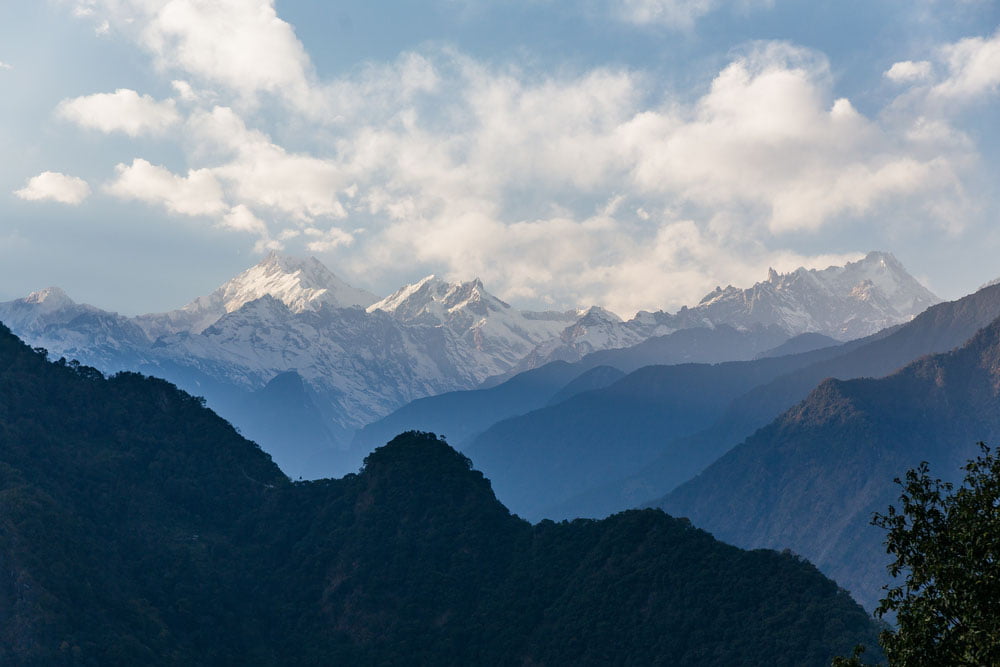 Have you ever stood anywhere and felt as if the universe had just unfolded in front of you? Darjeeling Observatory Hill provides that sensation. Not only do the magnificent views of the small hamlet below or the massive Kanchenjunga in the distance take your breath away, but a deeper magic is at work here. Among these sights are several shrines that tell stories of faith and reverence.
This combination of natural splendor and spiritual whispers makes it one of the most popular attractions in Darjeeling. So, whether you're looking for perspectives or truths, this hill has a narrative for you. Are you ready to listen?
Things to Do:
Engage in a tranquil meditation or prayer session at the temples that adorn the hill.
Embark on a delightful trek up the hill, savoring the cool breeze and melodious chirping of birds.
Gaze upon the majestic Kanchenjunga range, capturing its grandeur in photos to cherish for a lifetime.
Best Time to Reach (Timing):
Early mornings (6:00 AM – 8:00 AM) offer a serene atmosphere and clearer views of the mountain range.
Late afternoons (4:00 PM – 6:00 PM) also promise a mesmerizing experience, especially during sunset.
Major Attractions:
The revered Mahakal Temple showcases a blend of Buddhist and Hindu traditions.
The enchanting view of the Kanchenjunga range makes it one of the top sights in Darjeeling.
Observing the town's bustling life from a birds-eye perspective, immersing oneself in the harmonious blend of nature and culture
Location:
Observatory Hill is centrally located in Darjeeling town, a short walk from the famous Mall Road. The path leading up is well-marked, ensuring visitors don't lose their way.
Nestled right in the heart of the town, Observatory Hill is not just a location but an experience. It whispers tales of age-old traditions and offers sights that leave an indelible mark on the heart. When you're mapping out your journey through the top sights in Darjeeling, ensure that Observatory Hill is on that list. Its charm is bound to leave you spellbound.
You May also Love to Read
Nagaland: A Full Feel State of Rich Culture and Natural Beauty of Northeast India
Why Visit Darjeeling?
Darjeeling, oh Darjeeling! Have you ever wondered why it's been the subject of so many travel stories and tea conversations? It's not simply the fragrant brews and misty mornings. The town offers a diverse range of experiences. It unfolds as one of the best sights in Darjeeling, amidst the Himalayan embrace, hosting a rich tapestry of culture entwined with nature's beautiful threads. Looking for a strenuous walk?
Check. The serenity that soothes the soul Double-check. Every alley sings a distinct tune here, and every bend reveals a new narrative. So, if you're planning your next vacation, make Darjeeling more than just an idea. Dive in and let its enchantment overwhelm you.
The Best Time to Visit
Thinking of packing your bags for Darjeeling? Timing is everything! Although its allure never fades, the top sights in Darjeeling shine brightest during spring and autumn. Not only does the weather cooperate, providing just the appropriate amount of coolness and warmth, but the skies are clearer, allowing you to enjoy uninterrupted vistas of the spectacular Himalayas. And if you enjoy ethnic celebrations, you're in for a real treat.
Local celebrations bring these seasons to life, adding dimensions to your travel story. So, if you're looking for a picture-perfect Darjeeling escape, time your visit around these seasons. Are you ready to take a wild ride?
Local Delicacies to Relish
Heading to Darjeeling? Well, let me spill the beans: behind the top attractions in Darjeeling, the town hides a world of flavors! Begin your day by wrapping your hands around a steaming cup of Darjeeling tea. It's more than just a beverage; it's an experience. As the sun goes down, follow the smells to street booths selling juicy momos, a nibble that wonderfully embodies the flavor of the highlands.
However, don't stop there! Dive deeper into the local menus, and you'll find meals that tell stories about the town's rich culture. To truly understand Darjeeling, one must taste it. Are you ready to start on this culinary journey?
Staying in Darjeeling
Darjeeling has accommodations for everyone. Whether you like lavish resorts or charming homestays, there is a budget-friendly option for every traveler. Enjoy the best of this Himalayan jewel in comfort and style.
Luxury Resorts and Homestays in Darjeeling:
Darjeeling has luxury resorts with top-tier services for those looking for an enjoyable retreat. If you want a more personalized experience, lovely homestays immerse guests in local culture and affection. Darjeeling guarantees a great stay, whatever your preferences.
Budget-friendly Accommodations
Darjeeling's numerous accommodation alternatives cater to any traveler. There are numerous guesthouses and hostels accessible to people on a tighter budget. These lodgings prioritize comfort and affordability, ensuring that tourists receive the most bang for their buck while experiencing the charm of the town.
Getting Around Darjeeling
Are you planning a trip to Darjeeling? Let us discuss transport! While the Toy Train is undeniably the star of the show, it is not the only way to get around. Local cabs and shared taxis will be your best buddies in between seeing the top sights in Darjeeling. These rides aren't only convenient; they also provide an opportunity to interact with locals and, just maybe, discover a hidden gem or two off the beaten path.
So, whether you're looking for sunrises or going from cafe to cafe, remember that getting around is part of the Darjeeling experience. Are you ready to go exploring?
Conclusion:
Darjeeling is a breathtaking Himalayan town with a distinct blend of natural beauty, cultural variety, and history. As you tick off the top sights in Darjeeling, you'll notice that there's a story around every corner and a symphony in every breeze. whether you want to relax in the tea plantations, explore the mountains, enjoy the honeymoon with your partner, or immerse yourself in the local culture.
We hope that this Darjeeling travel guide has assisted you in planning your ideal vacation to Darjeeling and that you fall in love with this wonderful tea country as much as we have.
FAQs
Q1: What's the best way to reach Darjeeling?
Simply fly into Bagdogra airport or take the train to New Jalpaiguri. Take a picturesque ride on the famed Toy Train or a speedy cab from these locations. Darjeeling's splendor is only a short journey away! Travel safely.
Q2: Is it safe for solo travelers?
Go ahead! It's not only renowned for its breathtaking beauty but also for its warm hospitality. Darjeeling welcomes solo explorers with open arms, ensuring a safe and memorable journey. Pack light and travel with confidence!
Q3: Can I buy authentic Darjeeling tea from there?
You've come to the right place! Darjeeling boasts a plethora of tea estates where you may get genuine, fresh tea. It's the ideal souvenir for remembering your vacation or gifting to a loved one. Have fun brewing!
Q4: Can I visit all these attractions in a day?
That is a tall order! Though it is possible, prolonging your visit over 2-3 days allows you to thoroughly enjoy each attraction. Believe me, the place merits more time!
Q5: Are there any special cultural events in Darjeeling?
You're in for a surprise! Festivals like Tihar, Dashain, and Losar are celebrated with zeal. It's an opportunity you won't want to pass up!