Outline of the Article
Jaipur, popularly known as the Pink City in India, is a bustling and ancient city in Rajasthan, a state in northwestern India. Jaipur is a must-see destination for anybody visiting India, with its gorgeous palaces, busy markets, and rich cultural heritage. In this post, we'll explore some of the top attractions and experiences that make Jaipur such a special place to visit.
Getting to Pink City Jaipur
Jaipur is well-connected to major cities in India by air, rail, and road. Here are the different ways to reach Jaipur:
By Air: Jaipur International Airport is well-connected to major cities in India and also has flights to international destinations. Direct flights to Jaipur are available from Delhi, Mumbai, Kolkata, Chennai, and Bangalore, among others.
By Rail: Jaipur is connected by rail to major cities in India, including Delhi, Mumbai, Chennai, Kolkata, and Bangalore. Some of the popular trains to Jaipur are the Shatabdi Express, Rajdhani Express, and Duronto Express.
By Road: Jaipur is well-connected to major cities in India by road. National Highway 8 (NH 8) connects Jaipur to Delhi, Mumbai, Ahmedabad, and other cities. The Rajasthan State Road Transport Corporation (RSRTC) operates regular buses to Jaipur from major cities in Rajasthan and neighboring states.
By Car: Hiring a private car or taxi is also a convenient option to reach Jaipur from nearby cities like Delhi, Agra, or Udaipur.
Top attractions in Jaipur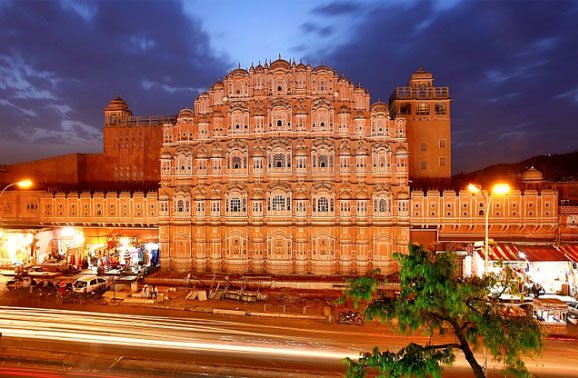 1st. Hawa Mahal
The Hawa Mahal, or "Palace of Winds," is one of Jaipur's most recognizable attractions. This magnificent five-story palace was constructed in 1799 by Maharaja Sawai Pratap Singh and includes a distinctive façade with 953 tiny windows meant to allow cool air to circulate throughout the building. Visitors can climb to the palace's roof for panoramic views of the city.
2nd. City Palace
Another must-see attraction in Jaipur is the City Palace. This large palace complex, erected in the 18th century, has a number of museums and galleries highlighting the city's rich history and culture. Visitors can tour the courtyards, gardens, and elegant structures of the palace and marvel at the stunning architecture and design.
3rd. Amber Fort:
Located just outside Jaipur, the Amber Fort is a magnificent fortress and palace complex that dates back to the 16th century. Visitors can explore the fort's stunning courtyards, gardens, and palaces, and enjoy panoramic views of the surrounding landscape from the fort's hilltop location. The fort is also home to the Sheesh Mahal, or "Palace of Mirrors," which features intricate mirror work and stunning lighting effects.
4th. Jantar Mantar
The Jantar Mantar is an observatory erected by Maharaja Jai Singh II in the early 18th century. The observatory houses a collection of large stone equipment that is used to measure time, track the movements of stars and planets, and predict eclipses. The observatory is open to the public, and visitors can learn about the interesting science underlying this old equipment.
5th. Nahargarh Fort
The "Tiger Fort" is another name for Nahargarh Fort. For good reason, it is one of Jaipur's most popular attractions. It offers amazing views of the Pink City and the surrounding environment from its location on the Aravalli Hills. It was constructed in the 18th century as a protective stronghold against invaders. Today, it is a popular tourist destination where visitors can marvel at the breathtaking views of the Pink City, explore the fascinating architecture, and learn about the fort's rich history and legends. Whether you are a history enthusiast, a nature lover, or simply looking for some adventure, Nahargarh Fort is a must-see sight that will leave an indelible impression on you.
You May also Love to Read:
Step into the Royal Era: Exploring the History and Charm of Tijara Fort in Alwar
5th. Markets and Bazaars
No trip to Jaipur would be complete until you saw the city's vibrant markets and bazaars. Jaipur is a shopper's delight, offering everything from traditional handicrafts and textiles to trendy fashion and jewelry. The Johari Bazaar, Tripolia Bazaar, and Bapu Bazaar are among the best markets to explore.
6th. Food and Drink
Jaipur pink city is also well-known for its delectable food and beverages. There's plenty for everyone, from fiery curries and biryanis to sweet delicacies like jalebis and lassis. Dal baati churma, laal maas, and ghevar are some of the best delicacies to sample in Jaipur.
7th. Festivals and Events
Finally, Jaipur hosts a variety of vibrant festivals and events throughout the year. The annual Jaipur Literature Festival, which gathers authors, poets, and literary fans from all over the world, is the most well-known of these. The Teej Festival, which commemorates the monsoon season, and the Diwali Festival of Lights are two more important events.
Best time to visit Jaipur
The months of November to February are perfect for visiting Jaipur since the weather is warm and comfortable, making it ideal for sightseeing and outdoor activities. Temperatures range from 10°C to 27°C during these months, with clear blue skies and no rain. Avoid visiting Jaipur in the summer (April to June), when temperatures can reach 45°C, making it unbearably hot and humid. The monsoon season (July to September) can also be unpredictable, causing travel plans to be disrupted.
Budget required to visit Jaipur
The budget required to visit Jaipur can vary depending on the type of traveler and their preferences. However, here is a general idea of the expenses you can expect while visiting Jaipur:
Accommodation: The cost of accommodation in Jaipur can range from budget-friendly guesthouses and hostels to luxurious hotels and resorts. Budget options can start from around 500 INR per night, while mid-range options can cost between 1500-2500 INR per night. Luxury hotels and resorts can cost upwards of 5000 INR per night.
Food and Drinks: Jaipur is famous for its delicious food, and you can find plenty of affordable street food options as well as high-end restaurants. Budget travelers can expect to spend around 200-300 INR per meal, while mid-range options can cost between 500-1000 INR per meal. A cup of chai or coffee can cost around 20-50 INR, while a bottle of water can cost around 20 INR.
Transportation: Local transportation in Jaipur is relatively inexpensive, with auto-rickshaws and local buses costing around 10-20 INR for short distances. Taxis and private cars can cost more, with rates varying depending on the distance and time of day.
Sightseeing: The cost of sightseeing in Jaipur can vary depending on the attractions you want to visit. Entry fees for popular attractions like Amer Fort and City Palace can cost between 100-500 INR per person.
In summary, a budget traveler can expect to spend around 1000-1500 INR per day in Jaipur, while mid-range travelers can expect to spend around 2500-3500 INR per day. However, luxury travelers can expect to spend much more depending on their preferences.
Conclusion
A really unique destination, Jaipur has something for everyone. There's no shortage of things to see and do in this busy pink city, from gorgeous palaces and historic sites to vibrant markets and wonderful food. Whether you're a history buff, a foodie, or a culture vulture, Jaipur will leave you with unforgettable experiences and a renewed understanding of India's rich legacy.
Note: Before Planing to visit Jaipur, Please check any Policy updates on the Official website.