Are you looking forward to the arrival of winter? Do you enjoy the beauty of snow-covered landscapes and the thrill of participating in winter activities? If this is the case, India has plenty of options to fulfill your winter wanderlust. The country offers a broad range of snowy sites, from the icy terrains of the north to the cool havens of the south. In this comprehensive guide, we'll take you on a journey through the Best Snowfall Tourist Places in India To Enjoy Winter. We'll look at each destination's distinctive offers, activities, and ideas for making the most of your winter trip, from stunning mountains to charming hill stations.
Outline of the Article
Introduction
As the cold season approaches, India changes into a stunning white wonderland, offering a variety of breathtaking snowfall destinations. Whether you're searching for adventure, nature, or a peaceful winter vacation, India's snowfall tourist places provide something for everyone.
Why Choose Snowfall Tourist Places in India?
Snowfall tourist Places in India have a distinct allure that draws visitors from all over the world. These destinations are enticing for a variety of reasons, including the excitement of winter sports and the opportunity to observe nature's splendor in its most pristine form.
Top 12 Snowfall Tourist Places in India To Enjoy Winter.
Best Snowfall Tourist Places in Northeast India: Where Winter's Beauty Blooms
Shillong: Scotland of the East
Shillong, located in the northern part of India, is widely known as one of the most beautiful places to experience snowfall in India. Often called the "Scotland of the East," this delightful destination truly comes alive during the winter season. With its hills, landscapes, and occasional gentle snowfall, Shillong exudes a captivating beauty that rivals its Scottish counterpart.
The wintery atmosphere in Shillong echoes the charm of Scotland, creating an ambiance that mesmerizes visitors and invites them to immerse themselves in its irresistible allure. Like Scotland's stunning landscapes, Shillong's winter charm undoubtedly lives up to its earned nickname.
Gangtok: Where Cultures Converge
Nestled amidst the Himalayas, Gangtok, the capital city of Sikkim, stands out as one of India's destinations to experience snowfall. This enchanting town beautifully blends Indian cultures, creating a unique cultural tapestry. When winter arrives, Gangtok undergoes a transformation into a paradise, adding to the allure of its magnificent temples and peaceful stupas.
The fusion of these cultures becomes more captivating against the wintry backdrop, offering visitors a serene and culturally immersive experience that will undoubtedly leave lasting memories. As the city gets blanketed in snow, Gangtok's charm takes on a new dimension, beckoning travelers to explore its rich heritage and revel in its unspoiled beauty.
Best Snowfall Tourist Places in East India: Where the Sun Rises Amidst Snowflakes
Darjeeling: A Himalayan Gem
Darjeeling, located in the Himalayan range, is one of the best snowfall tourist places in East India. During the winter, this lovely hill station transforms into a winter wonderland. The stunning view of the sunrise from Tiger Hill, with the majestic Kanchenjunga range as a backdrop, adds to the wonderful experience, making Darjeeling an unrivaled winter destination.
Suggestions to Read: Darjeeling Travel Guide: Discover the Hidden Gems of the Hills
Kalimpong: Serenity and Snow
A stone's throw from Darjeeling, Kalimpong boasts a serene aura, intensified by winter snowfall. Among the best snowfall tourist places in India, this town's tranquility shines. Deolo Hill treats visitors to panoramic views of the snow-draped landscape, creating a paradise for photographers. Kalimpong's winter charm is a captivating addition to the snowy wonders of the region.
Best Snowfall Tourist Places in North India: Where Dreams of White Come True
Gulmarg: The Quintessential Winter Paradise
Gulmarg, located in the heart of the Jammu and Kashmir Himalayas, is one of India's top snowfall destinations, a veritable refuge for snow aficionados. The air is fresh and the landscape is coated in white, creating a haven for those who appreciate the beauty of snow. Adrenaline junkies can enjoy powdery slope skiing, snowboarding, and snowshoeing, each more thrilling than the last.
The legendary Gondola ride in Gulmarg provides panoramic views of the snow-covered terrain, which will leave you speechless. In the midst of winter's enchantment, don't pass up the opportunity to join in a pleasant snowball fight or build a snowman, invoking sentimental recollections of winter's past.
Suggestion to Read: Exploring the Beauty of Gulmarg Kashmir: A Winter Wonderland
Manali: A Snowy Sanctuary
Manali, nestled among the awe-inspiring snow-capped mountains and aromatic pine forests, emerges as one of the top snowfall tourism destinations in India, providing a tranquil retreat for adventure enthusiasts. The serene splendor of the winter countryside sets the setting for wonderful experiences here.
Carve your way through the powdery slopes on exhilarating skiing and snowboarding excursions. Alternatively, stroll along the magnificent snow-covered slopes while soaking in the cool mountain air. To keep warm, savor local specialties, and sip scalding hot beverages in lovely cafes while staring out at the breathtaking snowy backdrop that surrounds you.
Suggestion to Read: Manali Travel Guide: Your Handbook for an Unforgettable Trip
Leh-Ladakh: Snowy Himalayan Gem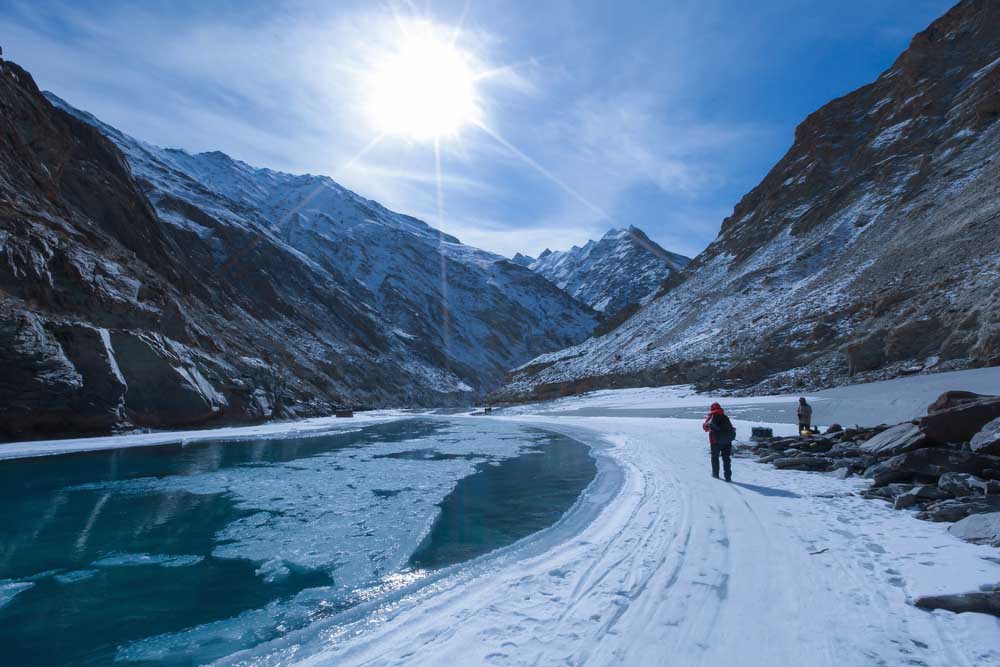 Snowfall brings to life the spectacular landscapes of Leh-Ladakh, making it one of the Best snowfall tourist places in india. Embrace winter's allure with exhilarating excursions to frozen lakes, where nature's splendor takes on a dreamlike dimension amidst the snow-covered surroundings.
Discover the mysticism of snow-covered monasteries, with their historic architecture standing out against the white canvas of winter. The renowned Chadar Trek, an incredible adventure on the ice Zanskar River, awaits the brave. Immerse yourself in Ladakhi hospitality, savor native flavors, and indulge in cultural events that will leave you with cherished memories of a winter like no other.
Suggestion to Read: Ladakh Travel Guide: The Majestic Beauty of the Himalayas.
Shimla: Snowy Royalty
Shimla, famous for its historical beauty, undergoes a mesmerizing makeover throughout the winter season, making it one of India's top snowfall tourist destinations. As the town is covered with snow, the attraction of its colonial architecture is enhanced. discover the snow-covered Mall Road, where the streets gleam beneath a white layer, enticing you to discover its seasonal beauty.
Lace up your ice skates and glide across the natural ice rink, or shop for fine handicrafts to immerse yourself in the local culture. A visit to Jakhoo Temple promises to be an amazing experience for those looking for stunning views of the snow-draped surroundings. Shimla in the winter is a mesmerizing blend of nostalgia and natural beauty that you won't want to miss.
Suggestion to Read: Exploring the Beauty of Shimla: A Complete Travel Guide
Best Snowfall Tourist Places in West India: Where Warmth Meets Winter
Mahabaleshwar: Snowy Respite in Maharashtra
Mahabaleshwar, known for its mild environment, surprises as one of the Snowfall Getaways in India, as it is periodically graced with snowfall. The breathtaking views of the snow-dusted hills surrounding Wilson Point provide a magical touch to this hill station. Visitors may enjoy the rarity of snow in an area known for its pleasant environment, making Mahabaleshwar a one-of-a-kind winter resort.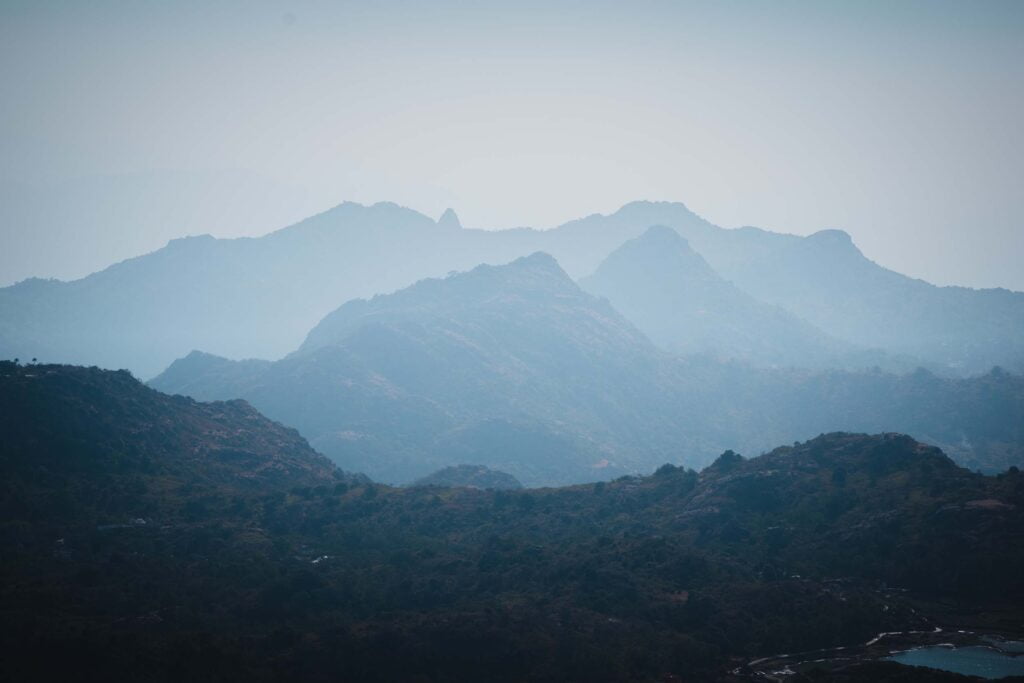 Mount Abu: Rajasthan's Delightful Chill
Mount Abu, Rajasthan's lone hill station, stands out as one of the best Snowfall tourist places in West India. The beauty of snow-covered landscapes adorns this one-of-a-kind winter getaway. Nakki Lake, gently snow-dusted, creates a gorgeous view, providing visitors with an unusual sight in an area famed for its warmth. The winter attraction of Mount Abu is an enticing addition to India's snowfall adventures.
Suggestion to Read: Mount Abu Hill Station: Nature Oasis with a Touch of Luxury
Best Snowfall Tourist Places in South India: Where Snow is a Pleasant Surprise
Coorg: Winter Magic in the South
Coorg, Karnataka is one of the best snowfall tourist places in south india because of its famed coffee farms. Its winters provide a pleasant surprise with modest snowfall. The wintry metamorphosis charms sights such as Abbey Falls and Raja's Seat, making them even more captivating in the middle of the snow-kissed surroundings.
Suggestion to Read: Discovering Talakaveri Coorg: The Serene Beauty of South India
Ooty: The Queen of Hill Stations
Ooty's attractiveness extends into winter since it is ranked among the best places in India to see snowfall. The Nilgiri Mountains are gently clothed with snow, adding to their allure. During this season, the Botanical Gardens and Ooty Lake hold their own allure, inviting people to see the stunning metamorphosis of these iconic spots amidst the winter wonderland.
Suggestion to Read: Exploring 6 Best Places of Ooty: The Queen of Hill Stations
Winter Activities and Experiences: Embracing the Chill
Skiing and Snowboarding: Thrills on the Slopes
The excitement of skiing and snowboarding takes center stage at Winter Tourism India, providing enthusiasts with an amazing trip on the snow-covered slopes. Skiing and snowboarding in areas like Auli and Gulmarg promise amazing experiences, whether you're a seasoned athlete or a beginner eager to appreciate the winter beauty.
The powdery snow beneath your skis and boards adds to the excitement, while the gorgeous scenery serves as a stunning backdrop for your trip. The slopes of Auli and Gulmarg offer a playground of snowy fun that calls thrill-seekers to revel in the excitement of winter sports, from slicing through the slopes to perfecting their turns.
Snowfall Photography: Capturing Frozen Moments
The art of snowfall photography emerges as a captivating approach to immortalizing the alluring splendor of winter landscapes in the area of Snowfall Getaways, India. A world of frozen enchantment unfolds with each snowflake that falls, offering a gorgeous canvas for photographers to explore. The delicate symmetry of snow-covered limbs, the gleaming sheen of freshly fallen snow, and the subtle play of light on the icy surfaces provide limitless potential for artistic expression.
Whether you're a pro or an amateur with a love for capturing the essence of winter, the snow-clad surroundings of India's snowy retreats like Shimla and Manali give a dreamy backdrop to record fleeting moments in time. With each shutter click, you build a story of frozen beauty that transcends seasons, encouraging visitors to relive the wonder of winter every time they look at your captured photographs.
Snow Trekking: Footprints in the Snow
Exploring the mesmerizing landscapes of Snowfall Getaways, India on a snow trekking expedition is an opportunity to leave tracks of exploration and discovery on the immaculate canvas of snow. The appeal of snow-covered pathways and the pristine splendor of winter provide a playground for those looking for a one-of-a-kind experience. Each step you take through the snowy terrain is a connection with nature, an intimate engagement with the elements.
The crunch of snow beneath your boots, the crisp mountain air, and the spectacular panoramas that spread in front of you combine to create an amazing symphony that only winter can compose. Snow trekking becomes a journey of self-discovery in places like Auli and Leh-Ladakh, a chance to push your boundaries and enjoy the peacefulness of virgin snowscapes. With each step, you become a part of the winter story, creating your own story amidst the beauty of the snow-covered environment.
Local Culture and Cuisine: Winter's Cultural Delights
Traditional Festivals: Celebrating Amidst Snow
Winter festivals such as Losar in Ladakh and Magh Bihu in Assam offer vivid celebrations against snowy landscapes. These celebrations provide insights into local culture, enriching winter travel culturally.
Local Winter Delicacies: Savory Comfort Food
Enjoy regional winter specialties such as gajar ka halwa, makki di roti, and sarson da saag. These traditional foods are essential to the winter experience, as they warm both the body and the soul.
Cultural Experiences: Insights into Local Life
Engaging with local people through homestays and cultural tours allows for a more in-depth understanding of winter traditions. This interactive experience provides significant insights into the way people live in the area.
Planning Your Snowfall Vacation: Tips for a Seamless Trip
Best Time to Visit: Chasing the Snow
Understanding peak snowfall months, which are often from December through February, provides a snowy delight. Visiting at the correct time increases your chances of witnessing the winter wonderland.
Packing Tips: Bundled Up for Bliss
Pack items for varied indoor and outdoor climates, such as warm clothing, sturdy footwear, and layered clothing. Comfort is ensured by proper packing for your winter trips.
You May Also Love to Read:
15 Essential Travel Tips for Winter to Make Journey a Breeze
Accommodation Options: Cozy Stays
Accommodations range from lovely cottages to luxury resorts and provide comfort amid snow-covered scenery. Many alternatives provide rooms with wonderful views of the winter countryside, which will enhance your stay.
Adventure and Recreation: Thrills Beyond the Chill
Snow Sports and Adventures: Beyond Skiing
Snowmobiling, ice climbing, and snowshoeing provide a new dimension of fun to your winter vacation. These activities allow you to experience the snow-covered countryside in new and exciting ways.
Snow-Covered Landscapes: Nature's Blanket
Long treks in places like Kufri and Narkanda, where snow covers the landscape, give a peaceful escape. The fresh air and tranquil sceneries contribute to a sense of calm and tranquillity.
Winter Hiking Routes: Trails of Beauty
Explore winter hiking routes such as the Chopta-Chandrashila journey, where snow-covered mountains and unspoiled pathways provide a new viewpoint and connection to nature.
Family-Friendly Snowfall Destinations: Creating Memories Together
Snow Play Areas: Building Snowmen and More
Gulmarg, a family-friendly location, has designated snow play zones. Families may make snowmen, have snowball fights, and make treasured winter memories together.
Activities for Kids: Winter Fun for Little Ones
Children can have fun tubing, sledding, and making snow angels. These encounters introduce them to the joys of winter play and leave them with enduring memories.
Family-Focused Resorts: Comfort for All Ages
Resorts with family-friendly features guarantee a pleasant stay. Kid-friendly cuisine, indoor play areas, and daycare services cater to both parents' and children's requirements, ensuring a well-rounded winter holiday experience.
Conclusion
Winter reveals a unique type of magic in India's rich tapestry. The best snowfall tourist places in India provide a variety of experiences, ranging from thrilling excursions to cultural immersions. These places have something for everyone, whether you're searching for adventure, culture, or to build memorable experiences with your family. Embrace the snowfall, enjoy the warmth of local cultures, and see India's winter wonderland during this lovely season.
Frequently Asked Questions
Q1. When is the best time to visit snowfall tourist places in India?
A. The best time to visit is generally from December to February when snowfall is at its peak in most regions.
Q2. Are there family-friendly accommodations in these destinations?
A. Yes, many destinations have family-friendly resorts with amenities for people of all ages.
Q3. What are some popular snow activities for adventure enthusiasts?
A. Skiing, snowboarding, snowshoeing, and ice climbing are popular among thrill seekers.
Q4. Which destination is known as the "Scotland of the East"?
A. Shillong is known as the "Scotland of the East" because of its stunning vistas.
Q5. Can I experience snowfall in South India?
A. Yes, areas like Coorg and Ooty do get a little snow now and then, which adds a special touch to their appeal.