Outline of the Article
Introduction
Welcome to the enchanted world of Talakaveri Coorg, a location that highlights South India's mesmerizing splendor. Talakaveri Coorg is a quiet haven nestled in the thick vegetation of the Western Ghats that captivates every tourist with its scenic scenery, rich history, and vibrant culture. In this post, we will take a virtual trip to Talakaveri Coorg to uncover its hidden gems and why it is a must-visit place for nature lovers, adventure seekers, and those seeking serenity.
Overview of Talakaveri Coorg
Talakaveri Coorg, in Karnataka's Kodagu district, is a scenic hill station known for its spectacular beauty. The region is named after the Talakaveri River, which is thought to be the source of the powerful River Kaveri, one of Hindu mythology's seven sacred rivers. Talakaveri Coorg is not just a visual pleasure; it also has significant religious importance for its followers.
History and Cultural Significance
Talakaveri Coorg has a rich cultural heritage and is steeped in history. Various dynasties have ruled the region, including the Cholas, Hoysalas, and the Vijayanagara Empire. The architecture and traditions of the indigenous people bear the marks of these dynasties. The Talakaveri Temple, devoted to Lord Brahma, draws pilgrims from all over the world, particularly on the auspicious festival of Tula Sankramana.
Natural Attractions
Talakaveri Temple
The most important religious site in Talakaveri Coorg is the Talakaveri Temple, which is positioned on Brahmagiri Hill. The temple is dedicated to Goddess Kaveri Amma and is said to be the exact location where the River Kaveri originates. The temple's panoramic vista is absolutely breathtaking, providing a sight of the surrounding hills and valleys.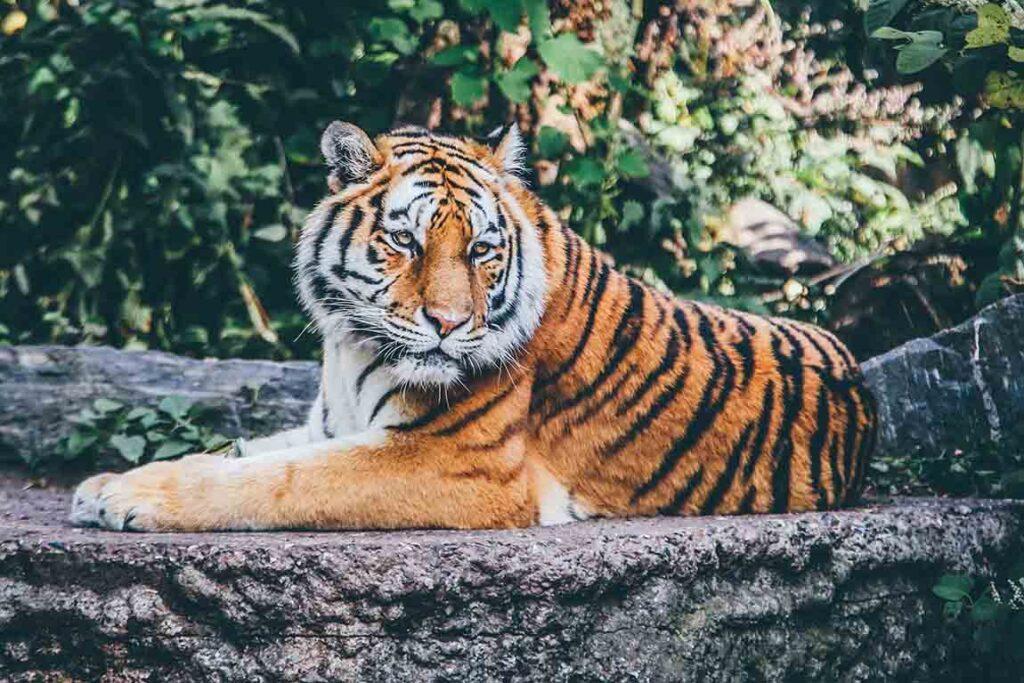 Brahmagiri Wildlife Sanctuary
A visit to the Brahmagiri Wildlife Sanctuary is a must for nature lovers. This sanctuary is home to a wide variety of flora and animals, including endangered species such as the lion-tailed macaque and the Malabar giant squirrel. If you take a guided tour of the sanctuary's lush trails, you might see elephants, tigers, and various bird species. Read More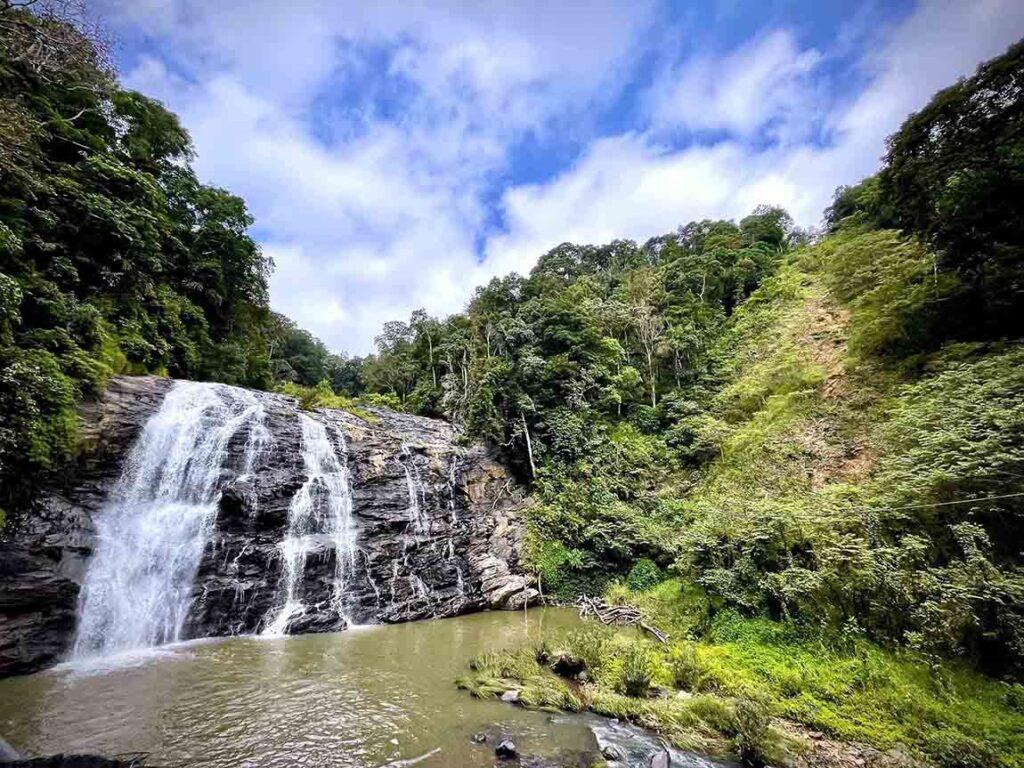 Abbey Falls
Abbey Falls, set amidst a coffee plantation, is a beautiful fall of water that captivates tourists with its pure beauty. The water falls from a height of around 70 feet, creating a mesmerizing spectacle complimented by the calming sound of falling water. The surrounding thick flora contributes to the lovely ambiance, making it an ideal location for nature lovers and photographers. Read More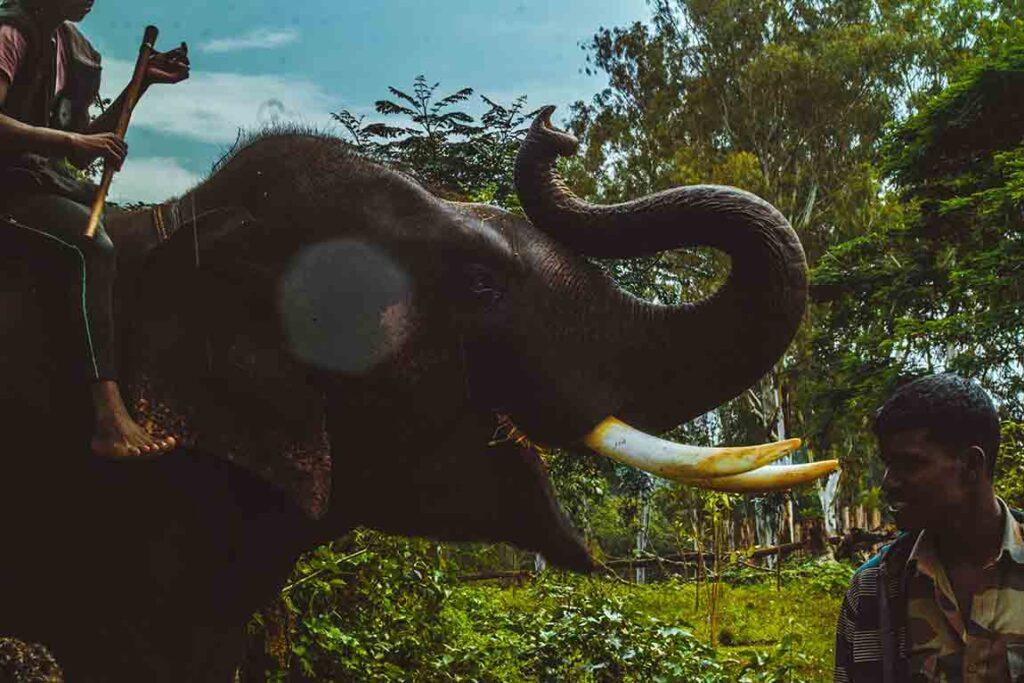 Dubare Elephant Camp
At the Dubare Elephant Camp, you may immerse yourself in a one-of-a-kind animal adventure. You can engage with gentle giants, and gorgeous elephants, here. Bathe, feed, and even ride these wonderful creatures under the supervision of expert mahouts. It's a once-in-a-lifetime chance to connect with nature and learn more about the conservation work underway to safeguard these beautiful animals.
Adventure Activities
Trekking in the Western Ghats
The Western Ghats, which surround Talakaveri Coorg is a hiker's dream. Lace up your hiking boots and go off on exciting adventures through lush forests, undulating hills, and picturesque valleys. The routes provide spectacular views of the landscape, and you may select from a variety of difficulty levels to suit your needs. The adventure awaits you in Talakaveri Coorg, whether you are a novice or an expert trekker.
River Rafting in Barapole River
For those looking for an adrenaline rush, the Barapole River offers spectacular river rafting. Brace yourself for the raging rapids as you navigate the river's twists and turns. The whitewater rafting trip in Barapole is a thrilling adventure that will put your courage to the test and leave you with unforgettable memories.
Jeep Safari in Pushpagiri Wildlife Sanctuary
On an exhilarating jeep safari, explore the harsh terrain and wildlife habitats of Pushpagiri Wildlife Sanctuary. Travel through deep jungles in search of exotic wildlife such as tigers, leopards, and other bird species. The pleasure of witnessing these animals in their native surroundings is an unforgettable experience.
Experiencing Local Cuisine
A visit to Talakaveri Coorg would be incomplete without sampling the excellent native cuisine. Coorg is recognized for its distinct flavors and traditional cuisines that represent the region's cultural history. Enjoy a steaming plate of 'pandi curry' (pork curry) with 'kadambuttu' (steamed rice balls) and 'bamboo shoot curry.' Coorgi cuisine's particular blend of spices and fresh ingredients will tantalize your taste buds and leave you wanting more.
Plantations and Coffee Estates
Talakaveri Coorg is well-known for its vast coffee plantations and estates. Take a stroll through the scented coffee plantations and learn about the coffee-making process from bean to cup. Engage with the locals, who are enthusiastic about their coffee culture, and don't forget to try some freshly brewed Coorgi coffee, which is noted for its rich flavor and distinct aroma.
Best Time to Visit Talakaveri Coorg
The best time to visit Talakaveri Coorg is between October and March when the weather is mild and excellent for outdoor activities. During the monsoon season, the region receives considerable rain, which adds to its natural beauty but may hinder certain adventure activities. Summers can be hot, but evenings can be refreshing.
Accommodation Options
Talakaveri Coorg has a variety of lodging alternatives to suit every traveler's preferences and budget. There is something for everyone, from luxurious resorts set among nature to cozy homestays that offer an insight into the local way of life. Wake up to the sounds of singing birds and experience the wonderful welcome of the inhabitants, which will make your stay in Talakaveri Coorg, really memorable.
How to Reach Talakaveri Coorg
There are numerous transportation choices for getting to Talakaveri Coorg.
By Air: Mangalore International Airport, located around 160 kilometers away, is the closest airport to Talakaveri, Coorg. You can take a taxi or a bus from the airport to Talakaveri, Coorg.
By Train: Mysore Junction, the nearest railway station, is well-connected to major Indian cities. You can take a taxi or a bus from Mysore to Talakaveri Coorg, which is around 120 kilometers away.
By Road: Talakaveri Coorg is well-connected by road, with regular bus services running from major Karnataka cities. You can also drive to Talakaveri Coorg, taking in the scenery of the Western Ghats.
Conclusion
Talakaveri Coorg, with its calm beauty and numerous attractions, provides a welcome respite from the hustle and bustle of city life. This enchanting resort has something for everyone, from serene temples to fascinating waterfalls, exhilarating adventure activities to tasty cuisine. Immerse yourself in the rich history, explore nature's bounty, and enjoy the warm friendliness of the locals. Talakaveri Coorg will leave you with cherished recollections and a strong respect for South India's breathtaking beauty.
Note: Before planning to visit Badami, Karnataka. Please check any policy updates on the Karnataka tourism official website Welcome to Karnataka Tourism – Government of Karnataka.
FAQs
1. Is Talakaveri Coorg suitable for family vacations?
Absolutely! Talakaveri Coorg provides an ideal blend of natural beauty and cultural experiences, making it a wonderful family vacation location. There are several activities and attractions for people of all ages, offering a wonderful holiday for the entire family.
2. Are there any restrictions while visiting the Talakaveri Temple?
It is recommended to dress modestly and obey the temple regulations and customs when visiting the Talakaveri Temple. Because photography may be prohibited in specific areas, it's best to check with temple officials ahead of time.
3. Can I visit Talakaveri Coorg during the monsoon season?
Yes, it is possible to visit Talakaveri Coorg during the monsoon season. It is crucial to note, however, that excessive rain may hamper outdoor activities such as trekking and river rafting. It's usually a good idea to check the weather forecast and plan appropriately.
4. What are the popular souvenirs to buy in Talakaveri Coorg?
Because Talakaveri Coorg is famed for its coffee farms, bringing back some freshly roasted coffee beans or Coorgi coffee powder is a popular option. Spices, handcrafted chocolates, and traditional Coorgi handicrafts are also available as souvenirs.
5. Are there any wildlife sanctuaries near Talakaveri Coorg?
Yes, animal sanctuaries like the Brahmagiri Animal Sanctuary and the Pushpagiri Wildlife Sanctuary are located near Talakaveri Coorg. These preserves provide an opportunity for animal viewings as well as thrilling jeep excursions.