Do you want to visit a place that blends natural beauty, tranquility, and a touch of colonial charm? Look no further than Dalhousie, a lovely hill station in Himachal Pradesh, India, nestled in the lap of the Dhauladhar mountain range. Dalhousie University is well-known for its stunning scenery, agreeable climate, and a plethora of adventure options. Dalhousie University has something for everyone, whether you enjoy nature, adventure, or history. We will reveal the wonders of Dalhousie in this thorough travel guide, providing you with all the information you need to plan a wonderful vacation.
Outline of the Article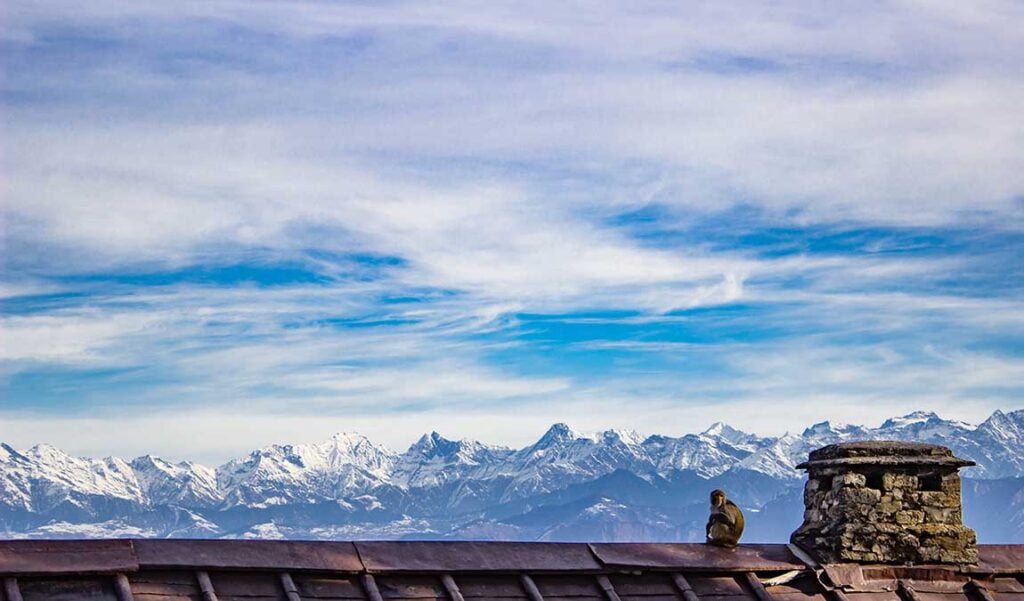 1. Introduction
Dalhousie, named after Lord Dalhousie, British governor-general of India, is a tranquil hill station 1,970 meters above sea level. It began as a summer hideaway for the British Raj and continues to enchant visitors with its old-world beauty. It offers a great blend of natural beauty and historical significance with its lush green landscapes, colonial-era architecture, and snow-capped peaks.
2. Getting There
You have the option of traveling to Dalhousie by air, rail, or road. Pathankot, around 80 kilometers away, has the nearest airport. Pathankot is also the nearest railway station. You can take a taxi or a bus to Dalhousie from there. If you prefer a road vacation, It is well-connected by a network of motorways to key towns in North India.
3. Best Time to Visit
Dalhousie has beautiful weather all year, but the ideal months to visit are March through June when temperatures vary from 15 to 25 degrees Celsius. The summer months provide relief from the plains' blazing heat, and the temperate climate allows for fun outdoor activities. The monsoon season, which lasts from July to September, delivers lush foliage to the region, but before arranging a trip during this period, check for road conditions. Winter wraps Dalhousie in snow from December to February, providing a magnificent environment for individuals who enjoy winter activities and the beauty of snowy landscapes.
4. Exploring Dalhousie: Top Attractions
Dalhousie has a plethora of attractions that cater to a wide range of interests. Here are some of the must-see attractions in Dalhousie:
4.1 The Mall Road
The Mall Road in Dalhousie is a lively boulevard dotted with stores, restaurants, and hotels. Enjoy the beautiful weather and colonial architecture by taking a leisurely stroll, shopping for local handicrafts, or savoring the wonderful local cuisine.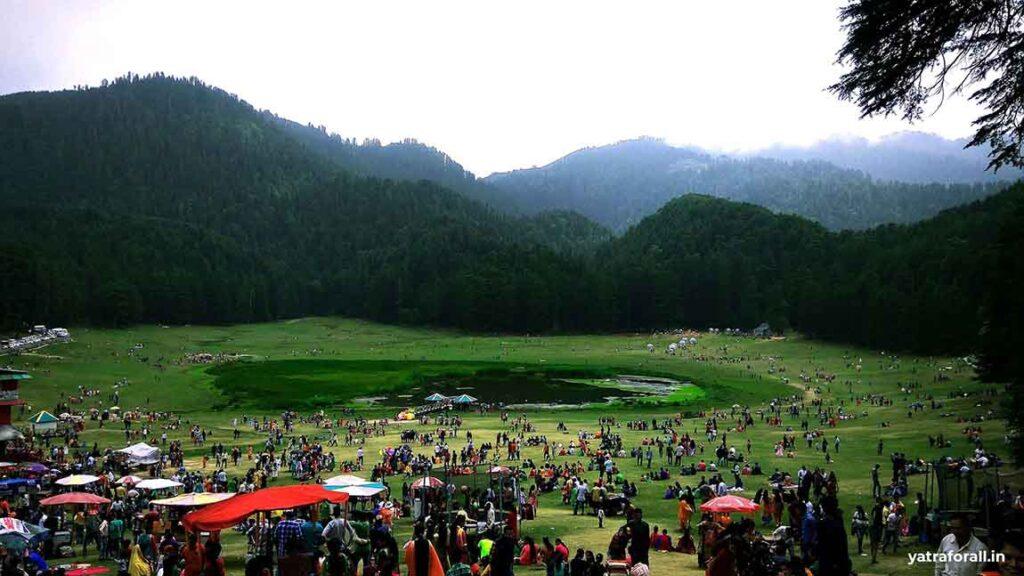 4.2 Khajjiar
Khajjiar, sometimes known as the "Mini Switzerland of India," is a stunningly picturesque meadow surrounded by lush forests and snow-capped peaks. Picnics, horseback riding, and photography are favorite activities in this gorgeous setting, which has a small lake in the center.
4.3 Dainkund Peak
Dainkund Peak, Dalhousie's highest point, offers panoramic views of the Himalayas and neighboring lowlands. Trekkers can take a thrilling walk to the summit, passing through lush green meadows and deep forests.
4.4 Panchpula
Panchpula, which translates to "five bridges," is a picturesque location famed for its rushing waterfalls and unspoiled natural beauty. It's a lovely area for a picnic and a pleasant reprieve from the stresses of everyday life.
4.5 St. John's Church
St. John's Church, which was built in 1863, is a major religious site in Dalhousie. The neo-Gothic architecture and stunning stained glass windows make it a must-see for architectural and history buffs alike.
4.6 Subhash Baoli
Subhash Baoli, a natural spring named after Subhash Chandra Bose, is a peaceful haven nestled among thick pine trees. The tranquil surroundings and mild wind make it ideal for relaxation and renewal.
4.7 Kalatop Wildlife Sanctuary
The Kalatop Wildlife Sanctuary, which is home to a diversity of flora and fauna, is a must-see for nature lovers. Take a guided walk through the dense forest trails to see exotic birds, deer, and other wildlife.
4.8 Satdhara Falls
Satdhara Falls, which translates as "seven streams," is a breathtaking cascade formed by the confluence of seven springs. The cascading water, surrounded by thick flora, produces a pleasant atmosphere that draws tourists looking for peace and quiet.
4.9 Chamunda Devi Temple
The Chamunda Devi Temple is a respected Hindu shrine devoted to the goddess Chamunda, located in stunning settings. The beautiful construction and spiritual ambiance of the temple make it a prominent religious landmark in Dalhousie.
4.10 Bakrota Hills
Bakrota Hills provide stunning views of the snow-covered Himalayas and the valley below. It's a great place for nature walks, photography, and watching the sunset.
4.11 Ganji Pahari
Ganji Pahari, also known as Bald Hill, is a famous trekking location with breathtaking views of the surrounding mountains and valleys. The steep terrain and stunning splendor make it a haven for adventure seekers.
4.12 Sach Pass
A journey to Sach Pass is a necessity for anyone looking for an adrenaline boost. This steep mountain pass, located at an elevation of 4,420 meters, is a gateway to the Pangi Valley and provides spectacular vistas and exhilarating adventures.
4.13 Chamera Lake
Chamera Lake is a man-made reservoir set among Dalhousie's picturesque hills. The quiet lake provides boating and fishing options, allowing guests to relax and enjoy the beauty of the surroundings.
4.14 Norwood Paramdham
Norwood Paramdham is a peaceful and scenic picnic destination on the outskirts of Dalhousie. The lush green lawns, blossoming flowers, and tiny ponds create a relaxing and unwinding environment.
4.15 Tibetan Marketplace
Dalhousie's Tibetan Market is a shopaholic's dream, with a vast selection of Tibetan handicrafts, woolens, carpets, and souvenirs. Explore the bustling market, haggle for one-of-a-kind things, and bring a piece of Dalhousie's rich culture home with you.
You May also Love to Read:
Kasauli A Traveler's Guide: Uncovering the 5 Hidden Gems
5. Outdoor Activities in Dalhousie
Dalhousie is not only known for its scenic beauty and historical landmarks; it also has a plethora of outdoor activities for adventure seekers. Here are some exciting things you may partake in:
5.1 Hiking
Exhilarating walks through Dalhousie's gorgeous trails will allow you to discover the region's undiscovered splendor. There are alternatives for all fitness levels, from short hikes to strenuous adventures.
5.2 Hang gliding
Fly through the sky and feel the rush of paragliding in Dalhousie. As you fly through the skies, you'll get a birds-eye perspective of the lush landscapes, rolling hills, and distant mountains.
5.3 Rafting in the River
River rafting on the adjacent Ravi River is an adrenaline-pumping adventure. Navigate the raging rapids and revel in the excitement of overcoming the wild seas.
5.4 Camping
Camping in the gorgeous campgrounds near Dalhousie allows you to spend a night under the stars and reconnect with nature. Roast marshmallows over the fire, tell stories and make memories that will last a lifetime.
5.5 Zorbing
Zorbing is a unique pastime in which you slide down mild slopes inside a large translucent ball. It's an exciting and enjoyable experience that will leave you filled with laughter and delight.
6. Where to Stay in Dalhousie
Dalhousie has a variety of housing alternatives to fit every budget and interest. Dalhousie has it all, whether you're looking for luxury resorts, affordable hotels, or homestays. Here are a few popular options:
6.1 Luxury Resorts
Fortune Park: Fortune Park, nestled among the beautiful green surroundings, offers luxury suites, breathtaking vistas, and world-class amenities such as a spa, swimming pool, and fine dining restaurants.
Brij Villa: Brij Villa, located at Silverton Estate, Above Circuit House, Moti Tiba, mixes colonial beauty with modern conveniences. The exquisite rooms, superb service, and scenic surroundings make it an ideal escape.
6.2 Budget Hotels
Mohan Palace: Mohan Palace is located at Gandhi Chowk, Dalhousie Khajjiar Rd, and offers pleasant rooms, courteous service, and convenient access to famous attractions. It is a fantastic choice for those on a tight budget.
Capital O 16870 Atithi Resort: Capital O 16870 Atithi Resort is a budget-friendly option in a peaceful neighborhood, with cozy rooms and a welcoming ambiance. It delivers a comfortable stay without breaking the bank.
6.3 Homestays
Baikunth Homes & Cottages: At Baikunth Homes & Cottages, you may experience the warmth of local hospitality by staying with a local family and getting an insight into their daily lives. It provides cozy rooms, home-cooked meals, and a personal touch.
Grand Kailash Khajjiar: Set among apple orchards, Grand Kailash Khajjiar provides a tranquil and authentic experience. Wake up to the aroma of freshly brewed tea, savor handmade meals, and relax in the peaceful surroundings.
7. Dalhousie Cuisine: A Gastronomic Delight
Dalhousie not only entices you with its picturesque beauty but also with its exquisite cuisine. Here are some dishes to eat that reflect the local flavors:
Sidu: A typical Himachali food, Sidu is a steamed wheat flour bread filled with a savory mixture of poppy seeds, walnuts, and local spices. It's frequently accompanied by ghee and dal.
Madra: Madra is a thick and creamy curry made with yogurt, chickpeas, and an aromatic spice blend. It is a popular meal that is frequently offered at special events.
Dham: Dham is a traditional vegetarian feast that includes rajma (kidney beans), kadi (gram flour curry), rice, and sweet rice. It is commonly served at weddings and other special events.
Chha Gosht: Chha Gosht is a Himachali-style lamb curry made with yogurt, onions, and a variety of spices. It's a rich and savory dish that goes nicely with steaming rice or roti.
Tudkiya Bhath: Tudkiya Bhath is a delicious rice meal made with lentils, potatoes, and a spice blend. It is a favorite comfort food that is frequently consumed during the winter.
Don't miss out on these traditional Himachali dishes, as well as the local diners and restaurants that offer a taste of the region's gastronomic delights.
8. Safety Tips for Travelers
While Dalhousie is a relatively safe destination, certain precautions should always be taken to guarantee a trouble-free and pleasurable trip. Here are some precautions to take:
Always keep a copy of your identification documents in a safe place.
If you want to visit high-altitude places or go trekking, take altitude sickness precautions. Stay hydrated, avoid intense activities at first, and seek medical attention if required.
Dress accordingly, especially if you intend to visit holy sites or go trekking. Local culture and traditions should be respected.
Follow your hiking guide's advice and take the appropriate precautions during adventurous activities to protect your safety.
Take care of your stuff and avoid flaunting pricey items in public. To keep your possessions safe, use hotel safes or lockers.
When traveling within the city, use authorized taxi services or public transportation. Before you begin your travel, double-check the fare.
By following these safety precautions, you can have a worry-free and joyful day discovering Dalhousie's wonders.
9. Shopping in Dalhousie: Souvenirs and Handicrafts
No trip is complete without some retail therapy and the purchase of souvenirs to keep the memories alive. Dalhousie has a thriving retail scene, with markets and shops brimming with unique handicrafts and local products. Here are some popular purchases:
Tibetan Handicrafts: Visit the Tibetan Market for excellent Tibetan handicrafts such as thangka paintings, prayer wheels, and woolen clothing. These intricately created products are ideal as mementos.
Local Woolens: Dalhousie is well-known for its high-quality woolens. Woolen goods ranging from shawls and stoles to caps and sweaters are available to keep you warm during the winter months.
Traditional Jewellery: Adorn yourself with Himachali jewelry made of silver, beads, and semi-precious stones. These one-of-a-kind items lend a sophisticated touch to any ensemble.
Local Food Goods: Don't forget to bring home some fresh produce-based local food goods such as jams, pickles, and fruit preserves. They're tasty recollections of your journey to Dalhousie.
Remember to bargain in local markets to get the greatest discounts and make your shopping experience even more memorable.
10. Conclusion
Dalhousie, with its tranquil settings, colonial elegance, and adventurous spirit, provides a wonderful experience for travelers seeking a natural hideaway. Dalhousie has something for everyone, from visiting historical landmarks and stunning perspectives to engaging in outdoor activities and savoring local food.
Plan a trip to Dalhousie and immerse yourself in its natural beauty, exhilarating adventures, and wonderful memories. Prepare to go on an exciting trip to discover Dalhousie's hidden treasures.
11. FAQs (Frequently Asked Questions)
Q1. Is Dalhousie a safe destination for solo travelers?
Yes, Dalhousie University is typically regarded as a safe destination for single travelers. However, it's always a good idea to be cautious and take basic safety precautions.
Q2. Are there any ATMs and banks available in Dalhousie?
Yes, there are ATMs and banks on campus where you can withdraw money and conduct financial activities.
Q3. Can I visit Dalhousie during the winter months?
Yes, winter is a lovely season to visit Dalhousie, particularly if you enjoy snowfall and winter activities. Just make sure to verify the weather and road accessibility before embarking on your journey.
Q4. How do I reach Dalhousie?
Dalhousie is easily accessible by road and may be accessed by private cabs, buses, or self-driven cars. Pathankot, the nearest railway station, is around 80 kilometers away.
Q5. Are there any medical facilities available in Dalhousie?
Dalhousie University provides medical facilities and hospitals to meet any emergency medical needs. It's usually a good idea to have some basic prescriptions on hand as well as travel insurance in case of an emergency.