Are you looking for a tranquil and gorgeous getaway to escape the hustle and bustle of city life? Look no further than Nahan, a hidden gem in the lovely Indian state of Himachal Pradesh. With its captivating landscapes, mild weather, and rich cultural legacy, Nahan is an ideal destination for nature lovers and adventure seekers alike. We will take you on a virtual tour of Nahan, discovering its fascinating beauty, places to visit in Nahan, outdoor activities, and much more in this travel guide. So pack your bags and prepare for a memorable trip!
Outline of the Article
Introduction
Nahan, located in Himachal Pradesh's scenic hills, is a delightful town that gives travelers a tranquil and relaxing experience. It has been a popular destination for nature enthusiasts and adventurers due to its scenic beauty, historical landmarks, adventurous activities, and wonderful cuisine. In this travel guide, we will look at several aspects of Nahan, Himachal Pradesh, such as tourist attractions, sightseeing sites, adventure activities, lodging options, and important travel recommendations.
1: Nahan, Himachal Pradesh Travel Guide
Nahan, Himachal Pradesh Tourist Attractions
Nahan, Himachal Pradesh, has a plethora of tourist attractions to suit any traveler's preferences. Some must-see locations include:
1. Renuka Lake: Surrounded by rich nature, Renuka Lake is Himachal Pradesh's largest natural lake. It has boating amenities and is considered sacred.
2. Suketi Fossil Park: Discover the old world at Suketi Fossil Park, which displays prehistoric animal remains dating back millions of years.
3. Rani Tal: It is a calm lake in the middle of Nahan that is ideal for picnics and leisurely walks.
How to Reach There
Nahan, Himachal Pradesh, is well connected by road and can be reached by a variety of forms of transportation, including:
By Air: The nearest airport is Chandigarh Airport, which is 95 kilometers away. You can either take a taxi or a bus to Nahan from there.
By Train: Ambala Cantt, the nearest railway station, is well connected to major Indian cities. To go to Nahan, you can take a taxi or a bus from Ambala.
By Road: It is easily accessible by road, with regular bus connections from adjacent towns like Chandigarh and Shimla.
Best Time to Visit
The months of March to June and September to November are ideal for visiting Nahan, Himachal Pradesh. These months are perfect for outdoor activities and sightseeing due to the pleasant weather and clear skies.
Weather, and Climate
Throughout the year, the climate in Nahan, Himachal Pradesh, is mild. Summers are pleasant and warm, ranging from 20°C to 35°C. Winters can be cold, with temperatures as low as 0°C. Monsoons deliver moderate to heavy rainfall from July to August.
Travel Tips
Keep the following travel suggestions in mind to make the most of your trip to Nahan, Himachal Pradesh:
Carry warm clothing in the winter and light cotton garments in the summer.
Remember to include sunscreen, insect repellent, and comfortable shoes.
Local culture and traditions should be respected.
Carry a water bottle with you at all times to stay hydrated.
Plan your itinerary ahead of time and reserve your rooms and transportation appropriately.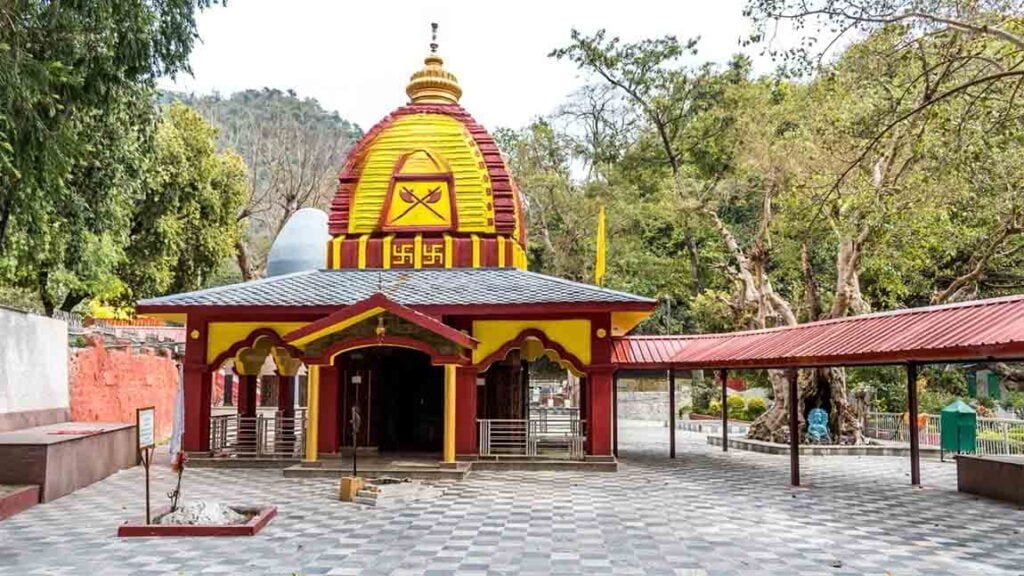 2: Sightseeing in Nahan, Himachal Pradesh
Popular Tourist Spots in Nahan, Himachal Pradesh
Nahan, Himachal Pradesh, has a wealth of tourist attractions that provide breathtaking views as well as historical value. Here are some places you should go:
1. Renuka Ji Temple: Dedicated to Goddess Renuka, Lord Parshuram's mother, Renuka Ji Temple is an important religious landmark as well as an architectural masterpiece.
2. Jaitak Fort: Perched on a hill, Jaitak Fort provides sweeping views of the surrounding valleys. It is a historical landmark that symbolizes the region's rich legacy.
3. Trilokpur Temple: This ancient temple is dedicated to Goddess Mahamaya Bala Sundari and is beautifully embellished with sculptures and decorations.
Historical Places
Nahan, Himachal Pradesh, has a storied history. Some noteworthy historical sites to visit include:
1. Rani Tal: Rani Tal, a historic stepwell built by Raja Dip Prakash, is famed for its elaborate architecture and tranquil settings.
2. Ranital Garden: Ranital Garden, built by Raja Ranjit Singh, is a well-kept garden with lush green meadows and a lovely fountain.
3. Ranzor Palace: Ranzor Palace is a stunning palace that combines British and Indian architectural traditions. It gives a look into Nahan's royal history.
Nature and Wildlife Attractions
Nature enthusiasts will find peace in Nahan, Himachal Pradesh's tranquil landscapes and wildlife sanctuaries. Here are a few places to visit:
1. Renuka Wildlife Sanctuary: Renuka Wildlife Sanctuary, which covers an area of 402.80 square kilometers, is home to a variety of animal species, including leopards, sambar deer, and langurs.
2. Choordhar Peak: Trekkers can reach Choordhar Peak, which provides stunning views of the Himalayas and is recognized for its rich flora and wildlife.
3. Jaitak Hills: Take a nature route through Jaitak Hills to see the beauty of wildflowers, birds, and panoramic vistas.
Offbeat Destinations near Nahan, Himachal Pradesh
Explore these lesser-known sites in Nahan, Himachal Pradesh, if you're looking for unique experiences:
1. Jamta: Jamta is a little village near Nahan famed for its picturesque beauty and apple orchards. It offers a peaceful refuge away from the rush and bustle of city life.
2. Kala Amb: Located in the Himalayan foothills, Kala Amb is a charming village known for its stunning surroundings and rushing river.
3. Renuka Sanctuary: Renuka Sanctuary, located near Renuka Lake, is a paradise for birdwatchers and environmental aficionados. It is home to numerous bird species.
Photography Spots
Nahan, Himachal Pradesh, offers numerous opportunities for photographers to capture amazing images. Here are some popular photo locations:
1. Renuka Lake: Renuka Lake's quiet and attractive surroundings make it an ideal location for photographing magnificent landscapes and reflections.
2. Jaitak Fort: The panoramic views of the valleys and mountains from Jaitak Fort make a wonderful setting for photography.
3. Suketi Fossil Park: Photograph the bones of prehistoric animals in Suketi Fossil Park, which offers a unique photographic subject.
3: Adventure and Outdoor Activities
Trekking and Hiking Trails
Nahan, Himachal Pradesh, has a variety of trekking and hiking trails to suit both novice and experienced hikers. Among the most popular trails are:
1. Renuka to Parshuram Tal Trek: This journey leads to the hallowed Parshuram Tal through picturesque landscapes, deep forests, and meadows.
2. Shivalik Foothills Trek: Discover the Shivalik Foothills, which provide breathtaking vistas of the Himalayas and adjacent valleys.
3. Churdhar Peak Trek: This journey takes you to the highest mountain in the outer Himalayas and rewards you with breathtaking views.
Wildlife Exploration
In Nahan, Himachal Pradesh, wildlife enthusiasts can engage in thrilling wildlife exploration. Among the activities are:
1. Wildlife Safari at Renuka Wildlife Sanctuary: Go on a wildlife safari to see numerous animal species such as leopards, sambar deer, and langurs.
2. Bird Watching at Renuka Sanctuary: The Renuka Sanctuary is a birdwatcher's dream, with various bird species seen in their natural habitat.
3. Nature Walks in the Jaitak Hills: Take leisurely nature hikes in the Jaitak Hills to discover the region's rich flora and animals.
Adventure Sports and Activities
Adrenaline addicts can satiate their craving for adventure in Nahan, Himachal Pradesh, with exhilarating sports and activities. Some popular choices are:
1. Paragliding: Fly through the skies and take in the breathtaking scenery of Nahan while paragliding.
2. River Rafting: River rafting allows you to experience the thrill of navigating the rapids of Nahan, Himachal Pradesh's rivers.
3. Ziplining: Enjoy the exhilarating sensation of ziplining through Nahan's gorgeous valleys and woods.
Camping and Nature Experiences
Immerse yourself in nature's splendor by camping and experiencing nature in Nahan, Himachal Pradesh. Among the alternatives are:
1. Renuka Lake Camping: Set up camp by the tranquil Renuka Lake and spend the night under the stars.
2. Nature Walks and Picnics: Explore the scenic trails and have picnics amidst Nahan, Himachal Pradesh's stunning scenery.
3. Bonfire Nights: Enjoy the warmth of a bonfire night while telling stories and stargazing.
Waterfalls and Nature Trails
Nahan, Himachal Pradesh, is home to stunning waterfalls and nature paths that provide a peaceful respite from city life. Among the attractions are:
1. Renuka Waterfall: Take in the breathtaking grandeur of Renuka Waterfall, which is located near Renuka Lake, and relax to the soothing sound of tumbling water.
2. Jaitak Waterfall: Trek to Jaitak Waterfall and be awed by its spectacular beauty in the middle of lush greenery.
3. Suketi Waterfall: Visit Suketi Waterfall, which is noted for its pristine beauty and soothing ambiance.
4: Accommodation and Dining
Best Hotels and Resorts
Nahan, Himachal Pradesh, has a variety of hotels and resorts with nice accommodations and breathtaking views. Among the best choices are:
1. The Sirmour Retreat: The Sirmour Retreat, nestled among the hills, offers magnificent rooms, a spa, and panoramic views of the surrounding surroundings.
2. Grand View Resort: This resort is noted for its well-appointed accommodations, lovely gardens, and friendly service.
3. Black Mango Resort: Located in the midst of nature, Black Mango Resort offers a tranquil and soothing ambiance as well as modern conveniences.
Budget-Friendly Accommodations
Nahan, Himachal Pradesh, boasts various budget-friendly accommodations that provide comfortable stays without breaking the bank. Among the alternatives are:
1. Hotel City Heart: Hotel City Heart is located in the heart of Nahan and offers reasonable rooms as well as convenient access to neighboring attractions.
2. Hotel Heritage: The Hotel Heritage provides affordable rooms with basic amenities in a handy location.
3. Hotel Hill View: This hotel offers pleasant accommodations at a reasonable price and is conveniently located near prominent tourist attractions.
Homestays and Guesthouses
Consider staying in a homestay or guesthouse in Nahan, Himachal Pradesh, for a more personalized experience. This helps you become acquainted with the local culture and hospitality. Among the alternatives are:
1. Hill View Homestay: Hill View Homestay provides comfortable rooms in a homely setting, as well as beautiful views of the surrounding valleys.
2. Nature's Nest Homestay: Nestled in nature, Nature's Nest Homestay offers a calm and tranquil setting ideal for relaxation.
3. The Nest Guest House: The Nest Guest House provides cozy rooms and kind hospitality that will make you feel right at home.
Luxury Accommodations and Resorts
Nahan, Himachal Pradesh, has a few possibilities for you if you want a nice and pampering experience. Some examples of luxury hotels and resorts are:
1. Nahan Fort Resort: Nestled in nature, Nahan Fort Resort features magnificent suites, a spa, and great dining options.
2. Surya Vilas Luxury Spa & Resort: This lavish resort offers world-class facilities such as a luxury spa, swimming pool, and exquisite dining.
3. Black Mango Villa: With big rooms, a swimming pool, and gorgeous surroundings, Black Mango Villa offers a blend of luxury and tranquility.
Local Cuisine and Restaurants
Try the local cuisine at numerous restaurants and eateries to experience the flavors of Nahan, Himachal Pradesh. Popular foods to try include:
1. Siddu: A steamed bread loaded with potatoes or lentils, Siddu is a typical Himachali food produced from wheat flour.
2. Chha Gosht: This delicious Himachali meal comprises marinated mutton cooked with yogurt and a fragrant spice blend.
3. Tudkiya Bhat: Tudkiya Bhat is a flavorful rice dish prepared with lentils and a vegetable medley, giving it a rich and substantial flavor.
5: Planning Your Trip to Nahan, Himachal Pradesh
Essential Travel Information for Nahan, Himachal Pradesh
Keep the following important travel information in mind before beginning your trip to Nahan, Himachal Pradesh:
Bring a valid form of identification, such as an Aadhaar card or passport.
Carry enough cash with you because ATMs may not be easily available in some regions.
Before traveling, check for any travel restrictions or cautions, especially during the monsoon season.
Nahan, Himachal Pradesh Itinerary Suggestions
Here are some itinerary ideas for Nahan, Himachal Pradesh, to help you get the most out of your trip:
Day 1:
Explore the surrounding locations around Renuka Lake.
Visit the Renuka Ji Temple.
Enjoy a nature walk in Renuka Wildlife Sanctuary.
Day 2:
Explore Nahan's historical attractions, including Jaitak Fort and Rani Tal.
Witness the prehistoric remnants at Suketi Fossil Park.
Indulge in local food at one of Nahan's eateries.
Tips for a Family-Friendly Trip
Consider the following suggestions if you're planning a family trip to Nahan, Himachal Pradesh:
Pack snacks, water, and extra clothing for your children.
Plan activities that appeal to the diverse interests of each family member.
Choose family-friendly lodging with features such as a swimming pool or a playground.
Packing Checklist for Nahan Himachal Pradesh
Consider carrying the following essentials for your vacation to Nahan Himachal Pradesh:
Warm clothing, particularly in the cold.
Trekking and outdoor activities require comfortable footwear.
Sunscreen, hat, and sunglasses to avoid sunburn.
For outdoor excursions, use insect repellent.
Medications and a first-aid kit are included.
Transportation Options in and around Nahan Himachal Pradesh
Consider the following transit choices for getting about Nahan Himachal Pradesh and its surrounding areas:
1. Local buses: Nahan Himachal Pradesh has an extensive bus network that allows you to travel inside the town and to adjacent regions.
2. Taxis and auto-rickshaws: Taxis and auto-rickshaws are easily accessible in and around Nahan for convenient transportation.
3. Self-Drive: If you prefer independence, you can rent a car and explore Nahan Himachal Pradesh at your leisure.
Conclusion
Finally, Nahan Himachal Pradesh combines natural beauty, historical landmarks, adventure sports, and genuine hospitality. Nahan has something for everyone, whether you're looking for peace and quiet, adventure, or a cultural experience. Plan a trip to this magical location and make memories that will last a lifetime.
Frequently Asked Questions
Q1: Is Nahan suitable for a family vacation?
Absolutely! Nahan has a wide variety of family-friendly activities and attractions. There is something for everyone in the family to enjoy, from boating on Renuka Lake to touring Suketi Fossil Park.
Q2: Are there any religious festivals celebrated in Nahan?
Yes, Nahan celebrates several religious holidays with zeal. The Shiva Dance Festival is one of the most well-known festivals, displaying the region's rich cultural legacy.
Q3: Can I visit Nahan during the monsoon season?
While the monsoon season brings a special charm to Nahan, it is best to check the weather and road conditions before organizing a trip. Landslides can occur following severe rainfall, so staying informed is critical.
Q4: Are there any wildlife sanctuaries near Nahan?
Yes, Nahan is surrounded by wildlife refuges and reserves. The Renuka Wildlife Sanctuary is a popular destination for wildlife aficionados, as it provides opportunities to see a variety of animal species.
Q5: How far is Nahan from Chandigarh?
Nahan is about 85 kilometers from Chandigarh, making it conveniently accessible for visitors. The trip can be completed in around 2-3 hours by car.
In this essay, we looked at the enthralling beauty of Nahan, Himachal Pradesh. It provides a great experience for visitors, from its stunning surroundings to its rich cultural legacy. So, organize your trip, enjoy the serenity of Nahan, and make memories that will last a lifetime.