Are you an adventurer looking for one-of-a-kind and remarkable experiences? You don't need to search any further! In this post, we will look at some of the top weird and strange places in the world that are sure to capture adventurous hearts. Prepare to go on a voyage unlike any other, with bizarre landscapes and mysterious locations.
Outline of the Article
Introduction
Adventure is synonymous with pushing boundaries and exploring the unknown. For those who crave unique and unconventional experiences, these weird and strange places around the world offer a playground of excitement. Let's dive into the list and discover the wonders that await.
Weird and Strange Places in the World
1. The Door to Hell: Darvaza Gas Crater
Amid Turkmenistan's Karakum Desert, there sits an extraordinary sight known as the "Door to Hell." This gigantic fiery crater has been blazing for more than four decades. It was created by a drilling accident and has since become a compelling spectacle for daring travelers.
2. The Wave: Vermilion Cliffs National Monument
The Wave is a mesmerizing sandstone rock formation in Arizona, USA, that resembles a frozen wave. Its bright colors and fascinating patterns make it a photographer's and hiker's dream. However, access is restricted to conserve its fragile beauty, therefore obtaining permissions ahead of time is vital.
3. The Great Blue Hole: Belize
The Great Blue Hole, located beneath Belize's blue waters, attracts divers from all over the world. This gigantic underwater sinkhole, measuring more than 300 meters across and 125 meters deep, provides an unforgettable diving experience. Explore fascinating geological structures and encounter fascinating marine life.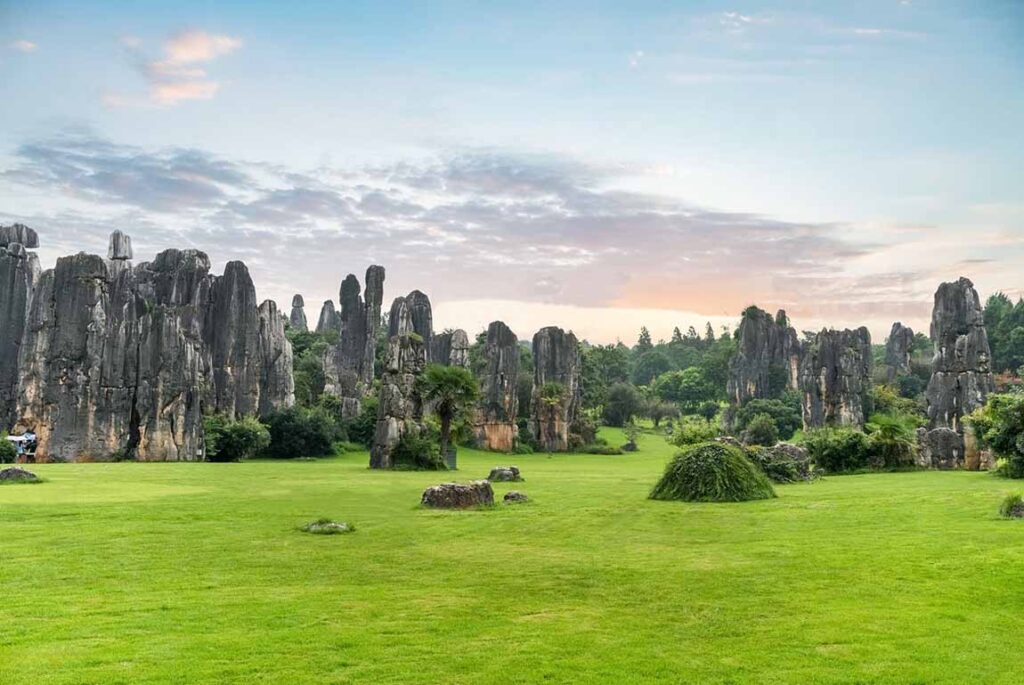 4. The Stone Forest: Yunnan, China
Travel to Yunnan, China, and explore the Stone Forest, a magical natural labyrinth. This unusual geological structure is made up of towering limestone pillars that resemble a frozen forest. Explore the maze-like passages and behold the ancient wonders fashioned by nature's artistic touch.
5. The Magnetic Hill: Ladakh, India
Prepare to defy gravity's laws at the Magnetic Hill in Ladakh, India. This mysterious phenomenon produces an optical illusion in which vehicles appear to defy gravity and roll uphill. Witness the pleasure of this mind-bending phenomenon and ponder the intricacies of our physical reality.
6. The Catacombs of Paris: France
Dive into the gloomy depths of Paris' Catacombs, a hidden subterranean world containing the remains of millions of people. This bone-filled maze runs beneath Paris' bustling streets, providing an unnerving and horrific experience. Learn about the history and secrets hidden behind the dark tunnels.
7. The Doorway to the Underworld: Mount Hekla, Iceland
Iceland is famed for its unearthly vistas, including the Doorway to the Underworld, a stunning ice tunnel carved by Mount Hekla's volcanic powers. Step into this ethereal region of frozen wonders, where glacial ice and volcano fire mix to create a scene that transcends description.
8. The Blood Falls: Antarctica
A strange natural phenomenon called The Blood Falls can be found in Antarctica's vast ice landscapes. This crimson-colored waterfall, which flows from Taylor Glacier, captivates both scientists and travelers. The awe-inspiring sight is generated by iron-rich water emerging from deep beneath the glacier.
9. The Island of the Dolls: Mexico
Explore Mexico's spooky Island of the Dolls, a region cloaked in dark folklore and strange artifacts. Hundreds of decomposing dolls hang from trees and structures on the island, creating an unsettling ambiance. Explore the island's fascinating history and enjoy the eerie atmosphere.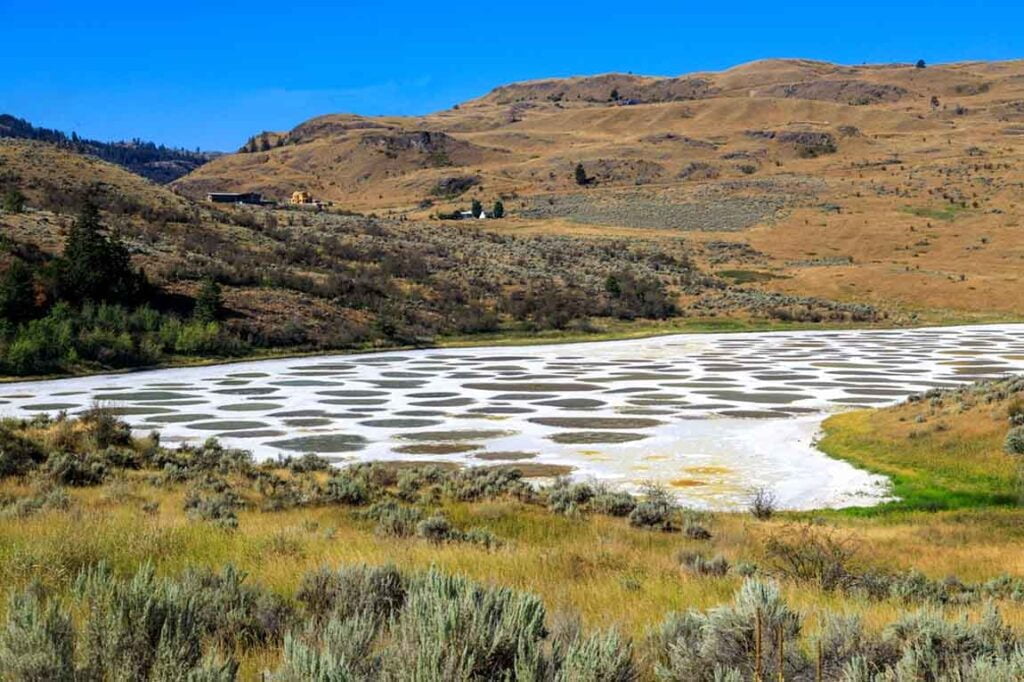 10. The Spotted Lake: British Columbia, Canada
The Spotted Lake in British Columbia, Canada, is a one-of-a-kind wonder generated by a high mineral concentration. As the water evaporates during the summer, it leaves behind mineral-rich pools that form beautiful patterns resembling a vivid mosaic. Witness this natural marvel and bask in its eerie beauty.
11. The Crooked Forest: Poland
A mesmerizing grove known as the Crooked Forest attracts curious visitors in a distant part of Poland. This strange woodland is home to roughly 400 pine trees, all of which are inexplicably bent at the base. The reason for their odd shape is unknown, adding to the mystique of this fascinating location.
12. The Gates of Hell: Hierapolis-Pamukkale, Turkey
Discover the fascinating Pamukkale terraces in Turkey, often known as the "Cotton Castle." The beautiful white terraces are generated by mineral-rich thermal waters pouring down the hills of this UNESCO World Heritage Site. The cascades form a surreal environment, giving the impression of entering another world.
13. The Waitomo Glowworm Caves: New Zealand
Set off on an underground journey in New Zealand's Waitomo Glowworm Caves. Thousands of bioluminescent glowworms illuminate the tunnels as you glide through the darkness, creating a magnificent vision. Admire the bright glowworms and revel in the splendor of this subterranean wonderland.
14. The Giant's Causeway: Northern Ireland
Travel to Northern Ireland's coast to see the magnificent Giant's Causeway. This geological marvel is made up of approximately 40,000 hexagonal basalt columns that interlock like a giant jigsaw. Walk around the rocky cliffs and become lost in the myths that surround this fascinating location.
15. The Doorway to the Fairy Realm: The Cliffs of Moher, Ireland
The Cliffs of Moher, located on Ireland's western coast, present a stunning landscape right out of a fairy tale. These magnificent cliffs, which soar over 700 feet above the Atlantic Ocean, offer a magical and awe-inspiring experience. You can feel the raw power of nature and ancient tales as you stand on the edge. The cliffs' raw beauty and panoramic vistas make it a must-see for adventurers looking for a touch of enchantment.
Conclusion
The world provides a variety of unique and strange locales that are sure to leave an indelible imprint on adventure seekers seeking extraordinary encounters. Each place, from burning craters to ethereal tunnels, has its attraction, enticing those who dare to investigate. Take part in these one-of-a-kind excursions and make memories that will last a lifetime.
FAQs
Q1. Are these weird places safe to visit?
Yes, most of these places are safe for visitors. However, it's always recommended to research and prepare accordingly before visiting any destination.
Q2. Can I take photographs in these places?
In most cases, photography is allowed. However, some locations may have specific guidelines or restrictions, so it's best to check beforehand.
Q3. Are there any guided tours available for these places?
Yes, guided tours are often available, especially for popular destinations. They can enhance your experience by providing insights and ensuring your safety.
Q4. Can children visit these strange places?
The suitability for children may vary depending on the destination. Some places may have age restrictions or require certain physical abilities, so it's advisable to check before planning a trip.
Q5. Are these destinations accessible for people with disabilities?
Accessibility may vary from place to place. Some locations may have facilities in place to accommodate people with disabilities, while others may pose challenges. It's recommended to inquire about accessibility options in advance.