Nainital, sometimes known as the "Lake District of India," is located in the picturesque hills of Uttarakhand. This enchanting refuge, with its glistening lakes and beautiful surroundings, attracts visitors looking for peace and quiet. Are you looking for the top Nainital tourism attractions? The city delivers unique moments, from the tranquil Naini Lake to the spectacular Snow View Point.
Nainital will not disappoint, whether you are an adventurer or a peace seeker. Dive into the charm of this hill village and discover the 15 best tourist places in Nainital that have made it a popular choice for many. Let us embark on a journey into the heart of Nainital's beauty.
Outline of the Article
Getting to Nainital
The journey to Nainital, tucked among the Himalayas, is as enchanting as the destination itself. A short drive away is the nearest airport, Pantnagar. Many visitors, however, choose the scenic train ride to Kathgodam, followed by a cab ride into the heart of Nainital. Nainital's prominent tourist attractions beckon as you approach this hidden gem.
The routes are well-connected, whether by air or rail, ensuring that your trip begins with stunning vistas even before you begin discovering Nainital's marvels. So gather your belongings and head out on an exciting vacation!
15 Best Nainital Tourist Places | Things to do
When one thinks of Nainital, images of pristine lakes and verdant hillsides come to mind. Nainital has always been a favorite destination for tourists. Let's explore the 15 best places to visit in Nainital and things to do in Nainital:
1. Naini Lake, Nainital
Naini Lake, with its calm waters and towering peaks, is a sight to behold. Regarding the best tourist attractions in Nainital, this location always comes out on top. Imagine yourself floating on a boat, the mountains reflecting in the peaceful seas, and everything seeming to be in order. This is more than just a place to visit; it's an experience. As you drink in its splendor, you'll understand why it's Nainital's heart and a memory that will last long after the journey is over. So, don't miss out on this enthralling find the next time you're in town.
Things to Do:
Boat Rides: Experience the lake's tranquility firsthand with a gentle row or paddleboat ride.
Lakeside Strolls: A walk along the periphery offers breathtaking views, especially during sunrise or sunset.
Photography: Capture the picturesque beauty of the lake and its surroundings.
Best Time to Reach (Timing):
Morning: 7:00 AM to 9:00 AM for a peaceful ambiance.
Evening: 4:30 PM to 6:30 PM for a mesmerizing sunset view.
Major Attractions:
Naina Devi Temple: An ancient temple located on the northern shore of the lake.
Tibetan Market: A bustling market nearby is perfect for souvenirs and local handicrafts.
Viewpoints: Several spots around the lake provide panoramic views of Nainital.
Location:
Centrally located in Nainital, the lake is easily accessible from all parts of the town. Whether staying in a nearby hotel or traveling from a distance, signposts and locals can guide you straight to this iconic attraction.
2. The Naina Devi Temple, Nainital
The Naina Devi Temple, located on the lake's northern shore, is a spiritual haven in Nainital. More than a religious retreat, its rich history and enthralling myths rank it among the top tourist attractions in Nainital. This temple promises a deep dive into both devotion and the legends of yesteryear, whether you're a seeker of faith or a lover of lore. Its ambiance whispers legends and provides an incomparable sense of peace. This temple is more than just a place to visit when in Nainital; it's an experience.
Things to Do:
Spiritual Ceremony: Engage in the temple's daily rituals and absorb the spiritual ambiance.
Story Exploration: Delve into the temple's legends with local guides sharing age-old tales.
Photography: Capture the temple's architectural beauty, but remember to respect religious restrictions.
Best Time to Reach (Timing):
Morning: Between 8:00 AM to 11:00 AM for spiritual ceremonies and a peaceful ambiance.
Evening: 4:00 PM to 6:00 PM, when the temple is illuminated, offering a serene vibe.
Major Attractions:
Temple Architecture: A marvel reflecting traditional Himalayan design.
Panoramic Views: The temple's location offers a breathtaking view of Nainital and its pristine lake.
Location:
Perfectly positioned at the northern edge of Naini Lake, the temple is a significant landmark in Nainital. It's easily accessible and a focal point for both locals and tourists. Signposts and local residents can seamlessly guide visitors to this spiritual sanctuary.
3. Snow View Point, Nainital
Want to get a bird's-eye view of the Himalayas while you're in Nainital? Your answer can be found at Snow View Point. This overlook, touted as one of the must-visit tourist attractions in Nainital, promises a breathtaking panorama of the Himalayan expanse's snow-covered peaks. But wait, there's more! Getting there is half the fun! A trekking path makes its way up, affording vistas of Nainital's grandeur along the way.
If you prefer a more leisurely journey, hop aboard the cable car and let it take you up while the scenery unfolds below. Whatever path you take, the view from the top will take your breath away.
Things to Do:
Cable Car Ride: Glide your way to the top while soaking in the beauty of Nainital below.
Photography: Capture the panoramic views of the Himalayan range, especially during sunrise or sunset.
Trekking: For adventure enthusiasts, the trek to Snow View Point is both challenging and rewarding.
Best Time to Reach (Timing):
Morning: 8:00 AM to 10:00 AM offers clear skies for the best mountain views.
Late Afternoon: 3:00 PM to 5:00 PM, a cooler time to trek or ride up, with a mesmerizing sunset awaiting.
Major Attractions:
Telescope View: There's an on-site telescope providing a closer look at the majestic Himalayan peaks.
Nearby Cafes: After the ascent, relax and refuel at the quaint eateries offering local delicacies with a view.
Location:
Snow View Point is situated about 3 kilometers from the heart of Nainital. You can reach the base either by walking, hiring a taxi, or taking shared transportation. From there, it's a trek or cable car ride to the top!
4. The Mall Road, Nainital
The Mall Road is Nainital's beating heart, seamlessly mixing the town's colonial grandeur with a modern ambiance. The gorgeous scenery and bustling businesses provide a unique experience as you stroll through, making it a top highlight among tourist destinations in Nainital. Do you want to buy a memento or try some local cuisine? This vivacious stretch has it all! The Mall Road encompasses the spirit of Nainital, serving as a lovely canvas of memories for both first-time guests and seasoned travelers. Dive into the spirit of this hill resort by allowing The Mall Road to guide you through a genuine Nainital experience.
Things to Do:
Shopping: Browse through local handicrafts, unique souvenirs, and traditional garments.
Culinary Adventure: Savor the taste of local dishes at various eateries and cafes lining the road.
Stroll and Sightseeing: Enjoy a leisurely walk, soaking in the vibrant atmosphere and observing the colonial-style architecture.
Best Time to Reach (Timing):
Morning: 10:00 AM to 12:00 PM – A quieter time to shop and explore without the crowds.
Evening: 4:00 PM to 7:00 PM – Witness the road come alive with lights, making it perfect for evening strolls.
Major Attractions:
Tibetan Market: A hotspot for woolen clothes, accessories, and unique trinkets
Colonial Buildings: Admire the remnants of the British era, preserved in the form of libraries, hotels, and post offices.
Lakeside Views: The road runs parallel to Naini Lake, offering splendid views along its stretch.
Location:
The Mall Road runs through the heart of Nainital, parallel to the famous Naini Lake. It's easily accessible from any part of the town, making it a central hub for tourists and locals alike.
5. Tiffin Top (Dorothy's Seat), Nainital
Looking for the perfect shot of Nainital's lovely surroundings? Tiffin Top, also known as Dorothy's Seat, is a crown jewel among tourist destinations in Nainital, where the city reveals itself in all its splendor. It's not simply a vantage point named after an artist, but a canvas of memories waiting to be filled with joyful moments. Tiffin Top is the place to go if you enjoy photography or simply want to spend some time alone with nature. So take your favorite snack and come here for tiffin with a soul-stirring view!
Things to Do:
Trekking: Hike up the trail to Tiffin Top, relishing the breathtaking views that the journey offers.
Picnicking: The serene environment makes it an ideal spot for a tranquil picnic amidst nature.
Photography: Capture the panoramic vistas of Nainital town and its surrounding valleys.
Best Time to Reach (Timing):
Morning: 8:00 AM to 10:00 AM – Experience a serene ambiance and cooler temperatures for hiking.
Afternoon: 2:00 PM to 4:00 PM – For those looking to capture the landscape bathed in the golden hue of the sun.
Major Attractions:
Panoramic Views: Tiffin Top provides a 360-degree view of the Himalayas and Nainital.
Horse Riding: For those who might find the trek challenging, horse rides are available to the top.
Dorothy's Seat: A stone bench built in memory of an English artist named Dorothy Kellett, it's a perfect spot to sit and absorb the beauty.
Location:
Located about 4 kilometers from the town center, Tiffin Top is set atop Ayarpatta Hill in Nainital. You can start your trek from Nainital Town itself or take a taxi to a closer spot and then hike the rest of the way up.
6. The High Altitude Zoo (Pt. G.B. Pant High Altitude Zoo), Nainital
Have you ever wondered where you could see a gorgeous snow leopard or a bright Tibetan wolf in Nainital? The answer can be found in the High Altitude Zoo, also known as the Pt. G.B. Pant High Altitude Zoo. This sanctuary is a hidden gem among Nainital tourist attractions, offering not only a chance to meet uncommon creatures but also panoramic views of the hill resort.
It's a refuge for nature lovers and families alike, nestled among greenery. Dive into this one-of-a-kind experience and let Nainital's animals captivate your senses. Remember, it's more than simply a zoo; it's a story of nature's wonders just waiting to be discovered!
Things to Do:
Wildlife Spotting: Witness some of the high-altitude animals and birds in their natural habitat settings.
Educational Tours: Learn more about the species, their habitat, and conservation efforts, making them ideal for students and nature enthusiasts.
Photography: Capture the diverse range of fauna, the well-maintained enclosures, and the scenic beauty surrounding the zoo.
Best Time to Reach (Timing):
Morning: 10:00 AM to 12:00 PM – Start your tour early to cover the entire zoo while the animals are most active.
Afternoon: 2:00 PM to 4:00 PM – A good time for those keen on catching feeding times and for a quieter experience.
Major Attractions:
Snow Leopard: An endangered species, it's one of the star attractions of the zoo.
Tibetan Wolf: Rarely seen in conventional zoos, it's a treat for wildlife lovers.
Red Panda: Another rare species that draws visitors due to its sheer cuteness and rarity
Location:
Tallital, Nainital's High Altitude Zoo, is located on the Sher Ka Danda hill. It's around 2 km from the bus stop, and while taxis can drive you near the entrance, the zoo requires a short uphill climb.
7. Eco Cave Gardens, Nainital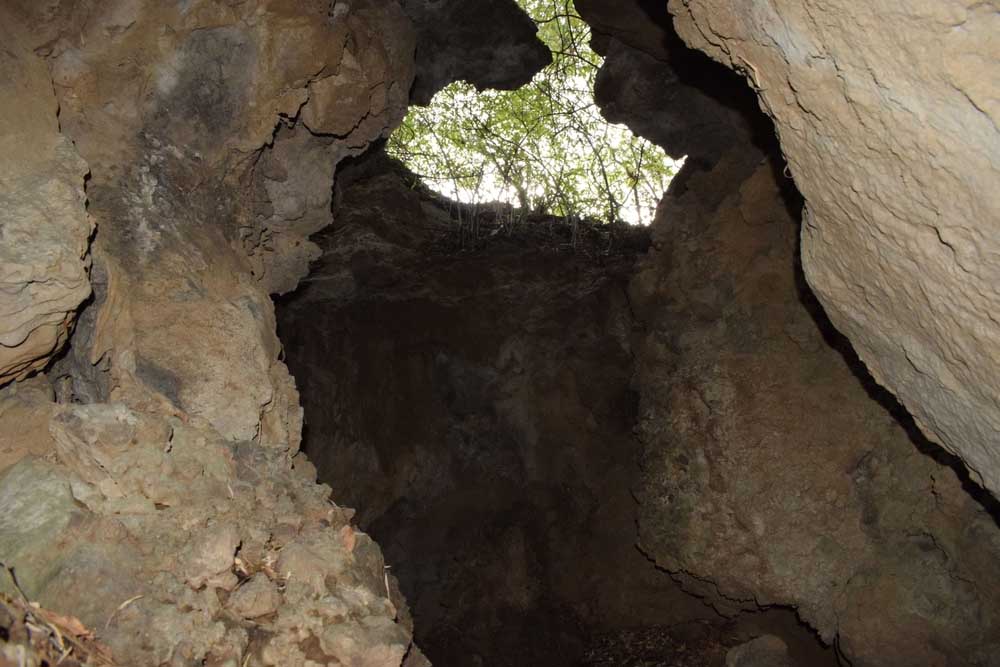 Eco Cave Gardens is a pleasant hideaway in Nainital for those looking for a little adventure. Tucked away among the steep terrain, it stands out as an intriguing choice among Nainital tourist attractions. The interconnecting caves, which are shaped like diverse animals, guarantee a fun exploration experience. And as you make your way through these amazing tunnels, the child in you will squeal with delight!
The grounds, which are wonderfully kept and resonate with delicate whispers of nature, round off the appeal. When visiting Nainital, make time to explore the wonders of Eco Cave Gardens. After all, the best stories are sometimes hidden beneath the surface!
Things to Do:
Cave Exploration: Delve into the interconnected rocky caves and tunnels, getting a feel for natural habitats.
Musical Fountain: In the evenings, enjoy the musical fountain show, where water dances to the rhythm of music.
Picnicking: The garden provides ample space to lay down your mat and savor a delightful meal amidst nature.
Best Time to Reach (Timing):
Morning: 9:00 AM to 11:00 AM – Beat the crowds and enjoy a peaceful exploration of the caves.
Late Afternoon: 3:00 PM to 5:00 PM – A pleasant time to roam around and be present for the evening musical fountain.
Major Attractions:
Six Caves: Each cave is uniquely named after the animal it resembles, like Tiger Cave, Panther Cave, and so on.
Hanging Garden: Offering a scenic view of the valleys and mountains, it's a treat for photography lovers.
Musical Fountain Show: The highlight of the evening, showcasing the synchronicity of water, lights, and music.
Location:
Eco Cave Gardens is a km from the main town of Nainital, in the Sukhatal district. Depending on your location in Nainital, the gardens are easily accessible through local taxis, auto-rickshaws, or even on foot.
8. Land's End, Nainital
With its poetic moniker, Land's End offers views that will captivate anyone. This is one of the must-visit tourist attractions in Nainital. It feels like you've reached the edge of the earth. The great length of the beautiful valley and the serene Khurpa Tal unfold before you as you stand there, providing a sight for the soul. There are no difficult treks, just a peaceful walk with views straight out of a dream. A trip to Land's End in Nainital guarantees a meeting with nature's masterpiece. It serves as a reminder that sometimes the most beautiful places are just a heartbeat away.
Things to Do:
Nature Walks: Meander through the woodland trails, soaking in the pure air and admiring the flora.
Photography: With panoramic views of the plains and the mighty Khurpa Tal, it's a photographer's dream spot.
Horse Riding: For those less keen on walking, horse rides offer an adventurous way to reach the point.
Best Time to Reach (Timing):
Morning: 8:00 AM to 10:00 AM – Experience the fresh morning air and the golden hue over the hills.
Late Afternoon: 3:00 PM to 5:00 PM – Capture the soft lighting, ideal for photography, and enjoy a cooler trek back.
Major Attractions:
Breathtaking Viewpoint: Standing here feels like you're at the edge of the world, hence the name 'Land's End'.
Khurpa Tal: This captivating natural freshwater lake can be seen shimmering from this vantage point.
Dense Forest Surroundings: The place is enveloped in oak and pine forests, adding a serene touch to your visit.
Location:
Land's End is around 4 kilometers from Nainital. While it is reachable by car, many visitors prefer to hike or take horseback rides from the major town, making the journey as memorable as the destination.
9. Bhimtal Lake, Nainital
Bhimtal Lake is more than just a body of water; it is an experience. This picturesque lake, located a short distance from the main town, stands out among the tourist attractions in Nainital. Bhimtal Lake, which is larger and quieter than its famed sister, Naini Lake, offers a tranquil boat trip where every ripple tells a story. It nicely portrays the essence of Nainital, surrounded by lush foliage and with an ancient temple gracing its banks.
So, if you're looking for a combination of peace and natural beauty on your journey, Bhimtal Lake welcomes you with open arms. Dive into its peaceful embrace and bring back memories that will last long after the journey is over.
Things to Do:
Boating: Drift on the lake's calm waters, relishing the mesmerizing surroundings.
Nature Walks: Surrounding the lake, paths meander through thickets, perfect for a relaxing walk.
Bird Watching: With numerous local and migratory birds, it's a paradise for bird enthusiasts.
Fishing: Seek permission and engage in some serene angling sessions by the lake.
Best Time to Reach:
Spring (March to April): When the new bloom starts and the weather remains pleasant.
Autumn (September to November): The fall colors around the lake make it especially scenic.
Major Attractions:
Bhimtal Island Aquarium: Located on an island in the lake, it houses exotic fish species and offers an exceptional view of the lake.
Bhimtal Temple: Also known as Bhimeshwar Temple, it holds significant historical and religious importance in the region.
Lake's Dam: It's one of the ancient dams in India, offering panoramic views and photo opportunities.
Location:
Bhimtal Lake is approximately 20 kilometers from Nainital and is well connected by road. It's located in the Bhimtal town of the Nainital district in Uttarakhand, India.
10. Naina Peak (China Peak), Nainital
Naina Peak, also known as China Peak by some, is the peak of natural beauty in Nainital. It towers above other sights and is a must-visit among tourist attractions in Nainital. The town's spectacular panorama spreads under you as you rise to its highest vantage point, with the majestic Himalayas serving as the perfect backdrop. The allure lies not just in the height of the summit but also in the peaceful trek that leads up to it.
Naina Peak guarantees an experience that will enrich your Nainital recollections, whether you're an avid trekker or a lover of scenic beauty. So put on your hiking boots and pursue the horizon from the top of this legendary peak!
Things to Do:
Trekking: Gear up for a moderate trek up to the peak, which promises splendid views of the Himalayas and Nainital.
Photography: The panoramic vistas offer abundant photo ops – don't forget your camera!
Bird Watching: The dense forests leading up to the peak are a haven for many local and migratory birds.
Sunrise/Sunset Views: Being the highest peak in Nainital, it's a prime spot to catch the sun's ethereal dance during dawn and dusk.
Best Time to Reach:
Spring (March to June): Mild temperatures make trekking comfortable, and the clear skies offer unbeatable panoramic views.
Autumn (September to November): The crisp air and fewer tourists create a serene ambiance perfect for trekkers and nature lovers.
Major Attractions:
360-Degree View: Once atop the mountain, you're treated to a panoramic view of Nainital and the Tibetan border.
Thick Pine Forest: The trek route is surrounded by dense pine forests, which are a treat for nature enthusiasts.
Tibetan View: On clear days, one can see the Tibet Border and Nanda Devi Peak, which is quite exhilarating.
Location:
Naina Peak, also known as China Peak, is around 6 kilometers from Nainital. Though accessible by car, many people prefer to hike up to the peak via the lush pine forest. It is located in the Uttarakhand district of Nainital, India.
11. Sattal, Nainital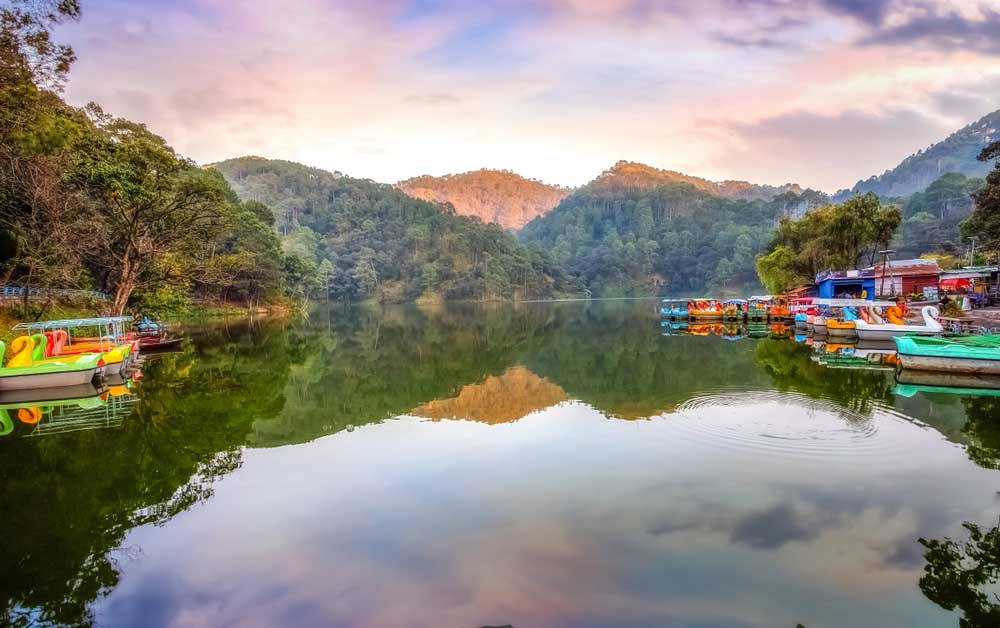 Sattal, a collection of seven freshwater lakes near Nainital, is nature's artistic expression. It's a wonderful paradise nestled among lush woods of oak and pine trees. Sattal, Standing out prominently among tourist places in Nainital, is more than just a beautiful treat. It's a symphony of singing birds, hushed woodlands, and gleaming rivers. Sattal welcomes you with wide arms, whether you enjoy sailing, want to see some rare bird species, or simply want to relax. Sattal plays a tranquil, soulful tune in the hectic orchestra of Nainital's attractions, beckoning visitors to its beautiful shoreline.
Things to Do:
Kayaking and Canoeing: Glide through the clear waters of interconnected lakes in a kayak or canoe.
Camping: Experience the serenity of nature by setting up a tent near the lakes.
Bird Watching: Sattal is a paradise for bird enthusiasts, with over 500 species flying around.
Trekking: Explore the dense forests surrounding the lakes with numerous trekking routes.
Best Time to Reach:
Spring (March to May): Enjoy the pleasant weather with a rich display of flora and birdlife.
Autumn (October to November): The clear skies and crisp air provide ideal conditions for outdoor activities and enjoying nature.
Major Attractions:
Interconnected Lakes: The seven freshwater lakes that are connected naturally are a wonder in themselves.
Bhutia Market: A local market known for its Himalayan crafts and delicious local cuisine.
Subhash Dhara: A natural freshwater spring flowing with cold and clear water.
Location:
Sattal is located in the Lower Himalayan Range near Bhimtal, a town in Uttarakhand's Nainital district. It's approximately 20 kilometers from Nainital.
12. St. John's Church, Nainital
St. John's Church, a beacon of peace and architectural splendor, is nestled among the green surroundings of Nainital. With its neo-Gothic style and profound historical roots, this church offers a calm respite in the heart of nature. Among the many tourist attractions in Nainital, it stands out not just as a house of worship but also as a reminder of the town's colonial past.
The stained glass artwork and antique pews depict the story of a bygone period. St. John's Church, whether drawn by spirituality or history, provides a reflective period away from the hustle and bustle. So, take a breather and walk forward, because some stories await in quiet nooks.
Things to Do:
Historical Exploration: Wander around the church, soaking in the colonial architecture and its vintage charm.
Attend a Sermon: If you're there on a Sunday, join the locals for a heartfelt service, immersed in spirituality and history.
Photography: Capture the exquisite stained-glass windows and the ancient bell, donated by the church founder's family.
Quiet Reflection: Sit in one of the vintage wooden pews and savor a quiet moment of introspection.
Best Time to Reach:
Morning Serenity (8 AM–11 AM): Experience the church in its tranquil morning ambiance, ideal for introspection and quiet moments.
Afternoon Explorations (1 PM–4 PM): Wander around the premises when the sun is gentle, casting a warm glow on the Gothic architecture.
Evening Reflections (6 PM–7 PM): As the sun sets, the church radiates an ethereal charm, perfect for evening prayers or simply soaking in the atmosphere.
Major Attractions:
Colonial Architecture: The church showcases stunning Gothic-style architecture, a testament to its colonial past.
Stained-Glass Windows: Adorned with vibrant stained-glass artworks, the windows narrate Biblical tales with a touch of artistry.
Historical Signboards: They provide a brief yet insightful glimpse into the church's fascinating past.
Location:
St. John's Church is conveniently located near the Nainital Bus Stand in Mallital. It is an enduring reminder of Nainital's rich past, making it immediately accessible and difficult to overlook for any visitor to the region.
13. Governor's House (Raj Bhavan), Nainital
The Governor's House, or Raj Bhavan, is more than simply a building; it's a trip back in time. With its Gothic construction, this mansion reflects the grandeur of the British era and is one of the best tourist attractions in Nainital. Sprawling gardens, stately halls, and beautiful woodwork highlight bygone-era artistry. It is not only a glimpse into the town's colonial legacy but also a refuge of manicured beauty in the heart of Nainital.
When the natural beauty of the town meets the majestic elegance of Raj Bhavan, the effect is pure magic. So, if history speaks to you, let the corridors of the Governor's House tell you stories of splendor and timeless beauty.
Things to Do:
Historical Exploration: Dive deep into colonial history by touring the magnificent edifice with its British-era architecture.
Golfing: Try your hand at golf at the well-maintained Raj Bhavan Golf Course, right within the estate.
Nature Walks: The sprawling gardens surrounding the Raj Bhavan are a delight for nature lovers. Explore the area and take in the scenery.
Photography: Capture the perfect frames of the grand mansion, manicured gardens, and fascinating Gothic structures.
Best Time to Reach (Timing):
Pleasant Mornings (9 AM – 12 PM): Beat the crowds and enjoy a peaceful exploration in the mild morning sun.
Cool Evenings (3 PM–5 PM): Experience the Raj Bhavan bathed in the golden hue of the evening, making it an ideal time for photography.
Major Attractions:
Raj Bhavan Golf Course: An exceptional attraction for sports enthusiasts looking to enjoy a game amidst scenic beauty.
Museum: Discover artifacts, photographs, and remnants from the British colonial period that tell tales of yesteryear.
Majestic Gardens: The gardens bloom with a variety of flora, making them a must-visit for nature lovers.
Location:
Located in the heart of Nainital, Raj Bhavan is easily accessible by road. It's situated just 3 km away from the main city, making it a central tourist destination in Nainital.
Engage with history, unwind in nature, or simply soak in the grandeur Governor's House offers a one-of-a-kind blend of all three. Are you planning a trip soon? Don't leave out this paragon of colonial charm from your schedule!
14. Gurney House, Nainital
Gurney House has a unique appeal that is regularly discussed among seasoned travelers. This beautiful villa, nestled among the verdant greens of Nainital, was formerly home to the legendary hunter-turned-conservationist, Jim Corbett. Gurney House, now one of Nainital's most prominent tourist attractions, entices visitors with stories from the past, a love of animals, and a profound connection to the hills.
The rustic ambiance, vintage artifacts, and Corbett's memories come alive as you traverse its chambers, engulfing you in a loving hug of history. A visit to Gurney House in Nainital is more than simply a visit to a structure; it's a voyage through the pages of the life of a living legend.
Things to Do:
Historical Dive: Step back in time as you explore the former residence of Jim Corbett, the famed conservationist.
Nature Admiration: The house is surrounded by dense forest, making it a haven for nature enthusiasts.
Book Exploration: Dive into the mini-library inside, which houses a collection of Corbett's personal books and some rare editions.
Photography Sessions: With its colonial architecture and verdant surroundings, Gurney House is a treat for photographers.
Best Time to Reach (Timing):
Sunny Mornings (10 AM – 1 PM): Experience the house in all its morning glory, under the gentle rays of the sun.
Serene Afternoons (2 PM–4 PM): Enjoy a quiet, contemplative visit in the less-crowded afternoon hours.
Major Attractions:
Jim Corbett's Memorabilia: A Collection that provides deep insights into the life of the legendary hunter turned conservationist.
Picturesque Garden: A serene spot showcasing diverse flora, perfect for relaxation and reflection.
Location:
Gurney House, located on Ayarpatta Hill, is only 2 kilometers from Nainital's town center. Its calm setting, combined with its proximity to the main tourist attractions in Nainital, makes it a popular resort.
Discover Jim Corbett's legacy at Gurney House, a crucial element of Nainital's tourist tapestry. This heritage site brilliantly blends history, environment, and culture, guaranteeing that every visitor has an enriching experience.
15. Khurpa Tal, Nainital
Khurpa Tal, with its glistening blue waters, is a hidden gem surrounded by the beautiful hills of Nainital. This lesser-known lake, tucked away from the normal noise and bustle, is fast making its name among tourist places in Nainital. Visitors are drawn not just by the tranquil waters but also by the enchanting aura of tranquility.
Khurpa Tal, surrounded by terraced fields and traditional dwellings, offers a taste of true hillside life. This lake delivers moments of pure serenity, whether you're angling for a peaceful trout or photographing the ideal sunset. Dive into Nainital's calmer side and let the enchantment of Khurpa Tal wash over you.
Things to Do:
Lakeside Picnics: Spread out a blanket and enjoy a picnic with breathtaking views of the sparkling blue water.
Fishing Adventures: This lake is a haven for anglers. Cast a line and enjoy a calm afternoon of fishing.
Photography Expeditions: Capture the scenic beauty of the lake, surrounded by lush green hills and occasional bursts of colorful flora.
Nature Walks: The periphery of Khurpa Tal is dotted with serene trails, perfect for leisurely walks amidst nature.
Best Time to Reach (Timing):
Refreshing Mornings (9 AM–12 PM): With the sun casting a golden hue on the waters, the lake looks ethereal.
Cool Evenings (4 PM–6 PM): Experience a serene sunset as the lake transforms into a palette of warm colors.
Major Attractions:
Clear Blue Waters: Often touted as the cleanest lake around Nainital, its pristine waters are mesmerizing.
Local Fauna: The area around the lake is home to several bird species, making it a paradise for birdwatchers.
Location:
Khurpa Tal is located in the lower Himalayan hills, around 10 kilometers from Nainital. Its pristine beauty complements the other tourist attractions in Nainital, assuring visitors have a complete picture of the region.
Khurpa Tal stands out as an untouched treasure among the various tourist attractions in Nainital. Its tranquil setting and mesmerizing beauty offer a refreshing and memorable encounter. Whether you're a photographer, a nature lover, or simply trying to get away from it all, Khurpa Tal welcomes all with its peaceful beauty.
You may also Love to Read:
Top 10 Hill Stations in India for Adventure and Relaxation
Travel Tips for Exploring the Charm of Nainital
Are you planning a trip to the enthralling hill station of Nainital? You're very fortunate! This hidden jewel in the Kumaon Hills is a sanctuary for travelers. But, before you set out to discover the best tourist attractions in Nainital, consider the following travel tips:
Plan Ahead: Nainital can get crowded, especially during peak seasons like summer and long weekends. Booking your lodging and transportation in advance will spare you last-minute headaches.
Pack Smart: Pack wisely because the weather in Nainital can be unpredictable. Layered clothes are your best friend in this situation. Don't forget your comfy walking shoes for all of your exploration!
Local Delights: While exploring Nainital's tourist attractions, don't forget to sample some Kumaoni cuisine. Believe us when we say that your taste buds will thank you.
Eco-friendly Travel: Let's keep Nainital lovely by traveling in an environmentally friendly manner. Avoid using plastic, and always dispose of trash properly. Remember, we're just passing through this natural wonderland.
Stay Connected: While the majority of Nainital has strong cellphone coverage, some outlying places may have limited connections. Inform someone of your plans, especially if you intend to travel off the main road.
With these travel ideas in your back pocket, you'll be ready to discover the beauty and charm of Nainital's tourist attractions. Happy exploring and safe travels!
Where to Stay in Nainital
Nainital has plenty of accommodation options, ranging from budget hotels to luxury resorts. Some popular options include The Naini Retreat, The Manu Maharani, and The Royal Court. This is the 5-star hotel in Nainital.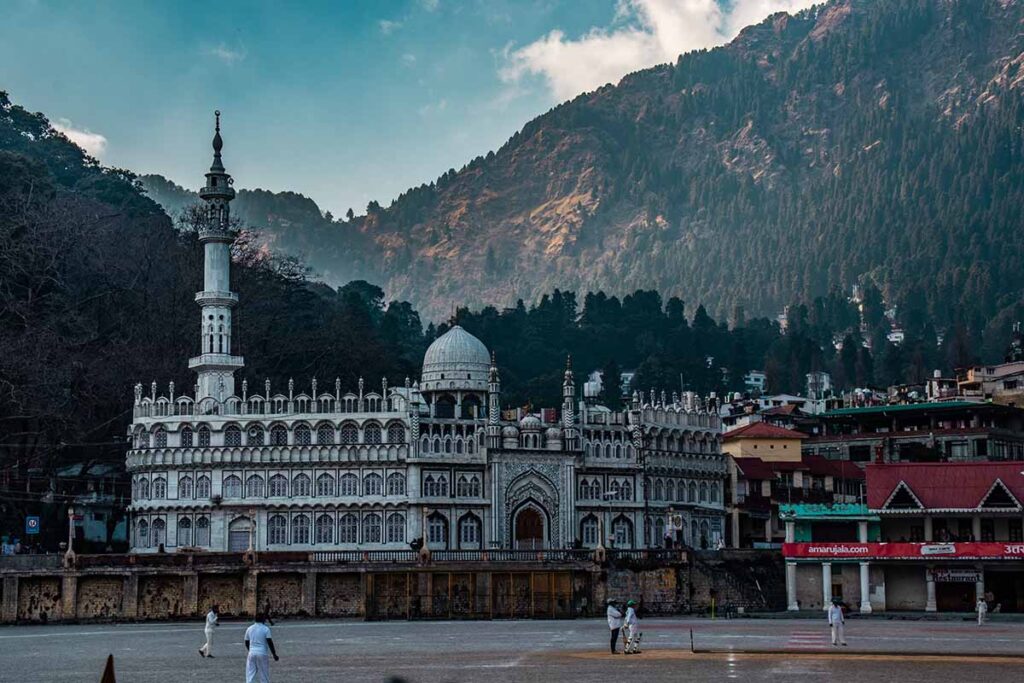 When to Visit Nainital
The best time to visit Nainital is between March and June, when the weather is pleasant and the flowers are in bloom. The town is especially beautiful during the monsoon season when the hills are covered in lush greenery. The winter months, from November to February, are also a good time to visit, especially if you want to see the snow-covered mountains.
Note: Before planning to visit Nainital, you should check any policy updates on the Uttarakhand Tourism official website.
Conclusion
As we come to the end of our adventure, it's clear that Nainital's allure is unrivaled. From tranquil lakes to lively marketplaces, the tourist attractions in Nainital offer an eclectic mix that appeals to all types of visitors. Nainital never disappoints, whether you're looking for adventure, tranquility, or a deep dive into culture.
The enchanting beauty and rich history of the hill station make it a must-visit site that draws travelers back time and again. So, if you haven't already, cross Nainital off your vacation bucket list. After all, memories made among these magnificent hills will undoubtedly endure a lifetime. Safe travels!
FAQs
Q1. Why is Nainital so famous?
Nainital is renowned for its pristine Naini Lake, lush greenery, and picturesque hills. It's a favored hill station in North India due to its pleasant climate, colonial architecture, and vibrant local markets. Additionally, the town boasts rich flora and fauna, making it a hotspot for nature lovers. Tourist places in Nainital further enhance its charm and offer a variety of activities, from boating to trekking, drawing tourists year-round.
Q2. Is it safe to travel to Nainital?
Absolutely! Nainital is one of the safest tourist destinations in India. However, it's always advisable to stay cautious and informed.
Q3. Can I find local guides for trekking?
Absolutely! Trekking is a specialty of many competent local guides in Nainital. They'll add to your journey by guiding you through the greatest "tourist places in Nainital" with expertise. Always read reviews to ensure a fantastic experience.
Q4. What local delicacies should I try in Nainital?
While exploring tourist places in Nainital, relish local favorites: Bal Mithai, Aloo ke Gutke, and Gulgula. A true taste of Nainital awaits you, making your visit flavorful and memorable!
Q5. How many days are sufficient for a Nainital trip?
For a comprehensive experience of tourist places in Nainital, a 3-day trip is ideal. It offers ample time to explore, relax, and soak in the hill station's charm. Enjoy!