Introduction
Welcome to your ultimate Bangalore travel guide, where we take you on an exciting journey through the vibrant city of Bangalore, also known as Bengaluru. Whether you are a history buff, nature lover, foodie, or adventure seeker, It has something for everyone. Situated in the southern part of India, It is a city that beautifully blends tradition and modernity. In this guide, we'll explore the top attractions, delve into the local cuisine, suggest exciting outdoor activities, and provide valuable tips to make your trip memorable.
Outline of the Article
Getting to Know
Location and Geography
Bangalore is located in the southern state of Karnataka, India. Situated on the Deccan Plateau, the city enjoys a pleasant elevation, providing a moderate climate throughout the year. Its geographical location makes it an ideal base for exploring the surrounding natural beauty and historical sites.
Climate
The city of Bangalore experiences a tropical savanna climate, characterized by mild winters and warm summers. The average temperature ranges from 15°C (59°F) to 35°C (95°F). The months of October to February are perfect for visiting Bangalore because the weather is nice and ideal for outdoor activities.
Language and Culture
Kannada is the official language of Bangalore, but English is widely spoken and understood, making it easier for tourists to navigate and communicate. The city's rich cultural heritage is reflected in its festivals, music, dance forms, and art exhibitions. Be prepared to immerse yourself in the warm hospitality and colorful traditions of Bangalore.
Top Attractions in Bangalore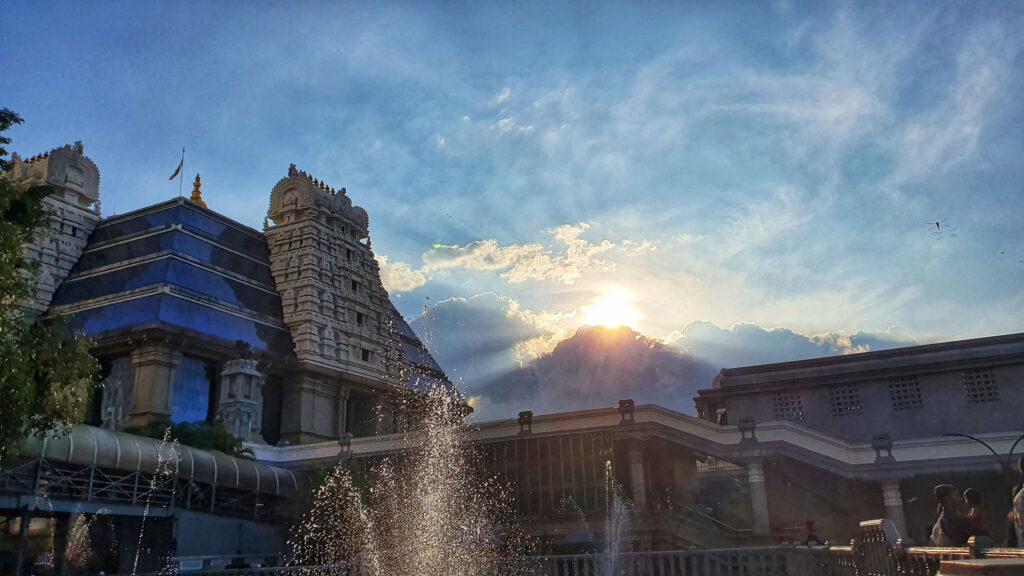 Historical Landmarks
It is home to several historical landmarks that offer a glimpse into its glorious past. The majestic Bangalore Palace, inspired by the architecture of England's Windsor Castle, is a must-visit. The Tipu Sultan's Summer Palace, Lalbagh Botanical Garden, and Bangalore Fort are also worth exploring to understand the city's historical significance.
Gardens and Parks
Nature lovers will be delighted by the lush greenery and well-maintained gardens. The iconic Cubbon Park spread over 300 acres, is a perfect spot for a leisurely stroll or a picnic. The serene and picturesque Lumbini Gardens, known for its boating facilities, and the enchanting Butterfly Park are also popular among visitors.
Modern Architecture
Bangalore's skyline is adorned with impressive modern architectural wonders. The Vidhana Soudha, a massive legislative building, is a striking example of neo-Dravidian architecture. The UB City, an upscale mall featuring contemporary designs, and the innovative Infosys Building, with its futuristic design, are worth admiring.
Art and Cultural Centers
For art enthusiasts, It offers a vibrant art and cultural scene. The National Gallery of Modern Art showcases a vast collection of contemporary Indian art. The Rangoli Metro Art Center, located at the MG Road Metro Station, displays stunning artwork by local artists. Don't miss the opportunity to catch a live performance at the prestigious Ravindra Kalakshetra or attend a classical music concert at the Bangalore Gayana Samaja.
You May Love to Read
Badami, Karnataka: A Comprehensive Travel Guide
Exploring Bangalore's Cuisine
Traditional South Indian Food
A trip to Bangalore is incomplete without savoring the traditional South Indian delicacies. Start your day with a sumptuous breakfast of idli (steamed rice cakes), dosa (thin crispy pancakes), and vada (lentil fritters). Indulge in a hearty meal of bisibele bath (spicy rice and lentil dish), puliyogare (tamarind rice), and Mysore masala dosa.
Street Food Delights
Bangalore is famous for its vibrant street food culture. Don't miss out on trying iconic local street food such as masala puri, pani puri, vada pav, and akki roti. For those with a sweet tooth, indulge in the delectable delights of holige (sweet stuffed bread), Mysore Pak (gram flour fudge), and obbattu.
Fine Dining Options
If you're looking for a fine dining experience, It has a plethora of options to choose from. Explore the city's diverse culinary scene with restaurants offering authentic regional cuisines like Mangalorean seafood, Coorgi delicacies, and traditional Karnataka thalis. Additionally, you'll find a wide range of international cuisines, including Italian, Chinese, Thai, and more.
Shopping
Local Markets and Bazaars
It is a shopaholic's paradise with a blend of traditional markets and modern shopping complexes. Visit the bustling streets of Commercial Street and Chickpet for a wide range of clothing, accessories, and traditional silk sarees. For a unique shopping experience, head to the colorful markets of Avenue Road for books, Malleswaram for flower markets, and KR Market for fresh produce.
Shopping Malls
If you prefer air-conditioned comfort and a mix of international and Indian brands, Bangalore's shopping malls won't disappoint. The popular ones include Orion Mall, Phoenix Marketcity, and UB City, where you can find everything from high-end fashion to electronics and entertainment options like multiplex cinemas.
Unique Souvenirs
Take a piece of Bangalore back home with you by picking up some unique souvenirs. Visit Cauvery Handicrafts Emporium for a wide range of traditional crafts, including sandalwood carvings, silk fabrics, and intricate metalwork. You can also explore the famous M.G. Road for its antique stores, where you might find some hidden treasures.
Outdoor Activities and Nature
Trekking and Hiking
Escape the bustling city life and embark on a trekking adventure in the scenic hills surrounding it. Nandi Hills, Savandurga, and Skandagiri are popular choices for nature enthusiasts. Enjoy breathtaking views, fresh air, and a chance to reconnect with nature as you hike through lush green trails.
Wildlife Sanctuaries
If you're a wildlife lover, It offers proximity to several wildlife sanctuaries. Bannerghatta National Park, located on the outskirts of the city, is home to a wide variety of animals, including tigers, lions, elephants, and more. You can also visit the Ranganathittu Bird Sanctuary, where you can spot numerous bird species in their natural habitat.
Lakes and Waterfalls
Bangalore is blessed with beautiful lakes and stunning waterfalls that provide serene getaways. Enjoy a peaceful boat ride on the picturesque Ulsoor Lake or explore the serene surroundings of Sankey Tank. For a refreshing experience, visit the enchanting Shivanasamudra Falls or the picturesque Hogenakkal Falls, both within a few hours' drive from the city.
Nightlife and Entertainment
Pubs and Bars
Its nightlife is vibrant, with a plethora of pubs and bars offering a lively atmosphere. Indulge in some craft beers, innovative cocktails, and live music at popular spots like Church Street, Indiranagar, and Koramangala. The city is known for its pub culture, and you'll find a wide range of options to unwind and socialize.
Live Music Venues
If you're a music lover, It has a thriving live music scene. From intimate jazz clubs to large concert arenas, you can catch performances by local bands, renowned artists, and emerging talent. Some popular venues include Hard Rock Café, Blue Frog, and The Humming Tree.
Cultural Performances
Immerse yourself in the rich cultural heritage of Bangalore by attending traditional dance and music performances. The Nrityagram Dance Village showcases exquisite Indian classical dance forms, while the Chowdiah Memorial Hall hosts classical music concerts featuring renowned artists. Keep an eye out for cultural festivals like Bengaluru Habba, where you can experience a diverse range of performances.
Where to Stay
Luxury Hotels
For a luxurious stay, It offers a range of high-end hotels that provide world-class amenities and impeccable service. From renowned international chains to opulent boutique hotels, you'll find options to suit your preferences. Some popular luxury hotels include The Taj West End, The Oberoi, and ITC Gardenia.
Boutique Hotels
If you prefer a more intimate and unique experience, It boasts several boutique hotels that offer personalized service and a distinct charm. These boutique accommodations often feature stylish decor, local artwork, and a cozy ambiance. Consider options like Casa Cottage, The Paul Bangalore, and The LaLiT Ashok Bangalore.
Budget Accommodations
Travelers on a budget need not worry as Bangalore offers a range of affordable accommodations without compromising comfort. Budget-friendly hotels, guesthouses, and serviced apartments are available in various parts of the city. Look for options in areas like Koramangala, Indiranagar, and MG Road for easy access to popular attractions and amenities.
Transportation
Public Transportation
It has a well-connected public transportation system that includes buses, metro trains, and auto-rickshaws. The Bangalore Metro is a convenient and efficient way to travel around the city, especially for longer distances. Local buses, operated by the Bangalore Metropolitan Transport Corporation (BMTC), cover extensive routes, making it easy to navigate the city.
Taxis and Ride-Sharing
Taxis and ride-sharing services like Uber and Ola are readily available. These services provide a comfortable and convenient way to explore the city, especially if you prefer door-to-door transportation. You can book taxis through mobile apps or find them at designated taxi stands.
Renting Vehicles
If you prefer the flexibility of driving yourself, you can rent a car or a two-wheeler from various rental agencies in Bangalore. Make sure to have a valid driving license and familiarize yourself with local traffic rules and regulations before hitting the road.
Safety and Security Tips
Bangalore, like any other city, requires travelers to take certain precautions to ensure a safe and enjoyable trip. Here are some essential safety tips:
Keep your things secure and be apprehensive of your surroundings, especially in crowded areas.
Use reputable transportation services or pre-booked taxis for safer travel.
Be cautious of scams or touts trying to take advantage of tourists.
Follow any local advisories or guidelines, especially related to COVID-19 safety protocols.
Maintain a copy of your important documents, such as passports and IDs, in a safe place.
Tips for a Smooth Trip
Best Time to Visit
The months of October to February are perfect for visiting Bangalore because the weather is nice and ideal for outdoor activities. However, Bangalore can be visited throughout the year due to its moderate climate.
Dress Code and Etiquette
Bangalore is a cosmopolitan city with a blend of traditional and modern values. While there are no strict dress codes, it is advisable to dress appropriately and respectfully, especially when visiting religious sites or attending cultural events. It's also important to admire original customs and traditions.
Exploring Beyond Bangalore
While Bangalore itself offers a plethora of attractions and experiences, you can also consider exploring the surrounding areas for additional adventures. Take a day trip to the enchanting city of Mysore, known for its grand palaces and vibrant markets. You can also visit the hill station of Coorg, famous for its coffee plantations and natural beauty.
Conclusion
Bangalore is a city that captures the essence of India's rich heritage while embracing modernity. From historical landmarks to bustling markets, serene gardens, and a vibrant culinary scene, Bangalore has something for every traveler. Immerse yourself in the culture, indulge in delicious food, explore the natural beauty, and experience the warm hospitality of the locals. With this ultimate Bangalore travel guide, you're well-equipped to make the most of your trip to this dynamic and captivating city.
Frequently Asked Questions (FAQs)
Q. What is the best time to visit Bangalore?
The months of October to February are perfect for visiting Bangalore because the weather is nice and ideal for outdoor activities.
Q. What are some must-visit attractions in Bangalore?
Some must-visit attractions in Bangalore include Bangalore Palace, Lalbagh Botanical Garden, Cubbon Park, and the National Gallery of Modern Art.
Q. What is the local cuisine of Bangalore?
The local cuisine of Bangalore is known for its delicious South Indian dishes such as dosa, idli, vada, and traditional Karnataka thalis.
Q. Are there any outdoor activities near Bangalore?
Yes, there are plenty of outdoor activities near Bangalore, including trekking in Nandi Hills, visiting Bannerghatta National Park, and exploring the beautiful lakes and waterfalls in the surrounding areas.
Q. What are some popular shopping areas in Bangalore?
Some popular shopping areas in Bangalore include Commercial Street, Chickpet, and UB City, where you can find a mix of traditional markets and modern shopping complexes.
We hope this comprehensive guide helps you plan an unforgettable trip to Bangalore. Safe travels and enjoy your Bangalore adventure!