Are you an adventurer looking for exciting encounters on two wheels? India has a wealth of bike riding trips that will satisfy your wanderlust and deliver a blend of adrenaline and breathtaking scenery. India has something for every explorer, from the stunning Himalayas to the peaceful coasts and the culturally rich core. Put on your helmet, start your engine, and set out on these incredible bike-riding trips that will leave you with memories that last a lifetime.
Outline of the Article
Essential Gear for Bike Riding Trips
It is critical to have the proper equipment before embarking on any bike riding trips. Always prioritize safety by wearing a robust helmet, riding gloves, protective gear, and proper footwear. Carry a toolkit, spare parts, and a first-aid kit with you to deal with any unexpected situations on the road. It is critical to ensure that your bike is in good working order before you depart, so have it maintained and carefully inspected.
Himalayan Circuit: Riding Through the Majestic Mountains
For bike lovers, the Himalayan circuit provides an unrivaled journey. Leh Ladakh, with its magnificent scenery and high-altitude passes, is a rider's paradise. Cross the legendary Khardung La, one of the world's highest motorable crossings, and marvel at the splendor of Pangong Lake. The Spiti Valley, located in Himachal Pradesh, has steep terrain that rewards bikers with stunning panoramas and old monasteries. The Himalayan circuit is a tribute to nature's magnificence and a must-see for thrill seekers.
Coastal Delights: Exploring India's Beaches on Two Wheels
Bike riding trips in India's coastal regions are a dream come true for those who crave the sun, sand, and the calm sound of waves. Goa, with its colorful culture and beautiful beaches, provides a memorable experience. Ride through picturesque coastal roads, discover quiet coves, and enjoy water sports and seaside parties. Kerala's tranquil backwaters and gorgeous beaches offer yet another coastal haven. Admire the distinctive landscape while enjoying the warmth of the inhabitants and delectable coastal cuisine.
Cultural Extravaganza: Discovering Heritage Sites on Bikes
Bike riding trips through historic cities and prominent heritage sites bring India's rich cultural legacy to life. Rajasthan, with its stately forts and imperial palaces, provides a look into India's regal past. Explore Jaipur's pink city, ride through Jaisalmer's golden sands, and immerse yourself in Udaipur's lively culture. Varanasi is a spiritual refuge located on the banks of the sacred Ganges River. Ride through its old alleyways, watch enthralling ceremonies, and breathe in the profound mysticism that pervades the air.
Wildlife Safari: Experiencing India's Natural Wonders on a Bike
India is home to rich and exotic fauna, and bike rides through its national parks offer a once-in-a-lifetime opportunity to see these treasures up close. Jim Corbett National Park, located in the Himalayan foothills, is well-known for its tiger population. Ride your bike on an exciting adventure and bask in the raw beauty of the wilderness. Ranthambore National Park in Rajasthan is another popular destination for wildlife aficionados. Discover the Royal Bengal tiger and other amazing wildlife in their natural habitat.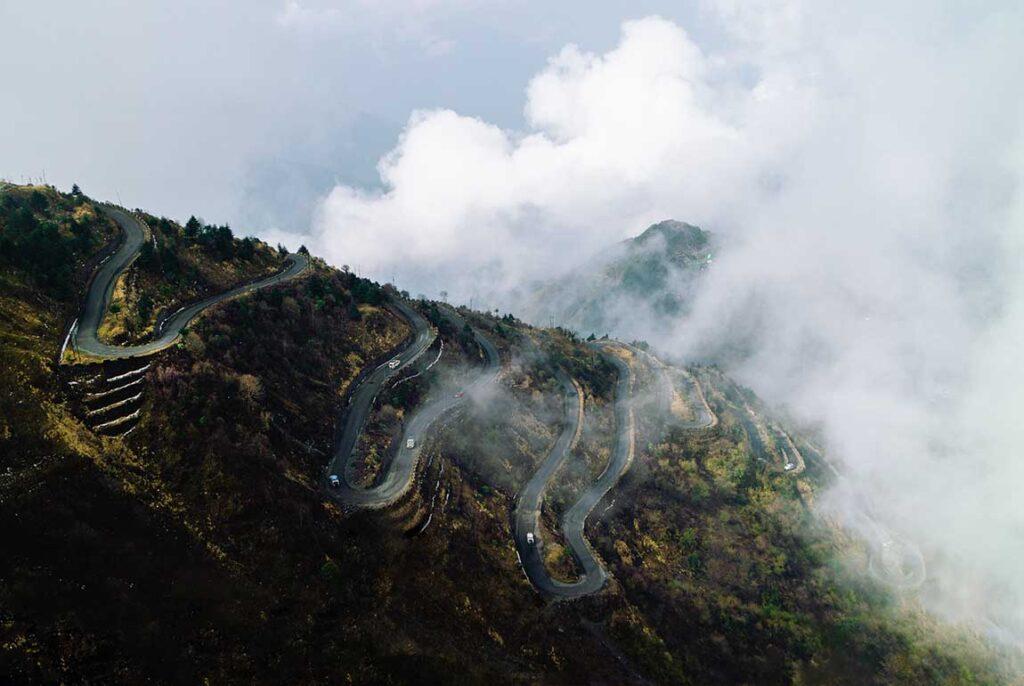 If you're looking for off-the-beaten-path experiences, India has a wealth of hidden gems to explore on a bike. Ride across Arunachal Pradesh's isolated regions, where snow-capped peaks, gorgeous lakes, and unique tribal cultures await. Explore the Kutch deserts in Gujarat, which are noted for their stark beauty, traditional handicrafts, and the annual Rann Utsav. Meghalaya and Sikkim in northeastern India provide stunning landscapes, gushing waterfalls, and an insight into traditional cultures.
Safety Tips for Bike Riding Trips in India
When going on exciting bike riding trips, safety should always be a top consideration. Maintain a safe speed suited for road conditions and wear adequate safety equipment at all times. Stay hydrated and bring plenty of water, especially on lengthy rides. Plan your routes ahead of time and keep an eye on the weather to avoid unpleasant scenarios. It's also a good idea to bring along any relevant paperwork, such as your driver's license, identity, and travel insurance.
Conclusion
India's bike riding trips offer a combined adventure, natural beauty, cultural history, and wildlife encounters. Whether you like the snow-capped Himalayan peaks, the sun-kissed beaches along the coast, or the captivating historical monuments strewn across the country, India has an itinerary that will pique your interest. So, get ready to embark on an exciting journey and make memories that will last a lifetime.
FAQs
Q.1 Are these bike riding trips suitable for beginners?
A. Yes, there are beginner-friendly bike trips in India. It is critical to select routes that are appropriate for your skill level and comfort level.
Q.2 Do I need to bring my own bike for these trips?
A. While bringing your own bike is an option, there are other possibilities to rent motorcycles in India, which is a popular choice among travelers.
Q.3 What is the best time to embark on bike riding trips in India?
A. The greatest season for bike rides in India varies by area. The summer months of June to September are ideal for the Himalayan circuit. Coastal places are enjoyable all year, but winter is especially pleasant. Cultural and wildlife excursions can be tailored to your preferences.
Q.4 Are these trips suitable for solo travelers?
A. Yes, many adventure seekers travel alone on bike riding tours in India. However, it's always a good idea to be cautious, plan your routes ahead of time, and stay in touch with family or friends.
Q.5 Can I combine multiple trips into a longer itinerary?
A. Absolutely! You can personalize your bike journey by mixing several destinations and experiences to create a one-of-a-kind and memorable tour that meets your needs.