Outline of the Article
1: Introduction
South Korea is a fascinating destination with a rich history, vibrant culture, magnificent landscapes, and cutting-edge attractions. South Korea has something for everyone, from bustling cities to peaceful countryside. We will delve into the wonders of South Korea in our detailed travel guide and give you crucial information to plan an enjoyable trip.
1.1: South Korea's Geography and Climate
South Korea is located in Eastern Asia on the Korean Peninsula, bordered to the north by North Korea and to the west by the Yellow Sea. The country's geographical features are diverse, including mountains, coastal areas, and gorgeous islands. Its climate has four different seasons, including hot summers, cold winters, and pleasant spring and fall seasons.
1.2: Brief Overview of South Korea's History and Culture
South Korea has a long and illustrious history and cultural heritage. The country has witnessed considerable changes, from ancient kingdoms to current advances. Korean culture is highly influenced by Confucianism, Buddhism, and traditional values. Traditional art forms such as music, dance, and pottery coexist with modern cultural expressions.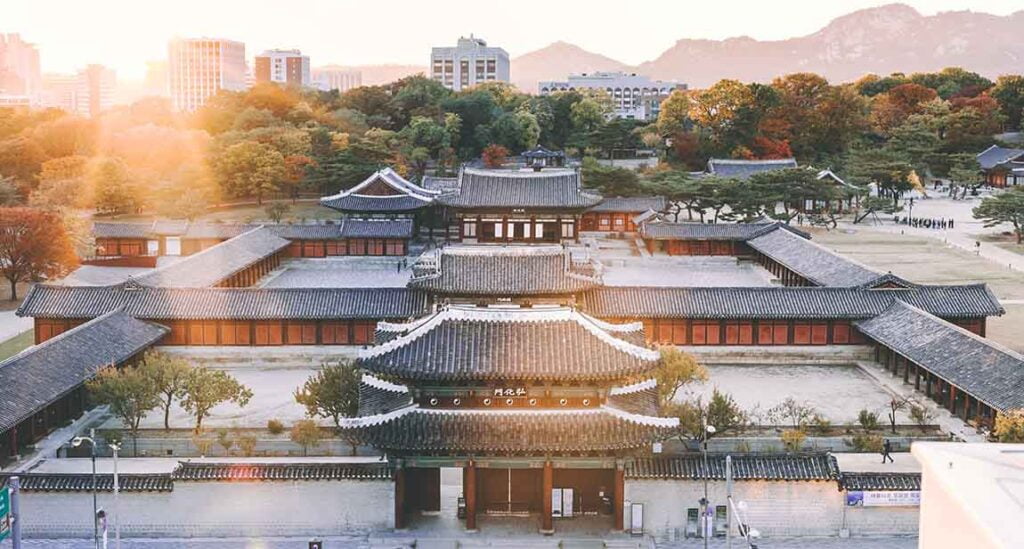 1.3: Important Cities and Regions in South Korea
South Korea has bustling cities and scenic locations worth visiting. Seoul, the capital city, combines tradition and modernity with old palaces, lively markets, and futuristic skyscrapers. Busan, South Korea's second-largest city, has beautiful beaches, a busy nightlife, and wonderful seafood. Other prominent cities include Incheon, Daegu, and Gyeongju, each with its distinct charm. Natural beauty and outdoor activities are well known in the regions of Jeju Island, Gyeonggi Province, and Gangwon Province.
2: Planning Your South Korea Trip
To make the most of your trip to South Korea, considerable planning is required. Here are several important considerations:
2.1: The best time to visit
South Korea has varying weather throughout the year, providing unique experiences in each season. With pleasant temperatures and stunning cherry blossoms or colorful foliage, spring (April to June) and fall (September to November) are considered the finest periods to visit. Summers (July to August) can be hot and humid, while winters (December to February) can be bitterly cold, particularly in the north.
2.2: Visa requirements and travel documentation
It is critical to check the visa requirements for your place of residency before traveling to South Korea. Many nations have visa waiver programs that allow travelers to stay for a certain period without requiring a visa. Some nationalities, however, may be required to get a visa in advance. Make sure your passport is valid for at least six months and bring any relevant documentation, such as travel insurance, plane tickets, and hotel bookings.
2.3: Creating a South Korean travel itinerary
South Korea has a diverse choice of sites and activities, so creating a customized itinerary is essential. Begin by choosing the length of your trip and the places you want to see. Make time to see both must-see landmarks and off-the-beaten-path destinations. To achieve a realistic and pleasurable travel plan, consider transit alternatives and distances between attractions.
3: Exploring South Korea's Top Attractions
South Korea is packed with world-class attractions that cater to a wide range of interests. Here are some highlights to see during your vacation:
3.1: Must-visit landmarks and historical sites
Gyeongbokgung Palace: Seoul's largest and most recognizable palace, offering an insight into Korea's royal past.
Changdeokgung Palace: Changdeokgung Palace is a UNESCO World Heritage Site recognized for its stunning architecture and tranquil gardens.
Bulguksa Temple: This Buddhist art and architecture marvel is located in Gyeongju.
Jeonju Hanok Village: A typical Jeonju village with well-preserved hanok (traditional Korean dwellings) and a lively cultural atmosphere.
Seoraksan National Park: Seoraksan National Park is a breathtaking national park famed for its high peaks, picturesque paths, and bright autumn colors.
DMZ (Demilitarized Zone): The Demilitarized Zone (DMZ) is a unique and strongly guarded border territory that separates North and South Korea, providing insights into the peninsula's divided past.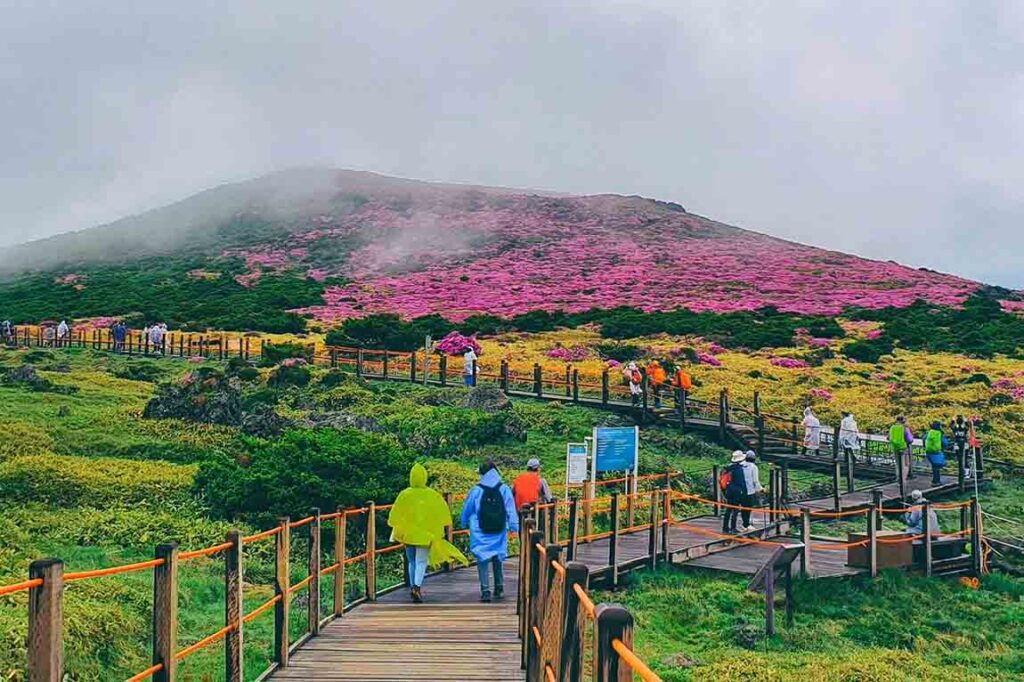 3.2: Natural Wonders and scenic locations
Jeju Island: Jeju Island is a volcanic island famed for its stunning scenery, beautiful beaches, and one-of-a-kind natural structures such as the Manjanggul Lava Tube and Seongsan Ilchulbong Peak.
Nami Island: Nami Island is a lovely island known for its tree-lined walks, beautiful gardens, and use as the setting for the popular Korean drama "Winter Sonata."
Haeundae Beach: Haeundae Beach is Busan's most well-known beach, with golden sands, crystal-clear waters, and a lively beachside scene.
Boseong Green Tea Fields: Vast terraced fields of green tea plants that provide spectacular vistas as well as the opportunity to learn about tea production.
Seongsan Sunrise Peak: Seongsan Sunrise Peak is a UNESCO World Heritage Site and an extinct volcanic crater that offers a breathtaking view of the sunrise.
3.3: Unique cultural experiences and festivals
Temple Stay: Take a spiritual retreat by staying at a Buddhist temple, practicing meditation, and learning about monastic life.
Hanbok Experience: Dress in traditional Korean clothes (hanbok) and explore historic landmarks, palaces, and streets for a genuinely immersive cultural experience.
Korean Food Tour: Sample the various flavors of Korean cuisine, from delectable street food to exquisite dining experiences.
Boryeong Mud Celebration: This yearly celebration in Boryeong has mud-related activities such as mud wrestling, mud slides, and mud painting.
Andong Mask Dance Celebration: A lively celebration that includes traditional mask dances, parades, and cultural acts
You May Also Love to Read:
Best Japan Travel Guide for Exploring the Country
4: Getting Around in South Korea
Getting Around in South Korea Because of its well-developed infrastructure, navigating South Korea's transit system is very simple. Here are some pointers to help you navigate around.
4.1: Transportation options
South Korea provides a number of transit choices for efficiently exploring the country:
Metro and bus: Major cities such as Seoul and Busan have substantial metro and bus networks that provide easy access to a variety of attractions.
Trains: The national train network connects major cities and areas, with high-speed and traditional train services available.
Domestic flights: If you're traveling a great distance, domestic flights can save you time and money.
Taxis: Taxis are common in cities and can be hailed on the street or booked through ride-hailing applications.
4.2: Public transportation systems and passes
The public transport networks in South Korea are efficient and well-organized. Fare cards are integrated into cities and can be used on buses, metros, and even taxis. T-money cards are generally accepted and easily rechargeable. Furthermore, Korea Rail Passes are offered for unlimited train travel within a set time period, allowing visitors greater freedom to tour multiple places.
4.3: Tips for renting cars or using private transportation services
Renting a car might provide you with greater flexibility and independence. However, keep in mind that traffic in cities can be crowded and parking spaces may be few. Foreigners must have an international driving permit to rent and drive an automobile in South Korea. Private transportation options, such as taxis and automobile services, are also readily available and convenient, especially for day trips or exploring isolated places.
5: Accommodation and Dining
Finding adequate lodging and sampling the delectable cuisine are essential components of your South Korean trip. Here are a few ideas to make your stay more enjoyable:
5.1: Types of accommodations available in South Korea
South Korea has a variety of lodging options to meet every budget and preference.
Hotels: There are several options accessible in major cities and tourist locations, ranging from luxury worldwide chains to boutique hotels.
Hanok Stays: Stay in a hanok to experience traditional Korean hospitality and enjoy comfortable accommodations with traditional beauty.
Guesthouses: Low-cost guesthouses offer a cozy and social atmosphere, ideal for meeting other travelers.
Homestays and Airbnb rentals: To live like a local, try reserving a homestay or an Airbnb property.
5.2: Popular dining options and local cuisine
South Korean food is well-known for its variety and flavor. Here are some popular foods you should try:
Kimchi: Korea's well-known spicy fermented cabbage dish, typically served as a side dish with most meals.
Bibimbap: A flavorful bowl of mixed rice, vegetables, meat, and chili pepper paste.
Bulgogi: Thinly sliced marinated beef that has been cooked to perfection and is frequently wrapped in lettuce leaves.
Samgyeopsal: Grilled pork belly offered with a variety of side dishes as part of a DIY barbecue experience.
Korean BBQ: A popular dining experience in which you barbecue meat at your table, usually beef or pork.
5.3: Recommendations for budget-friendly or luxury choices
Budget-Friendly: For economical and great lunches, look for street food booths, local eateries, and university districts. Guesthouses and hostels offer inexpensive lodging options.
Mid-Range: For a moderately priced dining experience, look for restaurants in major tourist districts that offer set menus or lunch specials. Hotels and hanok stays offer decent mid-range lodging.
Luxury: High-end restaurants are noted for their exquisite Korean cuisine and cosmopolitan flavors. For a comfortable stay, luxury hotels and resorts provide great service and amenities.
6: Safety and Travel Tips
It is critical to ensure your safety and have a pleasant travel experience. Here are some things to remember when visiting South Korea:
6.1: Health and safety precautions for Travelers
Carry valid travel insurance coverage that covers medical expenses, as healthcare for foreigners can be expensive.
Stay hydrated and sun-protected, especially during the hot summer months.
To avoid the transmission of infections, adhere to fundamental hygiene practices such as frequent handwashing.
Keep an eye out for potential air pollution, especially in cities, and consider wearing a mask if necessary.
6.2: Cultural etiquette and customs to be aware of
Learn simple Korean greetings and words to demonstrate respect and improve interactions with locals.
When entering traditional Korean restaurants or someone's home, remove your shoes.
While greeting someone, bow slightly as a symbol of respect, and use both hands while receiving or delivering objects.
It is considered unacceptable to exhibit affection in public, such as kissing or hugging.
6.3: Essential tips for a smooth and enjoyable trip
To access maps, translation apps, and trip information, use a local SIM card or portable Wi-Fi device.
Learn about South Korea's public transport networks and buy travel cards for convenience.
Use the free Wi-Fi offered in many public areas, including airports, cafes, and tourist information centers.
Discover hidden gems and have one-of-a-kind travel experiences by visiting off-the-beaten-path destinations.
7: Travel Resources and Additional Information
Here are some tools and information to help you make the most of your vacation in South Korea.
7.1: Useful websites, apps, and travel guides
VisitKoreaofficial website: The official website of the Korea Tourism Organisation (https://english.visitkorea.or.kr/) provides detailed information on attractions, festivals, lodgings, and travel suggestions.
Naver Maps: A popular South Korean mapping program that provides accurate directions, public transportation information, and real-time traffic reports.
TripAdvisor: A popular website for traveler reviews, recommendations, and reservations for hotels, restaurants, and attractions.
Lonely Planet South Korea: A reliable travel guidebook with in-depth insights, useful information, and suggested itineraries for seeing South Korea.
7.2: Language and communication tips for Travelers
While English is widely spoken in tourist locations, learning a few basic Korean words will tremendously enhance your experience and interactions with locals.
To aid conversation, use translation tools such as Google Translate or Naver Papago.
Even if there is a language barrier, politeness, and patience go a long way when interacting with natives.
7.3: Recommended souvenirs and shopping experiences
Korean Beauty Products: South Korea is well-known for its cutting-edge skincare and beauty products. Explore cosmetic and department stores for a variety of possibilities.
Traditional Handicrafts: Look for hanbok (traditional garments), ceramics, lacquerware, and traditional teas.
K-Pop and K-Drama Merchandise: Fans of Korean pop music and dramas can discover a plethora of products, records, and souvenirs in specialty stores or dedicated K-pop merchandise shops.
8: Conclusion
South Korea is an enthralling location with a unique combination of history, culture, natural beauty, and modern attractions. You may plan an amazing vacation to South Korea by following our complete travel guide. South Korea has something for everyone, from seeing historic castles and gorgeous landscapes to indulging in excellent cuisine and unique cultural experiences. Remember to be respectful of local customs, remain safe, and immerse yourself in the wonders of this amazing country.
9: FAQs (Frequently Asked Questions)
Q1. Is it safe to travel to South Korea?
A. South Korea is a relatively safe destination for tourists. It is, nevertheless, always prudent to exercise standard safety precautions and keep informed of any travel advisories or local recommendations.
Q2. What is the best time to visit South Korea?
A. Spring (April to June) and autumn (September to November) are the finest times to visit South Korea since the weather is moderate and you may enjoy stunning cherry blossoms or colorful foliage.
Q3. Do I need a visa to visit South Korea?
A. Visa requirements differ according to nationality. Some countries offer visa-free travel, while others may require a visa. Before traveling, make sure to check your country's visa requirements.
Q4. What are some must-visit attractions in South Korea?
A. Gyeongbokgung Palace, Jeju Island, Seoraksan National Park, and the DMZ are all must-see sights in South Korea. These are only a few examples of the many attractions available in the country.
Q5. How can I get around in South Korea?
A. South Korea's transport infrastructure is efficient, with metros, buses, trains, and domestic planes. You might also rent a car or use private transportation services such as taxis or car services.