Vietnam has developed as a prominent destination for travelers seeking an unforgettable experience, thanks to its beautiful natural scenery, rich history, and dynamic culture. It provides a diverse choice of sites and experiences, from the bustling streets of Ho Chi Minh City to the peaceful serenity of Ha Long Bay. This comprehensive travel book will take you on a journey to discover Vietnam's splendor, giving you important information and insider suggestions to make your trip really unforgettable.
Outline of the Article
Introduction
Traveling to a new nation may be both exciting and intimidating. A comprehensive travel guide may substantially enhance your experience and assist you in making the most of your stay in Vietnam. It has something for everyone, whether you're a history buff, a nature lover, or a foodie. Let's go on this adventure and explore the beauties that Vietnam has to offer.
Getting to Know
Vietnam, which is located in Southeast Asia, is known for its diverse landscapes and rich cultural legacy. The country is bounded to the north by China, to the west by Laos and Cambodia, and to the east by the South China Sea. It is divided into three major regions: the north, the center, and the south. Each location has its own individual traits and attractions, making it necessary to go throughout the country.
Best Time to Visit Vietnam
It has a tropical climate with regional differences in weather patterns. The best time to visit Vietnam is primarily determined by the regions you intend to visit. The months of April to June and September to November are generally regarded as favorable for travel because the weather is pleasant and rainfall is less frequent. However, before finalizing your travel dates, it is critical to examine the meteorological conditions of each place.
Top Tourist Attractions in Vietnam
Vietnam offers a plethora of captivating tourist attractions that showcase its rich history, vibrant culture, and breathtaking natural beauty. Here are some of the top tourist attractions:
Discover Ha Long Bay's natural wonders
Ha Long Bay, one of Vietnam's most famous sites, is a UNESCO World Heritage Site known for its emerald waters and towering limestone karsts. Take a trip to see the beautiful scenery of the bay, explore hidden caverns, and participate in water activities like kayaking and swimming.
Immerse in the ancient charm of Hoi An
Hoi An, a historic town, is a compelling site that transports you back in time. Hoi An provides an insight into Vietnam's rich history and cultural legacy, with its well-preserved buildings, lantern-lit streets, and busy markets. Stroll along the Thu Bon River, see the Japanese Covered Bridge, and soak up the town's distinct ambiance. Don't pass up the chance to visit tailor shops and get custom-made apparel produced specifically for you.
Explore Ho Chi Minh City's busy streets
Ho Chi Minh City, formerly known as Saigon, is a dynamic metropolis brimming with energy. The city combines modernity and history, with towering buildings and historic sites. Discover prominent sites like Notre Dame Cathedral, the Central Post Office, and the War Remnants Museum. Taste iconic street foods such as banh mi and pho to get a taste of the city's gastronomic treasures. Dive into the busy marketplaces and revel in the lively street life of this thriving city.
Visit the historic capital of Hanoi
Hanoi, Vietnam's capital city, is an ideal blend of ancient traditions and modern innovations. Stroll through the Old Quarter's small streets, where each corner tells a tale about the city's rich history. The ancient Ho Chi Minh Mausoleum, the Temple of Literature, and the tranquil Hoan Kiem Lake are all worth seeing. Experience the one-of-a-kind water puppet shows that showcase traditional Vietnamese workmanship. Don't forget to try the city's famous egg coffee, a wonderful local specialty.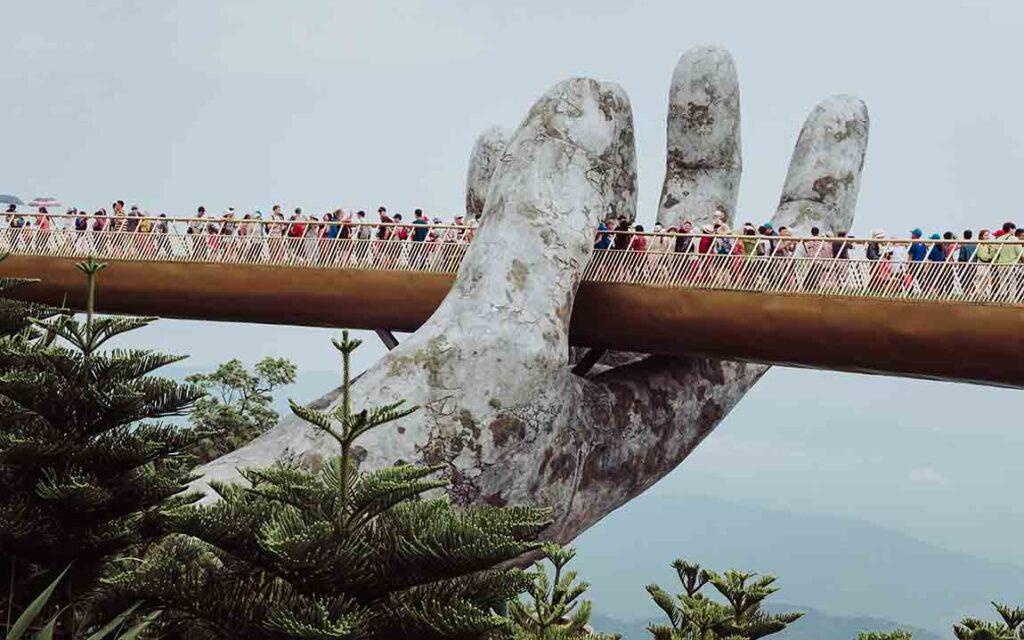 Unwind in the Coastal Paradise of Nha Trang
Nha Trang, located along central Vietnam's gorgeous coastline, is famous for its pristine beaches and vivid underwater life. Relax on the golden sands, swim in the pristine waters, or participate in exhilarating water sports like snorkeling and scuba diving. Don't pass up the opportunity to explore Vinpearl Land, an amusement park located on an island that offers a mix of excitement and breathtaking vistas.
Marvel at the Temples of My Son
Visit My Son's ancient temple complex, a UNESCO World Heritage Site near Hoi An. This architectural marvel displays the ruins of Hindu temples constructed by the Champa culture. Admire the exquisite carvings and learn about the hallowed site's history and religious importance.
Explore the Enchanting Caves of Phong Nha
Phong Nha-Ke Bang National Park is home to not only beautiful scenery but also a vast network of caves. Explore the mysteries hidden within these deep tunnels in an exciting experience. Visit the enchanting Paradise Cave, the mysterious Phong Nha Cave, or the daring Dark Cave, where you may engage in exhilarating sports such as zip-lining and mud-bathing.
Get Lost in the Charms of Dalat
Dalat, located in Vietnam's Central Highlands, provides a unique escape from the bustling cities. Dalat, also known as the "City of Eternal Spring," is known for its moderate weather, rich foliage, and romantic ambiance. Explore the lovely floral gardens, pay a visit to the famed Crazy House, or take a relaxing boat ride on Xuan Huong Lake. Don't miss out on the locally grown strawberries and a cup of delicious Dalat coffee.
Relax and Indulge in Phu Quoc Island's Tropical Paradise
Phu Quoc Island is a tropical paradise known for its clean beaches, crystal-clear waters, and lush green surroundings. It is situated in Thailand's Gulf. With its serene ambiance and breathtaking natural beauty, Phu Quoc is the ideal destination for people seeking leisure and rejuvenation. Explore the island's unique marine life by snorkeling and diving, indulge in delectable seafood cuisine, or simply relax in the sun while taking in the scenery. Phu Quoc Island perfectly encapsulates the essence of a tropical vacation.
Embark on a Scenic Adventure in Sapa
Sapa is a mesmerizing location known for its beautiful landscapes and varied ethnic cultures, nestled in the scenic mountains of northern Vietnam. This lovely hamlet is surrounded by terraced rice fields, flowing waterfalls, and mist-covered valleys. Immerse yourself in the local hill tribe cultures, walk through the gorgeous countryside, or take an adventurous trip to Fansipan, Indochina's highest peak. Sapa's natural beauty and cultural diversity make it a must-see for those looking for an authentic and unforgettable experience.
Discover the Grandeur of Hue Imperial City
Hue Imperial City, in central Vietnam, is a spectacular historical complex that exemplifies Vietnam's imperial past. This UNESCO World Heritage Site is home to magnificent palaces, temples, and gardens that are all surrounded by strong walls. Hue Imperial City, with its exquisite architecture and rich cultural importance, provides visitors with an intriguing excursion into the country's royal background. Immerse yourself in the history and beauty of this imperial capital, where history comes to life around every corner.
Experiencing Vietnamese Culture
The culture is firmly ingrained in its history and customs. Exploring the culture of the country is a vital component of any vacation. Here are some characteristics of Vietnamese culture that you should learn about:
Traditional Cuisine and Street Food Delights
Vietnamese cuisine is well-known throughout the world for its fresh ingredients, robust flavors, and variety meals. The country's food landscape is a gastronomic journey, from the aromatic pho noodles to the crispy banh xeo pancakes. Explore the bustling street food stalls for specialties such as banh mi sandwiches, fresh spring rolls, and deliciously strong coffee.
Rich History and Cultural Heritage
The history of Vietnam is rich in fascinating stories and noteworthy events. Visit historical landmarks such as Hanoi's Imperial Citadel of Thang Long, Ho Chi Minh City's Cu Chi Tunnels, and Hue, the old capital. Immerse yourself in War stories to obtain a better grasp of the country's tenacity and spirit.
Festivals and Celebrations
The festivals are vibrant and colorful, providing a unique insight into the country's cultural customs. Tet, or the Lunar New Year, is the most important holiday. As the country comes alive with happy festivals, see the vivid parades, traditional music performances, and lantern lighting.
Adventure Activities in Vietnam
The natural landscapes of Vietnam provide a playground for outdoor enthusiasts. Here are some outdoor adventure activities to consider while you're there:
Trekking and Exploring Sapa's Rice Terraces
Sapa, in northern Vietnam, is famous for its gorgeous rice terraces and ethnic minority populations. Explore the stunning scenery, meet with indigenous tribes, and learn about their distinct traditions on a trekking experience.
Cruising Along the Mekong Delta
The Mekong Delta, also known as Vietnam's "rice bowl," is a network of rivers, lush green farms, and floating markets. Take a boat down the Mekong River and experience the daily lives of local communities, visit fruit farms, and sample regional specialties.
Wildlife Encounters in National Parks
It has various national parks where you may see a variety of wildlife and immerse yourself in nature. Explore Cat Tien National Park to see endangered species like the Indochinese tiger and the Javan rhinoceros. Explore Phong Nha-Ke Bang National Park's lush woods and beautiful caves, including the world's largest cave, Son Doong.
You May also Love to Read:
5 Hidden Gems of Tibet: Exploring the Roof of the World
Navigating Transportation
Because of a well-connected transportation system, getting around Vietnam is quite simple. Consider the following modes of transportation:
How to Get Around in Cities
To navigate the congested streets of large cities such as Hanoi and Ho Chi Minh City, you can take cabs, ride-hailing services, or rent a motorbike. For shorter distances, public buses and cyclos (three-wheeled bicycles) are also available.
Long-Distance Travel Transportation Alternatives
It has an extensive network of railways, buses, and domestic planes for long-distance travel. The Reunification Express train travels from Hanoi to Ho Chi Minh City through gorgeous scenery. Sleeper buses are very popular for nighttime intercity travel.
Accommodation Options
Vietnam has a variety of lodging alternatives to meet any traveler's preferences and budget. Here are a few popular options:
Resorts and Hotels
Vietnam offers a wide range of housing alternatives, from upscale multinational hotel chains to boutique hotels and resorts. Stay in high-end hotels with breathtaking views, unwind in beachside resorts, or soak up the charm of family-run guesthouses.
Homestays
Consider staying at a homestay, especially in rural areas, for a more immersive experience. This gives you the opportunity to interact with local families, learn about their everyday lives, and develop a better understanding of Vietnamese culture.
Guesthouses and Hostels
Budget travelers can discover inexpensive hostels and guesthouses all around Vietnam. These options offer comfortable and clean accommodations, generally with shared utilities and a lively ambiance that is ideal for meeting other travelers.
Practical Travel Tips
Here are some practical things to bear in mind to guarantee a pleasant and pleasurable trip to Vietnam:
Entry Regulations and Visa Requirements
Before traveling to Vietnam, check the visa requirements for your country. You may need to secure a visa in advance or qualify for a visa exemption depending on your nationality. Check that your passport is valid for at least six months after your intended travel date.
Considerations Regarding Health and Safety
Before traveling to Vietnam, it is best to consult with a healthcare expert or a travel clinic. Check your routine vaccines and consider receiving vaccinations for diseases such as typhoid and hepatitis A. Avoid mosquito bites by taking precautions, especially in locations where dengue disease is a danger.
Currency Exchange and Money Matters
The Vietnamese Dong (VND) is the country's official currency. It is advised to carry a mix of cash and credit cards. ATMs are generally available, and most hotels, restaurants, and bigger institutions take credit cards. To avoid problems with card transactions, notify your bank of your trip plans.
Embracing the Local Lifestyle
Vietnam's allure stems not just from its breathtaking scenery, but also from its people's warmth and kindness. Here are some ideas for embracing the local way of life:
Cultural Etiquette and Interaction with Locals
Vietnamese people are recognized for their friendliness and kindness. Engage in local interactions, acquire a few basic Vietnamese languages, and respect their customs and traditions. A smile may go a long way toward building connections and producing unforgettable experiences.
Vietnam is full of hidden jewels waiting to be explored beyond the famous tourist destinations. Visit off-the-beaten-path locations, take a cooking class to understand the secrets of Vietnamese food, or take part in a traditional craft session. These encounters allow you to connect with the local culture on a more personal level.
Shopping
Vietnam is a shopper's dream, with a diverse assortment of one-of-a-kind products and traditional crafts. Here are several shopping adventures to try:
Popular Markets and Shopping Districts
Visit lively markets such as Ho Chi Minh City's Ben Thanh Market and Hanoi's Dong Xuan Market. These markets have a lively ambiance and a diverse selection of goods, such as textiles, handicrafts, spices, and souvenirs. Prices are frequently negotiated at these markets, so be prepared to do so.
Souvenirs and traditional crafts
Traditional crafts in Vietnam include lacquerware, silk items, ceramics, and conical hats (non la). Purchase handmade products that exhibit the country's artistic heritage to support local artists. These one-of-a-kind gifts are valuable keepsakes from your vacation.
Vietnamese Language Basics
Learning a few simple Vietnamese words will enrich your trip experience and allow you to communicate with locals. To get you started, here are a few important phrases:
Hello: Xin chào (sin chow)
Thank you: Cám ơn (kahm uhn)
Yes: Vâng (vung)
No: Không (khome)
Please: Làm ơn (lam urn)
Excuse me: Xin lỗi (sin loy)
Conclusion
Vietnam is an intriguing location that combines natural beauty, a rich history, and a dynamic culture. Every part of Vietnam has something unique to offer, from the magnificent scenery of Ha Long Bay to the bustling streets of Ho Chi Minh City. As you discover the beauty of Vietnam, immerse yourself in the warmth and hospitality of the Vietnamese people, savor the exquisite cuisine, and make amazing memories.
FAQs
Q.1 Is it safe to travel to Vietnam?
A. Vietnam is usually regarded as a safe destination for tourists. However, it is always prudent to exercise caution and be aware of your surroundings, particularly in congested places and tourist sites.
Q.2 What is the best time to visit Vietnam?
A. The best time to visit Vietnam is primarily determined by the regions you intend to visit. In general, the months of April to June and September to November have milder weather and fewer visitors.
Q.3 Can I use US dollars in Vietnam?
A. While some hotels and larger institutions take US dollars, the Vietnamese Dong (VND) is the legal currency in Vietnam. It is suggested to bring local cash with you for making smaller purchases and visiting local markets.
Q.4 Are there any cultural customs or etiquette I should be aware of?
A. Respect and modesty are valued in Vietnamese culture. When visiting temples or holy locations, it is traditional to dress modestly. When entering someone's home or specific establishments, remember to remove your shoes.
Q.5 What are some must-try dishes in Vietnam?
A. Vietnamese cuisine has a wide range of delectable meals. Try pho (Vietnamese noodle soup), banh mi (Vietnamese sandwich), fresh spring rolls, and Vietnamese coffee.